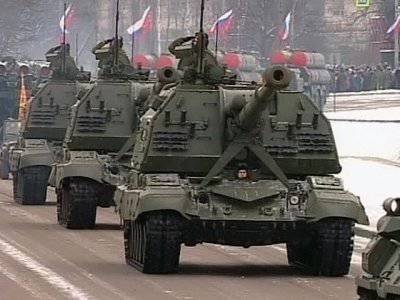 The military parade dedicated to the 70 anniversary of the liberation of the city from the Nazi blockade, was held at the Piskarevsky memorial cemetery in St. Petersburg. Here lie the 500 of thousands of Leningraders who died in a city completely surrounded by fascists.
To the sounds of the song "Get up, the country is huge" in front of the frozen on the Avenue Unsatisfied with ceremonial calculations they carried the flag of the Russian Federation and the Banner of Victory. The parade was attended by about 1,5 thousands of troops, representing all branches of the armed forces of Russia and about 100 units of military equipment.
Lieutenant-General Vladimir Dyatlov, deputy commander of the Western Military District (ZVO), commanded the parade. He was received by the commander of the ZVO troops, Colonel-General Anatoly Sidorov. The solemn event was attended by Speaker of the Federation Council Valentina Matvienko, Presidential Plenipotentiary in the North-West Federal District Vladimir Bulavin, Governor of St. Petersburg Georgy Poltavchenko.
Along the stands with veterans, blockades and guests as part of the ceremonial calculations were soldiers in
historical
form of those years. Military equipment also took part in the parade. Together with military vehicles that are in service with the Russian army - the Grad, Pantsir-S, Iskander,
tanks
T-72B3, today the "veterans" of the Great Patriotic War - armored vehicles BA-3M and BA-20M and the legendary tank T-34 got into operation.
The live broadcast of the parade dedicated to the 70 anniversary of the liberation of Leningrad from the Nazi blockade was conducted by the Vesti.Ru website.