The Defense Department Cooperation Agency (DSCA) of the US Department of Defense 23 on January 2014 sent an official notification to the US Congress about the upcoming delivery of various onboard systems to the United Arab Emirates through intergovernmental military sales for a total amount of 270 million. designed for the Lockheed Martin F-30 Block 16 61 tactical fighter. These fighters are purchased by the UAE directly from Lockheed Martin through direct commercial sales (DCS). In addition, as follows from the text of the message, upgrades to the Block 61 level are subject to the F-16E / F Block 60 fighters that the UAE has.
This DSCA notification became a kind of sensational, because so far there have been no official reports about the conclusion of the UAE of the new contract for the purchase of F-16 fighter jets (although information about the UAE's negotiations with the American side regarding the purchase of an additional batch of F-16 in approximately 25 machines was distributed about two years now), nor about the very existence of the Block 61 modification. The contract details for the F-16 Block 61 fighter aircraft remain unknown. Recall that under the contract 2000 years worth 7 billion dollars with Lockheed Martin UAE Air Force received a 2004 of 2009 years 80 fighters specially designed version of the F-16 Block 60 - in the number 55 single machines F-16E and 25 double F-16F. These planes, called the Desert Falcon, are equipped with Northrop Grumman AN / APG-80 radar with an active phased antenna array and engines of a specially developed modification General Electric F110-GE-132 with afterburner to 15000 kg. To date, the F-16E / F Block 60 remain the most "advanced" serial version of the F-16 aircraft.
It is unclear how the purchase of an additional batch of X-NUMX F-30 fighters correlates with the unofficial tender of the United Arab Emirates for the purchase of new-type fighters before the 16-60. Meanwhile, 80 in January, Jan King, executive director of BAE Systems, said in London that the company refused to negotiate the sale of Eurofighter Typhoon fighter jets to UAE, since the deal could not be made within the proposed budget by the UAE.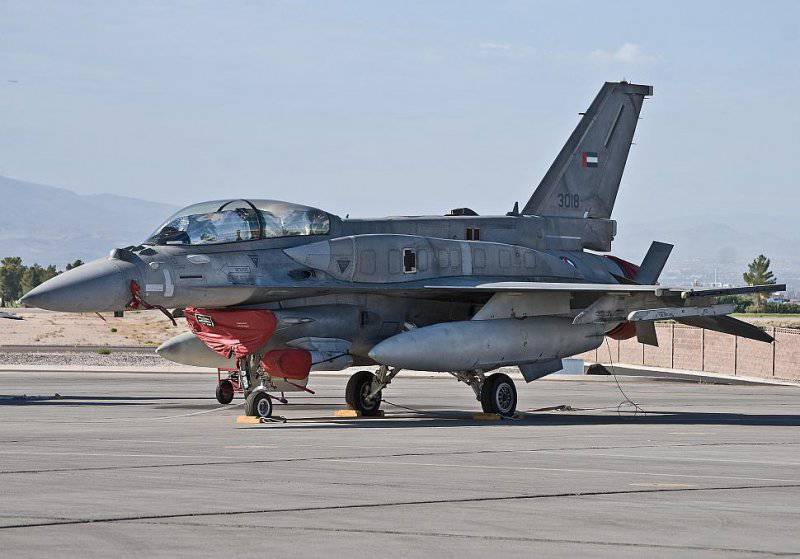 Lockheed Martin F-16F Block 60 fighter (onboard / serial number 3018) Desert Falcon UAE air force at the American Nellis airbase during the exercise "Red Flag 12-4". 30.07.2012 (c) Avtech / www.f-16.net