On January 24, 2014, the French magazine Air & Cosmos reported, citing sources in government and industry in France, that Singapore had signed an unreported contract in 2013 for the purchase of six Airbus A330 MRTT (Multi Role Tanker Transport) tankers. Airbus Defense & Space declined to comment on this information. Singapore itself is traditionally very secretive about its defense purchases, so many of the contracts it concludes become known only after a considerable time after signing or only at the start of actual deliveries.
In the Singapore Air Force, these aircraft must replace the four received in the 1999 year from the presence of the Boeing KC-135R Stratotanker tanker aircraft from the United States. The choice of the Airbus А330 MRTT aircraft was made according to the results of the tender launched in February 2012, in which the American corporation Boeing and the Israeli state association Israel Aerospace Industries (IAI) also took part. Boeing tried to promote Singapore upgraded KC-135R aircraft from the presence of the US Air Force, and alternatively offered to sell promising refueling aircraft KS-46А (based on the Boeing 767 liner), although actual deliveries of the latter to the US Air Force should start only in 2017-2018 years . IAI offered its own version of the conversion of Boeing 767 commercial aircraft to MMTT (Multi-Mode Tanker / Transporter) tanker, a solution previously chosen by Colombia and Brazil.
Previously, Airbus A330 MRTT tankers were ordered by Australia (five), the United Kingdom (14), the United Arab Emirates (three) and Saudi Arabia (six). Deliveries began in the 2011 year (Australian Air Force became the first recipient). France also made the decision to purchase 12 aircraft (a contract for the first two aircraft is expected by August 2014), moreover, А330 MRTT won the tender for the purchase of six refueling aircraft for the Indian Air Force in 2012 year, although the contract has not been concluded yet.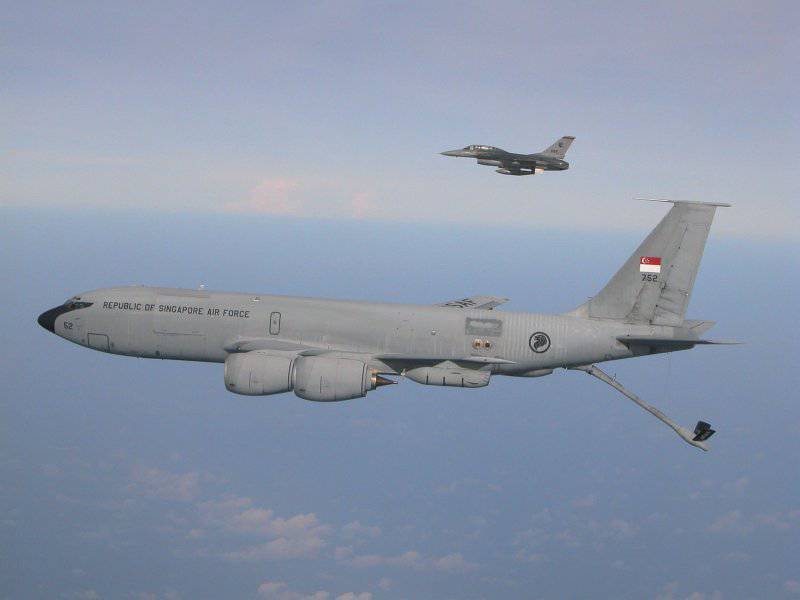 Boeing KC-135R Stratotanker (752 tail number) from the 112 Squadron of the Singapore Air Force. This aircraft (serial number 17942) was supplied by the US Air Force as a KS-135 (number 59-1454) as early as January 1960 of the year (c) www.aircraftinformation.info