According to Interfax, the Navy command decided to strengthen the Pacific Fleet with the Marshal Ustinov missile cruiser Project 1164 Atlant from the Northern
fleet
. Apparently, this decision is connected with a set of measures aimed at strengthening our Armed forces in the Far Eastern direction.
More recently, there was a big hype about the Kuril problem. Only because of the disaster in Japan and the war in Libya, this topic has faded. According to a source from the headquarters of the Navy, the cruiser Marshal Ustinov "is more necessary in such a large-scale and complex theater of military operations as the Pacific."
In 2011, the cruiser will undergo medium repairs, and in 2012, it will go to a new home database.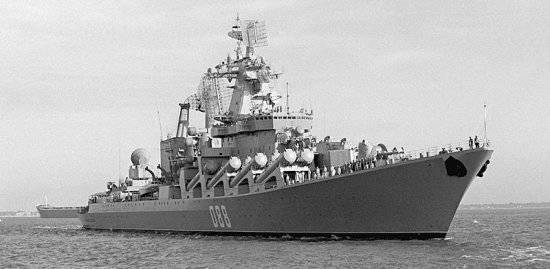 Help: 1164 project cruisers Atlant code
(NATO code - English Slava class) - a type of Soviet missile cruisers that occupies an intermediate position between ships of the Ushakov type (1144 Orlan, formerly Kirov) and destroyers of the Modern type (956 project). Glory-class rocket cruisers with powerful ship-to-surface missile weapons became an important part of the Russian Navy after the division of the USSR fleet. The main tasks of the ship, formulated in the technical design of 1972, were: to impart combat stability to the forces of the fleet in remote areas of the seas and oceans; destruction of enemy surface ships, including aircraft carriers; solving tasks of collective air defense, formations and convoys in remote areas of the seas and oceans, fighting against submarines, supporting landings and shelling the coast occupied by the enemy. Currently, three cruisers of this project are part of the Russian Navy. "Moscow" (formerly known as "Glory") is the flagship of the Black Sea Fleet, "Marshal Ustinov" is part of the Northern Fleet, "Varyag" is the flagship of the Pacific Fleet. The displacement of cruisers is 11,3 thousand tons, length - 187 meters, and width - 20 meters. 1164 project ships are capable of speeds up to 32 nodes, and their range is 7,5 thousands of miles. The cruisers are armed with cruise missiles of the Basalt type, the Fort anti-aircraft missile system, AK-130 artillery mounts and have torpedo tubes of a millimeter 533. The air group of the Atlant project ships includes Ka-27 anti-submarine helicopters.
Recently, information has emerged that another cruiser of this project, the Admiral Lobov (Ukraine), will be bought out, or simply transferred to Russia by Kiev. Construction of this giant was begun at the Nikolaev shipyard in 1984, currently its readiness is estimated at 50-95%.