India will demonstrate during its parade in honor of January 26 Republic Day, its newest main battle tank MBT Arjun Mark-II.
January 26 India celebrates the Republic Day with a solemn parade in the center of the capital New Delhi. Thousands of spectators will gather to witness a colorful spectacle. In front of them will be units of the army, air force and naval forces.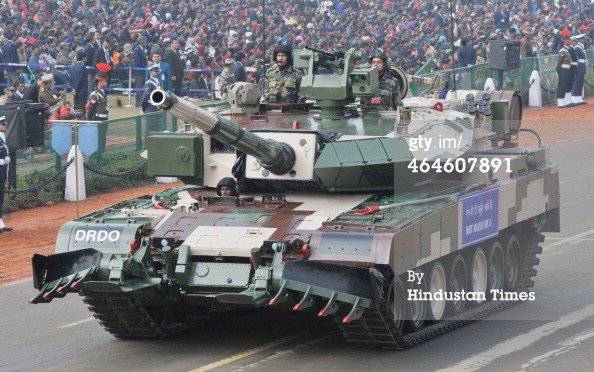 Tank Arjun Mark II, has the ability to fire an improved missile with an increased range, a panoramic sight with night vision, dynamic protection and advanced anti-aircraft guns for hitting helicopters.
Other functional changes include an improved auxiliary power unit, an improved main gun, an on-site navigation system, a commander's panoramic sight with eye-safe laser range finder, a digital on-board computer, a new on-board gear, tracks and driving wheels, as well as a smoke grenade launch system. to bring down the laser guidance of the enemy.
The Arjun Mark-II is a significantly improved and more efficient tank than the Arjun Mark-I, but at the same time it is too heavy, and thus limits the regions where it can be deployed by the Army. And this makes it unsuitable following the operational requirements of the Indian Army to the MBT. According to P.Sivakumar, director of the CVRDE, "Arjun's weight prevents him from being deployed in all the regions required by the Army."