My name will be slandered, they will attribute to me many atrocities. World Zionism will strive with all its might to destroy our Union, so that Russia will never rise again. The edge of the struggle will be aimed at separating the outskirts from Russia. With particular force, nationalism will lift its head. Many pygmy leaders will appear, traitors within their nations ...
I. V. Stalin
An interesting fact, even in the conditions of a total shaft of misinformation about I. V. Stalin, rushing from TV screens and pouring from the pages of newspapers (more dirt, or as much is poured only on Ivan the Terrible), the people of Russia could understand that all this is a lie. This is clearly shown by public opinion polls.
Here is one example. At the beginning of 2005, 2400 respondents were interviewed in 40 regions of the Russian Federation.
Question: How do you assess the role of Stalin in
stories
our country?
Answer:
- positively - 77%;
- negatively - 8%;
- I find it difficult to answer - 15%. The numbers speak for themselves.
According to the February 18-19 public opinion poll, 2006% of Russian citizens consider Stalin's role in the history of positive, 47% - negative (http://bd.fom.ru/report/map/of29).
In the "Name of Russia" television project, Stalin took the third place, gaining a 519071 vote (giving Alexander Nevsky and Stolypin only a few thousand votes). At the same time, Stalin occupied a leading position for a long time.
In the poll of the TV show "Honest Monday" 25 in October 2009, 61% of respondents voted that Stalin is a Hero; 32% for the fact that Stalin is a criminal; 7% for the fact that Stalin is an effective manager.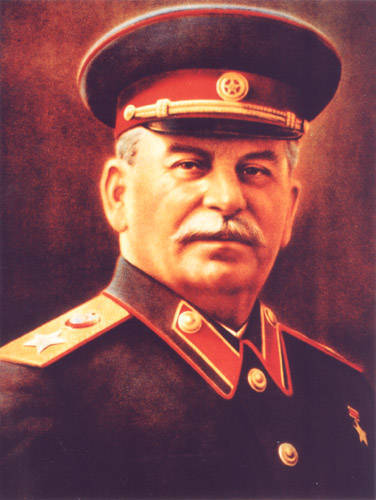 The role of I. V. Stalin in the history of Russia, and of humanity, is best understood on the basis of the statements of famous contemporaries, among whom were the enemies of the Union, overt and covert.
The consistent enemy of the Russian People, the British Prime Minister in 1940 — 1945 and 1951 — 1955
Winston Churchill
, 8 September 1942, Churchill delivered a speech in the British Parliament following his visit to Moscow in August 1942. Among other things, he said: "Great success for Russia in its agony was to be under the authority of this great, seasoned military leader. This man is an impressive, outstanding personality, corresponding to the serious and turbulent times in which his life has passed; a man of inexhaustible courage and willpower and a man of direct and even unceremonious in the manner of communication that I, who grew up in the House of Commons, didn't jarred at all, especially when I also had something to say. Most importantly, this is a person with that saving sense of humor, which is so important for all people and all nations, but especially for great people and great nations. Stalin also impressed me with his deep and cold-blooded wisdom and the complete absence of any illusions. "
In early November, Churchill made a speech in the House of Commons in which he said, in particular: "I personally can not feel anything other than the greatest admiration for this truly great man, the father of his country, who ruled over his countries in times of peace and a victorious defender in time of war. "
Adolf Gitler
Summing up Hitler's remarks in the table talks with those close to him, G. Picker, who carefully recorded these conversations, emphasized that Hitler "considers Stalin a genius and openly admires them." Among Hitler's many statements about Stalin's "genius.", The idea that "Stalin, of course, also needs to be treated with due respect. In a way he's just a genius type. His ideal is Genghis Khan and his ilk, he knows literally everything about them ". Hitler openly admitted that he had learned a lot from Stalin, in particular, having carried out the unification of the entire German press after the seizure of power (just as Stalin did in the USSR), (Piker G. Hitler's table talk. Smolensk, 1993. C. 332, C. 451, C. 289).
Heinrich Muller
, the head of the secret police of the Third Reich, after the defeat of the Germans at Stalingrad, according to Schellenberg: "Just think that you had to transfer it to the system over the past two years, and what authority it enjoys in the eyes of the people. Stalin seems to me now in a completely different light. He stands unimaginably higher than all the leaders of the Western powers ... "(quoted in the book of Y. Mukhin. A Journey from Democracy to a Dermakratia and Back. From 201.).
Joachim von Ribbentrop
- Foreign Minister of Germany (1938 — 1945), Adolf Hitler's foreign policy adviser: "Stalin from the first moment of our meeting made a strong impression on me: an extraordinary man. His sober, almost dry, but so clear manner of expression and firm, but at the same time, the generous style of negotiation showed that he was rightfully his last name. The course of my negotiations and conversations with Stalin gave me a clear idea of ​​the strength and power of this man, one wave of his hand becomes an order for the most distant the villages, lost somewhere in the vast expanses of Russia, - a man who managed to rally the two hundred million population of his empire stronger than any king before. "
"... Another question I asked Stalin was about how to combine our pact with the Russian-French treaty 1936. To this, Stalin succinctly answered:" Russian interests are more important than all others "..." (Y. von Ribbentrop, " Memoirs of a Nazi diplomat ", Smolensk," Rusich ", 1998).
And what a slap in the face from
De Gaulle
(during the Second World War, became the symbol of the French Resistance, the first president of the Fifth Republic of 1959 — 1969) got the cornmeal crunch and its followers! "For De Gaulle, it didn't matter that we had an anti-Stalinist campaign. The French President, arriving in Moscow, laid a wreath at Stalin's grave. I can imagine how our nearby leaders felt when De Gaulle stood tall on the Red Square. at the grave of Stalin, holding his hand under the visor ... "(F. Chuev," Molotov. Semi-sovereign lord ", M.," Olma-press ", 1999).
Golovanov A.E.
., Chief Marshal
aviation
since 1944: "Stalin always paid attention to the essence of the matter and reacted little to the form of presentation. His attitude to people corresponded to their work and attitude to the assigned business. It was easy to work with him. Possessing wide knowledge himself, he did not tolerate general reports and general formulations. The answers should have been concrete, extremely short and clear. If a person spoke for a long time, in vain, Stalin immediately pointed out an ignorance of the issue, he could tell a comrade about his inability, but I do not remember that he insulted or humiliated anyone. He stated a fact. The ability to speak directly to the eyes and the good and bad that he thinks of a person was a hallmark of Stalin. For a long time, those who perfectly knew their business, knew how to organize and manage it worked with him. He respected capable and intelligent people, sometimes without paying attention to serious shortcomings in his personal qualities. (F. I. Chuev. Soldiers of the empire. Conversations. Memories. Documents. M., 1998.).
A. Kerensky
, head of the Provisional Government in 1917:
"Stalin raised Russia from the ashes. Made a great power. He defeated Hitler. Saved Russia and humanity. "Henri Barbusse
- French writer, journalist and public figure in the international communist movement: "Here he is - the greatest and most important of our contemporaries. It leads 170 for millions of people per 21 million square kilometers. It is in contact with many people. And all these people love him, believe him, need him, rally around him, support him and push him forward. To its full height, it towers over Europe and over Asia, over the past and over the future. This is the most famous and at the same time almost the most unexplored person in the world. "
"Red Square is the center of Moscow and vast European and Asian Russia. The center of Red Square is the Mausoleum. On the left wing of the Mausoleum, in which Lenin sleeps like a living, stand together five or six people. From afar, they are indistinguishable from each other.
A symmetric boiling mass converges and spreads around. It seems as if it comes out of the ground and goes to the same place, underground. The procession is unfolding in a kaleidoscopic manner over the entire length and width of the square, from end to end - an endless procession, over which the bush and silk, laden with letters, words, tremble; matter cries out. Or it is a colossal sports festival: in its rapid movement ahead it grows like a park. Or, finally, - the movement of the most powerful army in the world, the Red Army people, divided into quadrilaterals.
One or another part of the festival rises in front of us: the glitter of the moving stubble of bayonets or a line of young men and women, or simply a chain of proud, happy, laughing and luminous faces.
This hours-long, inspired surf, this delight, radiated by crowds that filled the ranks of the stands along the battlement of the Kremlin, boils with a whirl of cries and exclamations. This whirlpool has a center. Exclamations merge into one name: "Stalin!", "Long live Comrade Stalin!". One of Lenin standing on the Mausoleum raises his hand to the visor or raises it in greeting, bending at the elbow and extending his palm. This man is dressed in a long military overcoat, which, however, does not distinguish him from others, standing near.
He is the center, the heart of all that radiates from Moscow all over the world. "
A. Harriman,
US Ambassador to the USSR in 1943-1946 "... He has a deep knowledge, a fantastic ability to go into details, mental alertness and an amazingly subtle understanding of the human nature .. I found that he is better informed than Roosevelt, more realistic than Churchill, and in a sense, the most effective of military leaders" .
Yu. K. Paasikivi,
Finnish Prime Minister with 1944, President with 1946: "Stalin is one of the greatest figures of modern history ... He raised the USSR to the level of a powerful world power - made it more powerful than Russia ever was and could be."
Christopher
, Patriarch of Alexandria (from 1939): "Marshal Stalin ... is one of the greatest men of our era .. Marshal Stalin, the Supreme Commander, under whose leadership military operations are conducted on an unprecedented scale, has an abundance of divine grace and blessing, and Russian under the ingenious leadership of their great leader, the people, with unsurpassed self-sacrifice, deliver crushing blows to their everlasting enemies. " (1945)
Alexy I, Patriarch of Moscow and All Russia 1945-1970
: "The great leader of our people, Joseph Vissarionovich Stalin, is gone. The great, social force in which our people felt their own power, which he guided in his creative works and enterprises, which he comforted for many years, was abolished. There is no area where the deep gaze of the great Leader would not penetrate ... As a man of genius, he in every case revealed that which was invisible and inaccessible to the ordinary mind. " (1953)
Archbishop Luke
(Voyno-Yasenetsky), canonized as a saint by the Russian Orthodox Church:
"Stalin saved Russia, showed what it means to the world
. Therefore, as an Orthodox Christian and Russian patriot, I bow low to Stalin. "
"Let's talk about eternity with you:
Of course, I'm largely to blame!
But someone ruled my fate,
I felt that omnipresent look.
He gave me no sleep, no rest
He lived in me and ruled over me.
And I, as a slave of the universal spirit,
Iron will ruled the country.
Who was my secret supreme overlord?
What did he want controlling me?
I, like a slave, judge and performer, -
It was all over this poor country.
And then everything was incomprehensible:
Where did force, will, power come from?
My soul is like a wheel of a car
Shuffling millions of passion.
And only then, in the spring, in 45,
He whispered softly in my ear:
"You were my novice, soldier
And your peace is not far away! "
Attributed to I.V. Stalin.