A high-quality photo of one of the Su-12С serial fighters (onboard number "35 red"), built on account of the 08 program of the year at the Y.A. Aviation Plant, appeared on the Russianplanes.net web site. Gagarin (Komsomolsk-on-Amur branch of "Company" Sukhoi ").
These 12 new Su-35Ss (with tail numbers, presumably from 01 red to 12 red) were built under a contract of August 2009 with the Russian Ministry of Defense for the supply of 48 Su-35S fighters and should be the first Su-35S, which will go to the combat unit of the Air Force and Air Defense of Russia - to the reconstructed 23rd fighter aviation regiment of the 303rd mixed
aviation
divisions of the 3rd command of the Air Force and Air Defense of Russia at the Dzemgi airfield (Khabarovsk Territory). As already reported, due to problems encountered in the ongoing State joint tests of the Su-35S and the need to make modifications to the aircraft under construction, a batch of these 12 Su-35Ss built in the 2013 program will be accepted by the Russian Ministry of Defense no earlier than February 2014 of the year.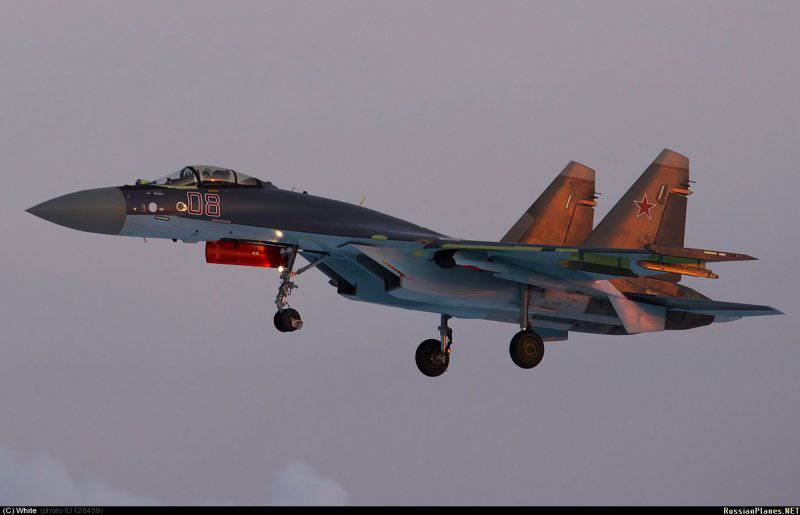 Su-35C fighter (tail number "08 red") built 2013 of the year. Komsomolsk-on-Amur / Dzemgi, January 2014 of the year (c) Vadim / White / russianplanes.net