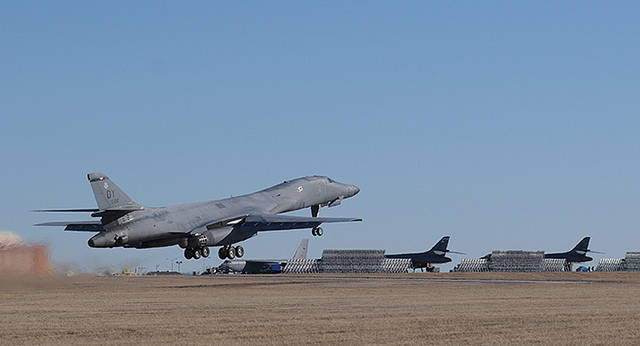 The US Air Force 21 January received the first B-1 bomber "Lancer", equipped with an integrated combat station (Integrated Battle Station) manufactured by Boeing (Boeing). This was reported by the US Air Force.
A set of new equipment includes the installation of fully color displays, automatically guided maps, a new diagnostic system, which can significantly improve the combat effectiveness of the aircraft. This upgrade is the most comprehensive in
stories
flight operation B-1. As a result, the crew receives more information about the combat environment in which the aircraft is located. Enhanced secure communication channels allow pilots to improve their ability to engage designated targets.
The bomber was upgraded at Tinker Air Base (Oklahoma).
As reported earlier by ARMS-TASS, the modernization of the B-1 Lancer fleet provides for the installation on board of an integrated combat station (Integrated Battle Station) and the Block-16 modernization kit to support the B-1 combat capability (Sustainment-Block 16, SB -16). The integrated combat station will provide B-1 bomber crews, in particular, with a high level of situational awareness, as well as a fast and reliable digital communication channel.
The modernization program provides for the installation of all in-use "Lancers" with three systems, including the vertical situation indicator VSDU (Vertical Situation Display Unit) in front of the cockpit, as well as the fully integrated data link FIDL (Fully Integrated Data Link) and the centralized system CITS (Central Integrated Test System) integrated testing at the rear of the cab. All three systems are installed on B-1 aircraft in a single set of "Integral Battle Station" in the period from 2013 to 2019.
Installing the VSDU system involves replacing two outdated monochrome displays (the aircraft commander and co-pilot) with four new multi-color displays.
The FIDL system includes a new digital avionics and data link in the Link-16 direct visibility zone, which uses a wider communication format than the existing Joint Range Extension Applications Protocol (JREAP) and integrates the information of the latter, displaying generic data on color displays in visual graphic symbols and interactive terrain maps.
With the installation of CITS in the back of the cab will add a new color display. This system will replace an outdated computer that continuously monitors flight information. CITS can also be used by ground personnel to diagnose aircraft system problems.