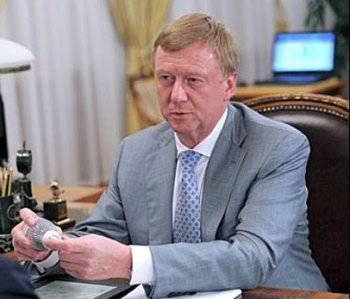 In April last year, speaking at a press conference, Russian President Vladimir Vladimirovich Putin assessed the activities of Rosnano. "They themselves point out losses in the amount of 2,5 billion rubles. Money, of course, rather big ... There are punctures, failures, but this is not criminal activity, "said the president.
Let's analyze one of the most significant investments of Rosnano. In 2009, the state-owned company decided to invest in the Unirem asphalt modifier production project.
First you need to check the applicant - a company that claims to receive investments Rosnano. The project applicant was the New Rubber company headed by businessman Mikhail Lerner.
All firms and individuals participating in state-owned company projects and applying for investments from it, undergo a lot of expertise and checks.
Rosnano has at its disposal a whole staff of highly professional employees of the security department, including current employees of the FSB. What should have been discovered by checking out Novy Kauchuk and its manager Mikhail Lerner in 2009?
The test results should show:
Mikhail Lerner has a debt in the amount of about 1 billion rubles, which was formed during the construction of a financial pyramid under the guise of the work of the car dealer Dim + KO. Debt is not serviced, interest and interest are accumulated on it.
In the courts there are a number of multimillion claims from lenders - banks, individuals and legal entities.
His former companies, under whose activities loans were taken are in the bankruptcy stage.
Law enforcement agencies received a statement alleging that Mikhail Lerner was criminally liable for fraud (in 2012, he was sentenced to five years probation for this crime).
To hide the property from lenders, Michael conspires with his wife Svetlana. He forges the signature of one of the founders and translates the building of 413 sq.m. owned by DiM + Co LLC. at Trend Auto LLC. His share - 25% in this company, he re-registers with his wife.
At the same time, he enters into an agreement with his father-in-law, Alexander Vershinin, and re-registers his stake in Novy Kauchuk GC LLC, the company that will later receive investments from Rosnano (they are now both arrested and in jail on charges of fraud another criminal case).
Having received all this information, Rosnano makes a decision:
Approve the project of expanding the production of the modifier "Unirem" and invest 1,9 billion rubles into it.
Create a subsidiary of LLC "Unikom", 35% of which belongs to Rosnano, and 65% - LLC GK "Novy Kauchuk"
Appoint Mikhail Lerner as Director General of Unikom.
It is unlikely that such a decision could be taken collectively. Most likely, the decision on such a strange appointment was directly at the mercy of the general director of Rosnano, Anatoly Chubais.
What was the logic of this designation? Perhaps Anatoly Chubais in this position did not need a scientist who developed a promising technology. Also, he did not need a man who could organize production and sales. On the site of the head of "Unikom" was a man who knows how to take loans, re-register property and bankrupt the companies under whose activities these loans were raised.
In May, 2010 of the year addressed to Anatoly Chubais received a deputy request, which states:
Lerner Mikhail Ilich ... has liabilities on long-overdue loans totaling about 1,01 billion rubles. Today, the approximate debt, taking into account interest, penalties and penalties, is 1,5 billion rubles. C 2004 year Lerner M.I. through repeated re-laying of property on trusting relationships with close people, with the help of deception and lies, attracted more and more new loans ...
In 2008, Lerner M.I bought a building in the industrial area of ​​Podolsk for about 70 million rubles, taking out a loan from Dil-Bank, after which, making an overestimated assessment of the building, re-credited Sotsgorbank, receiving 150 million rubles. To date, according to preliminary estimates, the cost of the building is about 30 million rubles. Thus, the money received from the Rosnano state corporation went to cover the previously formed debts of Lerner M.I.
After that, Mikhail Lerner is formally transferred to the post of chairman of the board of directors, which gives him the opportunity to maintain control over the company and dispose of government money, and Irina Chaykin, who has no special education or work experience in production, is appointed to the post of general director.
As a result, the same thing happened with Unicom as with the previous business of Mikhail Lerner. Rosnano invested in its daughter 810 million rubles. government money in the form of share repurchases and loans. In 2013, Unicom filed for bankruptcy. At the same time, the second co-owner of Unikom, LLC GK Novy Kauchuk, also went bankrupt.
The result is the work of Mikhail Lerner in the automotive business:
- Dim + Co LLC - bankrupt;
- Trend-Auto LLC is a technical company of Mikhail Lerner, where he hid his share of 25% in DiM + Co. LLC, registering it with his wife Svetlana — bankrupt;
- D-Avto LLC - a technical company registered for Alyona Sanatovna Shahabutdinova, director of a car dealership at DiM + Co LLC - bankrupt;
- LLC DIMKO.RU-Vyazma - bankrupt;
- LLC "DIMKO.RU-Stary Oskol - bankrupt;
- LLC "DIMKO.RU" - abandoned;
- LLC "DiM + Co-service" - abandoned;
- The damage from the pyramid built by him ranged from 1 to 1,5 billion rubles. This is the money that its lenders have lost - banks, individuals and legal entities.
The result of the work of Mikhail Lerner as the top manager of Rosnano:
- LLC GK Novy Kauchuk - bankrupt;
- LLC "Unikom" - bankrupt;
- The damage amounted to 810 million rubles, but this time the state lost money.
These are the consequences of the decision to appoint Mikhail Lerner as the General Director and the Chairman of the Board of Directors of Unikom LLC.
What makes it possible for the head of Rosnano to behave so frivolously and make such decisions without regard to society and law enforcement agencies? Maybe patronage by the president? After all, if Putin said that this is not criminal activity, then it is not criminal activity. And it does not matter what the facts of the state corporation's activities indicate.