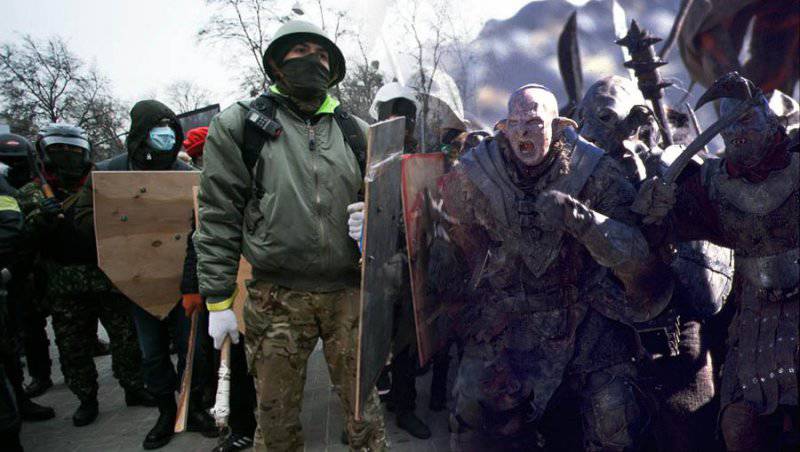 It's time to call things by your real names: the pogrom in Kiev for baptism is not organized by "euromaidan": it is organized by euro-fascism - by euro-fascist fighters, and it is "euro" because they are supported by "Europe" and its unofficial owner is Washington. They support the new fascists in Ukraine, because it is politically advantageous for them to "contain Russia", just as they collaborated with Hitler before the start of World War II: it was then also just politically advantageous to them. They will support even the devil, if it is politically advantageous to them.
They support the neo-fascists of the Banjar, because they have Bandera's fascists today on a "short leash", in manual control, and the other two "opposition leaders" sing along with them. With their help, they set out to, if not seize power in Ukraine, then arrange a "bloodbath" in it.
The Romans said: look who benefits. The pogroms in Ukraine are beneficial to the United States and its satellites, like Poland, because the desirability of creating a "controlled chaos", encircling Russia with a "sanitary cordon", does not tire of repeating their desk analysts. They have long instigated such a scenario, and are pushing him informationally and politically today.
The fascists have always exhibited themselves as cool "patriots", and expose today, but we know that this is a bloody lie, behind which there is one hatred, a thirst for power and robbery. These "Ukrainian Ukrainians" are not shy about being on a short leash with Western sponsors, and this leash is too visible to everyone in Ukraine and Russia.
Any, but the democratically elected power of Ukraine, despite the pressure of Washington, gives a rebuff to the neo-fascists, and turned already to the "last argument of the kings": water cannons in cooling heads heated by propaganda. What will happen next if the West continues to fully support the Bandera attack aircraft?
No real negotiations with them of President Yanukovych are impossible, except for the complete surrender of Bandera, on the basis of the law in force. Any concessions to them for Yanukovych and his associates death are similar, and not only in a political sense. And they seem to understand this. Today they have nothing left to do but to fight to the end, and not to succumb to the entreaties about "negotiations" - they come only from the West, this is a trap.
In the case of an uncompromising struggle against neo-fascists, even after losing in Western Ukraine, Yanukovych will be able to retreat to Eastern Ukraine. If he goes to the "negotiations", he will be given a "checkmate" next move, because he will immediately lose the East of Ukraine, the support of all who oppose the fascization of Ukraine. This is the worst, most bloody scenario for the development of the political situation in Ukraine, and it is to him that Western politicians are pushing Ukraine.
Western customers and organizers of a coup in Ukraine who entered into a deal with local neo-fascists should be made to understand that they are playing with fire. It is worth trying to appeal to the Western public to oppose the support of the neo-fascists in Ukraine by their governments. There are sensible forces in the West who understand what is happening in Ukraine and who are not afraid to tell the truth. The "concerted efforts of the United States and the European Union" are behind the "flare-up protests in Ukraine," said Dr. Markus Papadopoulos, editor-in-chief of the British magazine Politics First.
There can never be a blessing in disguise: the neo-fascist revolt in Kiev contributed to the consolidation of the Russian-Ukrainian forces of the East of Ukraine, and sooner or later they will find a leader able to protect them from the Nazi militants of Galicia.