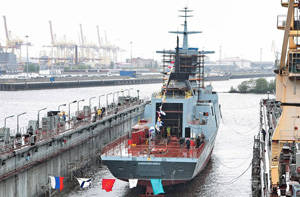 Corvette of project 20380 "Stable", built by OJSC Severnaya Verf for Baltic
fleet
(BF), completed the first stage of factory sea trials (ZHI) in marine ranges of the Leningrad naval base of the BF, Interfax-AVN reported with reference to the head of the information support department of the BF captain 2nd rank Vladimir Matveev.
"During the ZHI stage, the crew of the ship under the command of 3 rank captain Vyacheslav Zhuravlev together with industry representatives checked the performance of the ship's systems and mechanisms at sea. In particular, there was an inspection of the power plant, steering gear, auxiliary mechanisms, anchor device, as well as high-speed, maneuverable and vibration tests of the ship were carried out, "said V. Matveyev.
According to him, in the near future, after replenishing the reserves, the corvette will be launched into the sea for the inter-base crossing to the Baltic naval base for the second stage of the ZHI. During its holding, the main attention will be paid to the work of the power plant of the ship, its communications and navigation means, and ship armament systems in marine conditions.
The Corvette "Resistant" - the third serial Corvette project 20380. The lead ship of the series is the Corvette "Guarding", transferred to the Baltic Fleet in 2007 year. The first in the series Corvette "Savvy" was transferred to the 14 fleet of October 2011 of the year, and the second "Boky" became part of the 16 fleet of May 2013 of the year.
The project provides for a displacement of two thousand tons, a length of more than 100 meters, a maximum speed of up to 27 nodes, an autonomous navigation distance of four thousand miles. The main advantages of this class are versatility, compactness, stealth, high level of automation and integration of control systems.
After the completion of all factory and state tests, the Corvette "Resistant", like its predecessors, will be part of the Baltic Fleet and will begin to perform tasks for its intended purpose.