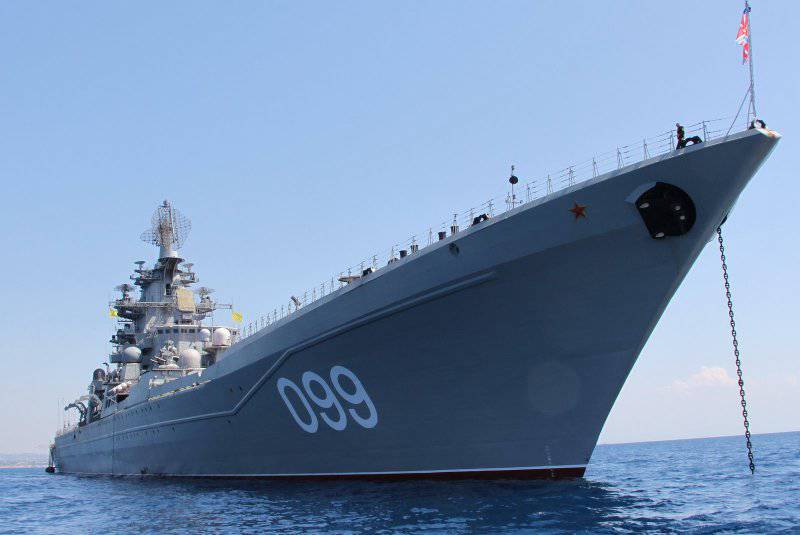 Peter the Great (nuclear cruiser)
After the transfer to the Russian Navy in 2018 of the upgraded Admiral Nakhimov heavy nuclear missile cruiser Project 1144 Orlan, a new production cooperation that will carry out work on the ship will be involved in the repair and modernization of the Northern cruiser of the same type
fleet
"Peter the Great".
This was announced today by ITAR-TASS source in the United Shipbuilding Corporation (USC).
"In the future, the new cooperation, performing work under the contract on the Admiral Nakhimov, will be used for repairs with the modernization of the same type nuclear missile cruiser Peter the Great, which is currently performing tasks in the Mediterranean Sea," he said.
The interviewee confirmed that the first preparatory stage of the repair and modernization of Admiral Nakhimov is being conducted at Sevmash in accordance with the contract signed last year between the enterprise and the Russian Ministry of Defense, while the modernization project is being developed by the Northern Design Bureau in St. Petersburg. Petersburg "It is planned that the" Admiral Nakhimov "will be handed over to the Navy in 2018. Modern complexes will be installed on the ship
weapons
and weapons, which will significantly increase its combat potential and capabilities, "said a source in the USC, without specifying the number and types of weapons.
Meanwhile, the commander-in-chief of the Russian Navy, Admiral Viktor Chirkov, during a visit to the Naval Academy to them. Kuznetsov in St. Petersburg 2 of September last year told reporters that the "Admiral Nakhimov" after modernization "will carry up to 80 rocket units of various purposes." According to sources in the Navy Headquarters, the cruiser, in particular, will be equipped with the Caliber missile system, which Russian first-class surface ships do not yet have and which will continue testing in the Yasen nuclear submarine in the summer, as well as air defense - the "Polyment-Redut" missile system (SAM), also undergoing tests. "As a result of the installation of new weapons and weapons systems, the Admiral Nakhimov will become multi-purpose - capable of striking not only enemy groups of ships, primarily aircraft carriers, but also coastal targets," sources at the General Staff said.
A source in the USC also said that the main power plant (GEM) "Admiral Nakhimov" will not be replaced, but it will have to be repaired and modernized. "At the plant, work will be done that will enhance its nuclear, radiation and technological safety," he explained.