Presentation of the Germans about Russia
Meldungen aus dem Reich No.376, 15.04.1943

Chief of Security Police and SD, Directorate III
Berlin, 15 April 1943
SV II, Prince Albrechtstraße, 8.
Secret!
Ex. N 74
Personally - Report immediately!

Messages from the empire N 376
.
Iii. Public perceptions of Russia: the results of the use of Soviet prisoners of war and Ostarbeiters in the empire.

Before the start of open hostile actions against the Soviet Union 22 June 1941, the German people, with very few exceptions, knew about the Soviet Union, its social and economic structure, and cultural life only from the press, films, propagandists and biased literature.

The overwhelming majority of the German people therefore saw in the Soviet Union an anti-humane and inanimate system of violence and imagined the Soviet people as a doomed, half-starved, stupid mass.

The Germans viewed hundreds of thousands of Ostarbeiters and prisoners of war sent here as living witnesses of the Bolshevik system, as a result of which the old image of Russia and propaganda created ideas about the Soviet people could be revised. According to numerous reports from the field, differences in the opinions of Germans of all strata widened and deepened. The population, still under the influence of the leading media, is convinced of the need for war against the Soviet regime and is in no way inclined to put themselves, when compared with Soviet Russians, on the same level as these representatives of Eastern peoples. During all the recurring, sometimes very lively discussions, opinions are often expressed that people from the Soviet Union are better, at least not as bad as they thought, conclusions are drawn about life in the Soviet Union, and there are also certain objections to German propaganda created submissions. So, already on the arrival of the first echelons with Ostarbeiters, many Germans were surprised by the good condition of their fatness (especially among civilian workers). Often you could hear such statements:
"They don't look starving at all. On the contrary, they still have fat cheeks and they must have lived well. "

By the way, the head of a public health authority, after examining the Ostarbeiters, said: "I was actually amazed by the good appearance of the workers from the east. The workers' teeth caused the greatest surprise, since so far I have not yet found a single case in which a Russian woman has bad teeth. Unlike us Germans, they must pay a lot of attention to keeping their teeth in order. In many respects, perhaps, we were not informed exactly or we were not informed about the situation on the part of higher instances "(Dortmund).
Doubts about previous ideas about Russia caused the following observations among the Germans.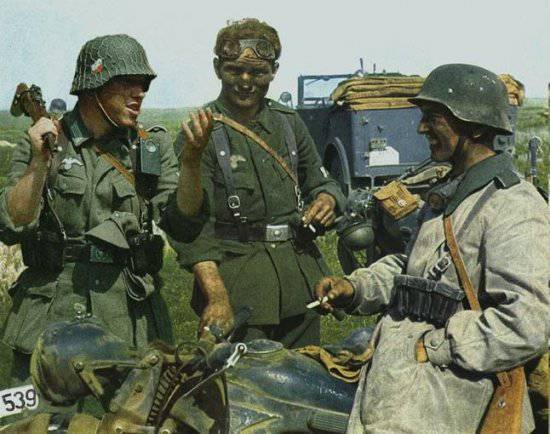 1. Bolshevik godlessness and religiosity of Ostarbeiters
We have always pointed out that Bolshevism exterminated religion, showed intolerance towards the church, and religious beliefs. At the same time, countless people arrived to the empire during the recruitment of Ostarbeiters from the territories that were previously under the authority of the Soviets, who, what catches the eye, carry small crucifixes, portraits of Our Lady or icons. This is especially seen in the Catholic areas of the empire. In addition, these Ostarbeiters, especially women, often show deep, innate religiosity. From this, the German population concludes that under the Soviet system, which was struggling with religion, people were quite able to exercise their faith. Here is what is said about this in one of the reports received from peasant districts adjacent to Lignitsa: "The general opinion has changed a lot compared to the previous one. All that was said to us about Bolshevism and godlessness is claimed. exaggerated. All this is just propaganda. According to the stories of Soviet civilian workers who are here, there are still many churches in Russia where you can pray freely. "
One worker from the same district said: "I thought that Russians have no religion, but they even pray."
From Breslau, one head of the accounting department reported: "Ostarbeiters should register with me in order to place cards on them. At the same time, they almost always declare their belonging to the Orthodox Church. When pointing out that godlessness prevails in the Soviet Union and atheism is promoted, they explain that this is the case in Moscow, Kharkov, Stalingrad, Rostov and other large industrial centers, to a lesser extent in Leningrad. In the countryside, Soviet Russians are very religious. Almost every Russian questioned proved his Christian faith by having a small chain with a small cross with him. In addition, they said that probably young Ostarbeiters were partly involved in the atheistic movement, but in general there can be no talk of godlessness in Soviet Russia. It was just propaganda. "
One illustrative example was reported from Frankfurt an der Oder. Here they could observe that when young Ostarbeiters used foul language, the elders reproached them for their sin, and this did not cause anger. In connection with the Orthodox Christmas, many Germans also became convinced that religious holidays are still celebrated in the Soviet Union. Christmas trees are decorated with religious pictures with crosses, while Christmas songs are sung. A report from Reichenberg cites German statements on this subject: "Everything possible is being done to hold these holidays. Even the German workers could not have done better. "
Halle also reports: "The religious views of Ostarbeiters were best manifested at the time when they were being investigated for their culpability in the commission of petty crimes and misdemeanors, such as theft of potatoes, etc. Deep religious feelings broke through in fear of the corresponding severe punishment, when almost without exception, the punished Ostarbeiters turned to God with assurances, gave a promise on his behalf never to allow anything like that again. Indeed, it can be argued that Ostarbeiters, who gave assurances with references to God, in all cases kept their promises and did not commit more punishable actions. "
The same message says: "In addition, religiosity can be judged by the fact that in their free time, men and women from the number of Ostarbeiters did not at all strive to visit cafes or restaurants, but went to church or were located near them."
Another example, which is confirmed by reports from all parts of the empire, was communicated from the Ostarbeiters camp in Verdun County, where joint prayers are held every evening under the guidance of one pilgrim. Among our believers, it is noted that at different times in Germany the state and the party were not very friendly towards the church, and that the attitude of the Soviet system to the problems of religion was certainly similar to that adopted by our party and the state.
2. Intellect - Technical Awareness
The extermination of the Russian intelligentsia and the intoxication of the masses was also an important topic in the interpretation of Bolshevism. In German propaganda, the Soviet people acted as a stupid exploited creature, as the so-called "working robot". A German employee, on the basis of the work done by Ostarbeiters and their skills on a daily basis, often became convinced of the exact opposite. Numerous reports indicate that Ostarbeiters directing their technical knowledge to military enterprises directly perplexed German workers (Bremen, Reichenberg, Stettin, Frankfurt an der Oder, Berlin, Halle, Dortmund, Kiel and Beyrout). One worker from Beyreut in this regard said: "Our propaganda always presents Russians as stupid and stupid. But I found the opposite here. While working, Russians think and don't look so stupid at all. It's better for me to have 2 Russians at work than 5 Italians ... "
Many reports indicate that a worker from the former Soviet regions is particularly aware of all technical devices. So, a German on his own experience more than once made sure that an Ostarbeiter, who by doing the most primitive means when doing work, can eliminate any kind of damage in motors, etc. Various examples of this kind are cited in a report from Frankfurt-on-Oder: "At one estate, the Soviet military prisoner figured out the engine with which the German experts did not know what to do: in a short time he launched it and discovered it in the box transmission gear damage that has not yet been noticed by the Germans serving the tractor. "
In Landsberg-on-Warta, the German brigade leaders instructed Soviet prisoners of war, most of whom came from the countryside, on the procedure for unloading machine parts. But this instruction was perceived by the Russians shaking their heads, and they did not follow him. They performed the unloading much faster and technically more practical, so their ingenuity greatly amazed the German employees.
The director of a Silesian flax spinner (the city of Glogau), regarding the use of Ostarbeiters, stated the following: "Ostarbeiters sent here immediately demonstrate technical awareness and do not need more training than the Germans."
Ostarbeiters can still make something worthwhile from "all sorts of rubbish", for example, from old hoops to make spoons, knives, etc. From one workshop, the matting reports that braiding machines, which have long been in need of repair, were brought to primitive means by ostarbeiters again. And it was done as well as if it was a specialist.
From the conspicuous large number of students among the Ostarbeiters, the German population concludes that the level of education in the Soviet Union is not as low as we have often depicted. German workers, who had the opportunity to observe the technical skills of Ostarbeiters at work, believe that in all likelihood not the best of Russians get to Germany, since the Bolsheviks sent their most qualified workers from large enterprises to the Urals. In all this, many Germans find a definite explanation for the unprecedented amount of weapons from the enemy, which we were told during the war in the east. Already the largest number of good and difficult
weapons
testifies to the presence of qualified engineers and specialists. The people who led the Soviet Union to such achievements in military production should have undoubted technical skills.
3. Illiteracy and observable education
Previously, the wider German population held the opinion that in the Soviet Union, people are marked by illiteracy and a low level of education. The use of Ostarbeiters now gave rise to contradictions, which often led the Germans to confusion. Thus, in all reports from the field it is stated that illiterate people make up a very small percentage. In a letter from a certified engineer who ran a factory in Ukraine, for example, it was reported that at his enterprise of 1800 only three employees were illiterate (Mr. Reichenberg). Similar conclusions follow from the examples below.
"According to many Germans, the current Soviet school education is much better than it was in the days of tsarism. Comparison of the skills of Russian and German agricultural workers is often in favor of the Soviet "(Stettin).
"Special amazement has caused widespread knowledge of German, which is studied even in rural junior high schools" (Frankfurt an der Oder).
"A student from Leningrad studied Russian and German literature, she can play the piano and speaks many languages, including fluent German ..." (Breslau).
"I almost disgraced myself," said one apprentice, "when I asked the Russian a small arithmetic task. I had to strain all my knowledge in order to keep up with it ... "(Bremen).
"Many believe that Bolshevism brought the Russians out of limitation" (Berlin).
"Their interest in education is average. First of all, young Russians are well acquainted with printed materials, they even speak German and ask them to give them brochures and books on which they could further learn German. They clearly write their names not only in Cyrillic, but also in Latin script. They seek to get any piece of paper and use every opportunity to get information. I found that Russians in their places of residence make various games, including even chess, from cardboard and other materials for entertainment (Frankfurt / Oder).
4. Family feelings and morality
In German propaganda, much was said that the Bolshevik system liquidated the family, this germinal cell of the state. Reports from various parts of the empire unanimously state that it is precisely among Ostarbeiters that clearly expressed family feelings are preserved and good morality is observed. Only among Soviet prisoners of war this is less pronounced, which may be explained by the fact that during their long military service they were separated from their families. The report from Lignitsa says: "Ostarbeiters write a lot and receive a lot of letters. They show a lot of care for their relatives, especially during periods of German retreat. They buy a lot of writing paper and various items for gifts. A sales representative of a factory said: I thought the Russians had no family, but one girl always asked if her brother could work with us. He is now working next door. One father constantly inquires about his daughter, who must also be in Germany. One woman wants to erect a monument to her dead husband. Russians often take pictures to send pictures to their families. One Russian cried a lot because of how he said that he and his wife were sent here, and their four children were forced to stay at home ... "
The ideas of our population about the family feelings of the Bolsheviks are directly opposed to what our propaganda said. Russians take great care of their loved ones, and they have orderly family relationships there. At any opportunity they communicate with each other. There are close ties between parents, children, their grandparents.
In Berlin, two Russian domestic servants fled home, leaving the mistress with the following letter: "We are children and with all our heart we want to be with our mothers. And if you have a mother's heart (and you also have it), then, thinking about your own children, you can imagine our state, you should have compassion for us and you will understand that we have parted from a relatively prosperous life, since Russians cannot rely on the best here, and decided to go to torment, hunger, cold and, perhaps, death only to be in their own home ... We owed you some of the things you gave us. We chose to keep them. Without them, it would be easier and better for us, but we do not have a single piece of bread, and we could exchange things for food. When we arrive home, our relatives will express threefold gratitude to you not only for your belongings, but also for your kind attitude ... No, we will not be better, and we would never leave you, but our goal is to get home. "
In this regard, a case was reported from Berlin, which German employees cite as an example of the fact that a sense of camaraderie is also characteristic of Ostarbeiters:
"The head of the camp at the plant" Doychen Asbest-Cement AG ", speaking to the Ostarbeiters, said that they should work with even greater diligence. One of the ostarbeiters shouted: "Then we should get more food." The camp commander demanded that the shouted stand up. At first, no one reacted to this, but then about 80 men and 50 women rose. "
Many Germans are often surprised by Russian workers with their personal cleanliness and the love with which they decorate their homes. The Germans did not expect this from them.
Sexually, Ostarbeiters, especially women, display healthy restraint. For example, at the Lauta-Verk plant (Zentenberg) newborn 9 appeared and another 50 is expected. All but two are children of married couples. And although 6 to 8 families sleep in the same room, there is no total licentiousness.
A similar situation is reported from Kiel: "In general, a Russian woman in sexual terms does not at all correspond to the ideas of German propaganda. Sexual debauchery is completely unknown to her. In various districts, the population says that during the general medical examination of the eastern female workers, all the girls had established virginity that remained. "
This data is confirmed by a report from Breslau: "The Wolfen film factory reports that during the medical examination at the enterprise, it was found that 90% of Eastern workers aged from 17 to 29 were chaste. According to various German representatives, the impression is that the Russian man pays due attention to the Russian woman, which ultimately is also reflected in the moral aspects of life. "
5. Soviet methods of domination and punishment
An exceptionally large role in propaganda is assigned to the GPU. Especially strongly influenced by the representations of the German population influenced links to Siberia and executions. German businessmen and workers were very surprised when the German labor front re-pointed out that among the Ostarbeiters there are no people who would be punished in their own country. With regard to the violent methods of the GPU, which our propaganda hoped to confirm in many respects, then, to everyone's amazement, no large cases were found in the large camps for forcing Ostarbeiters to be forcibly exiled, arrested or shot. Part of the population shows skepticism about this and believes that the Soviet Union is not so bad with forced labor and terror, as has always been said, that the actions of the GPU do not define the main part of life in the Soviet Union, as was thought earlier.
Thanks to these kinds of observations, which are reported in the reports from the field, the ideas about the Soviet Union and its people have changed a lot. All these individual observations, which are perceived as contradicting the previous propaganda, give rise to much thought. Where anti-Bolshevik propaganda continued to operate with the help of old and well-known arguments, it no longer aroused interest and faith, as it was before and in the first period of the German-Soviet war. Wishes are expressed that, if possible, a real picture of everyday Russian life, its people, etc. be given. Some calmly reflecting Germans believe that it is not necessary to judge the Soviet Union as a whole for Ostarbeiters, since, for example, they act here more religiously more freely than in the Soviet Union, where they were under pressure. However, the changes that have already taken place in connection with the people who arrived in the empire are not enough to eliminate all doubts that have arisen in former ideas about Russia, not to mention the fact that very often such reflections do not occur.
Bundesarchiv Koblenz. Reichssicherheitshauptamt. R 58 / 182. Meldungen aus dem Reich Nr. Xnumx
Translation and first publication of the candidate historical Sciences Anatoly Yakushevsky, "Source", N3, 1995