As previously reported by P. 2, the fate of the French fighter Rafale, according to some observers, is largely unenviable because of the phenomenon they called "sarcosism". Giovanni de Briganti on the pages of defense-aerospace.com explains that by "sarcosism" one should understand the inclination of the former French president to rampant boasting and unfounded faith in the success of all his undertakings. Sarkozy's overly presumptuous behavior turned out to be a catastrophe for Rafale in Brazil, just like in the United Arab Emirates, de Briganti believes. But this is not the only reason that Brazil abandoned its long-standing preferences and made a choice in favor of a more budget single-engine fighter. These reasons, surprisingly, have nothing to do with military needs and flight characteristics.
Sarkozy's impulsiveness and complete disregard for diplomatic subtleties led him to believe that both countries were willing to buy Rafale, but only because they did not respond with an obvious refusal and did not publicly refute his overly optimistic statements. In addition, he carried the brains out to the Brazilians that Luis Inacio Lula Da Silva, then president, did not find the strength to sign a contract for Rafale and left the decision to the discretion of his more skeptical successor Dilma Roussef.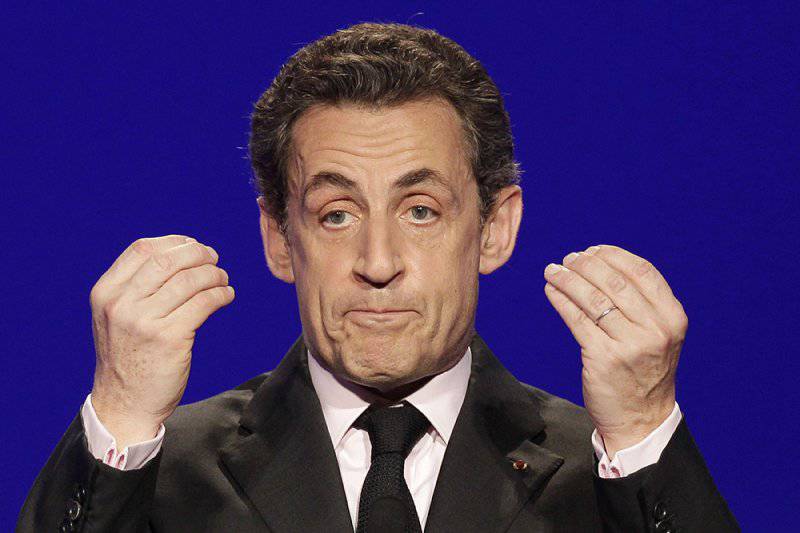 Michel Euler / AP / SIPA | rue89.nouvelobs.com
The left-wing trade unionist, for whom the time of the military dictatorship in Brazil was very difficult, Russef devotes little time to military issues as a whole, and would be happy to allow the FX-2 tender to quietly stall. However, Air Force commander General Juniti Saito from 2013 on the summer insists that a dozen former French fighters Mirage 2000C are too old to fly and should be written off. As a result, they were written off 20 December.
At the same time, Saito is not at all a fan of French products, and given the reliable airframe and Mirage 2000 engine, he could have drawn a darker picture than in reality in order to get a new fighter. Saito, by the way, is commanding the Air Force from 2007, which is abnormally long, but is not going to leave.
Roussef, in his turn, is not a fan of the United States, which supported the military dictatorship in Brazil, but inclined towards the Super Hornet - until the scandal erupted around the NSA spying. This forced her to abruptly cancel an official visit to Washington, which, according to many, nullified the chances of Super Hornet.
Strange deadlines
Few people expected that Brazil in the next year or two will buy a new fighter, because it is experiencing enormous economic problems, aggravated by the exorbitantly high costs of holding the World Cup. Surprise was also Sweden's own contracts for the Gripen.
However, 18 December Saab announced that the Swedish government signed a contract worth 2,5 billion dollars for the full-scale development of Gripen E, which was soon followed by a separate contract for the integration of air-to-air missiles MBDA Meteor.
And only after the promulgation of these contracts, Brazilian Defense Minister Amorim and the Commander-in-Chief of the Air Force, Saito, together announced that Gripen had won the FX-2 tender.
You do not need a crystal ball to guess the intense activity left overs, and the telephone traffic between Brazil and Sweden then must have broken all records. It is still not clear just what made President Dilma Roussef reconsider the term for the purchase of fighters, why the contract was announced to the Ministry of Defense and not to the presidential palace, and why the president did not appear at the announcement of the tender results. Maybe she was out of sorts?
This suggests an obvious conclusion that she was forced to make a decision against her will, but for now this is pure speculation. For truth to be revealed, some time must pass.
Vague selection criteria
18 December 2013. Defense Minister Amorim told reporters that Gripen E won the competition for three main reasons: characteristics, technology transfer and lower acquisition and operation costs.
"The final choice was based on these three factors," the minister concluded. Saito, in turn, stressed the offset obligations, which played in favor of the Swedes: "A number of enterprises will take part in the development of the aircraft. As a result, we will have access to all aircraft technologies. "But Russef, to whom this decision is attributed, did not appear.
In terms of cost, there is no doubt that the Gripen is much cheaper to buy and operate than the Rafale and its American competitor Boeing F-18E Super Hornet - both twin-engine aircraft are one and a half times heavier than the Gripen. In Brazil, unofficial sources claim that Gripen costs half as much as its competitors, which is plausible enough.
And that's not it. As reported by the O Globo newspaper, Senator Ricardo Ferrazo, chairman of the Foreign Affairs Committee, said that Saab had offered Brazil to start paying contract payments only after receiving the last 36 aircraft.
Significantly big reward?
Is the 36 Gripen really the last for Brazil? Globo also reported that Brazil is in need of a hundred or more fighters, and Gripen E will be a natural choice if it demonstrates satisfactory performance and operational readiness.
From the point of view of possibilities, there is no doubt that both Gripen competitors surpass it in terms of range, combat load and armament, although the question here is "what is enough for Brazil" and not "which plane is the best".
The Brazilian Question and Answer report of the Defense Ministry noted that the Gripen NG is a "supersonic aircraft that is capable of performing various tasks such as interception, isolation and subsequent destruction of targets. The aircraft is designed to conduct air combat, defeat sea and land targets and is also equipped with an air refueling system, which will protect airspace even in the most remote corners of Brazil. "
In this description of Gripen, of course, there is nothing unique, but all this for people who do not have a deep knowledge of the military
aviation
, that is, the average voter, sounds pretty impressive.
Gripen E is good enough
If you believe the assessment of Gripen F, published by the Swiss Air Force (and why not believe it?), Their official conclusions about the combat characteristics of the fighter are of interest.
On a scale from 1 to 9, the Swiss Air Force rated the double Gripen F:
by combat effectiveness category on 5,81 ("barely satisfactory");

by operating ability 6,87 ("satisfactory");

on 7,37 interaction ("satisfactory");

with an overall 6.36 rating ("satisfactory").

Brazil, however, is not Switzerland, and many would be very uncomfortable with the need to fly over vast stretches of jungle or coastal waters of Brazil on an airplane with one engine.

Many believe that safer twin-engine (and perhaps also double) aircraft would have much more meaning for such a large country. However, in the end, all this is far less important than the fact that the Rafale and Super Hornet would be financially unaffordable for Brazil in the present conditions.

So, technology transfer and direct offsets were clearly a powerful trump card for the Gripen, and Amorim bluntly told reporters that Saab's willingness to transfer Brazil's rights to aircraft technology was what changed the balance in favor of the Swedes. The economic policy of Brazil and its National Defense Strategy are aimed at modernizing the national industry and, in particular, its aerospace and defense sectors, so the proposal of the Swedes to transfer technology is a great success.

The bulk of Gripen E technology, however, is not owned by Saab, but by its partners and subcontractors in the United States, the United Kingdom and European countries.

In addition, given that Saab has made similar promises to Swiss industry, it is unclear how much technology Brazil will ultimately receive. According to the local press of Brazil, they also promised exclusive rights to sell Gripen in South America, but again it is not clear why its neighbors should buy combat aircraft from the regional center of power, and not from Sweden itself, and even less clearly why Brazil will supply them to its neighbors , thereby losing the technological advantage that the Gripen E. can provide.

The biggest mistake of France in Brazil

In addition to Sarkozy's tricks, French industrialists committed a serious mistake in Brazil when they got rid of 20% of the shares of Embraer, a Brazilian state-owned aircraft manufacturer that Dassault and its partners in Rafale acquired when it was privatized in 1994.

French industrialists had good relations with Mauricio Botello, the first director of Embraer after privatization, but when he left for 2007, relations with his successors were no longer so warm. This seriously complicated the position of the French in the tender, as they lost their most influential local ally. When Embraer became the general local contractor for the FX-2 tender, this inevitably became a disaster for the French.

The new management of Embraer considered that the development of Rafale is too far from the Brazilian industry in terms of obtaining any significant advantages in terms of new technologies and R & D. Ambitious Brazilians thought that Gripen E, which is still largely under development, will present more opportunities than Rafale. To a large extent, they were right.

Today, Rafale is already flying with AFAR radar and new equipment necessary for the final version, F3. Until the next stage of its development, the modernization of the middle of the life cycle, there are still more than ten years.

Gripen E, on the other hand, requires several more years of development work — the first shipments to Brazil are tentatively planned for 2018 — and then Brazil can get new technologies and use its industry in high-tech manufacturing.

Ironically, if Brazil bought Rafale in 2010, its industry would be able to play a significant role in developing a modernized version of the French fighter, but since then the program has advanced and the technological window of opportunity has closed.

Brazil sold offset dummy?

Given that the Super Hornet is nearing the end of its life, it's obvious that it has little to offer in terms of technology transfer. Brazil would receive only direct offset assemblies and some primitive work with metal with little added value — or without it at all.

Rumors that the Super Hornet was a dream fighter for the Air Force are as far-fetched as Brazil will now support Saab's unrealizable dream of developing the deck version of the Gripen. But it is in the context of technology transfer that it's hard to understand the lobbying of the Gripen E Brazilian Air Force along with Embraer.

First of all, as already noted, many of Gripen E's core systems and components are supplied by the UK or the USA, which not only makes Brazil vulnerable to embargoes and / or vendor interventions, but also means that Brazilians will receive very little or nothing of "sensitive" technology owned by the US - just because the Americans so accepted.

The F414G turbojet engine for Gripen E is manufactured by General Electric, its radar with AFAR is produced by the English company Selex ES, a number of other American and British companies are already involved in the program. In addition, although the Swiss order is smaller (the 22 aircraft is planned), Switzerland immediately made a good breakthrough in negotiations on the role of the Gripen E for its industry.

All this gives the Brazilian industry a less significant role than it would like. Thus, if Brazil chose Gripen based on the fact that the Swedes open up technological windows of opportunity for its industry, it was a great mistake. In fact, these windows are now largely closed, because the most attractive part of the work is already distributed.

There is no doubt that for its cost, the Gripen E is quite a respectable combat aircraft, also with the prospect of highly effective rearmament, while the current exploiters are quite satisfied with what it is. However, Brazilian explanations for their unexpected choices make little sense.

Brazilian officials claim that they chose the Gripen E based on the price (probably), for its performance ("barely satisfactory"), and for the benefits to the industry (with a dubious end result). Brazil and Saab have left 12 months to complete the negotiations on the contract and the corresponding offsets, so it's enough time to understand whether both parties (with Switzerland looking over offset) can develop a package of agreements that are mutually acceptable in terms of money, so in terms of technology.