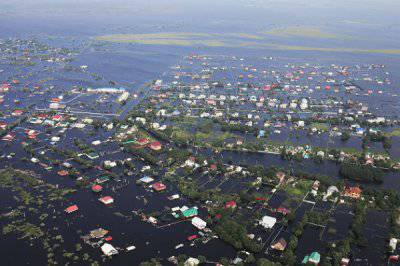 The Ministry of Nature has published data on damage from a large-scale flood in the Far East. The assessment of the ministry is quite streamlined and is presented in the following version: more 25 billion rubles. The question is, how much more? If this is, for example, 25,5 billion, the use of the term adverb "more" can still be understood, but if it is 40 or 50 billions of rubles of damage (and such data lead research centers not controlled by the Russian government), then "more" looks very strange . Although the Ministry of Environment can rightly say: if 40 billion is no more than 25, you can throw a stone at us.
And today, many localities of the Far East can not fully recover from those disasters with which they had to face. If in sufficiently large cities, the consequences of the flood were eliminated (and not in all regions), the villages or provincial cities continue to deal with restoration issues on their own. Some buy for their money
well pumps
(new wells), as the old ones are simply clogged with mud and debris, others dry the houses with heat guns and heaters in order to carry out a major overhaul in the spring.
Record marks of raising the level of the Amur and other Far Eastern rivers led to the flooding of thousands of square kilometers in several regions of the country. Floods affected the northern provinces of China. The pictures taken by NASA clearly show how the profile of Cupid changed during the peak of the flood in August 2013 compared to previous time periods. These images alone make it possible to understand the scale of the flood. If you see with your own eyes what people in the Far East have had to face, you can no longer shoot any disaster film, since no Hollywood film compares with what happened last year in the Amur Region.
According to the Emergency Situations Minister, the flood has not yet said its last word. After winter, it can still manifest itself, since the groundwater level remained at a very high level. That is why the authorities of the affected regions need to actively prepare for the spring flood to prevent a disaster from recurring.