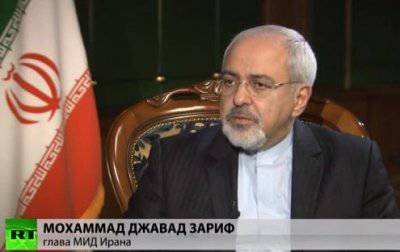 Iranian Foreign Minister Mohammad Javad Zarif arrived in Russia on the eve of the next round of peace talks on Syria. Finally, progress in the nuclear negotiations is noticeable, and diplomatic prospects are opening up for Tehran. Will this solve the Syrian issue? Will uranium enrichment continue? RT correspondent Sofiko Shevardnadze met with Mr. Zarif to get first-hand answers.
RT: So, you just came from Damascus, where you held talks with Bashar Assad. Did you manage to reach any specific agreements?
ZARIFF: I traveled to several Middle Eastern countries, visiting not only Syria, but also Lebanon, Jordan and Iraq. And literally everywhere, people are concerned about the escalation of violence, extremism and the growth of interfaith tensions in the region. All this must end ... This is a serious threat, the echoes of which can be heard in the terrorist attacks on the territory of Russia, and in the attacks and abductions on the territory of Iran. The war in Syria has regional and international implications. So everyone I talked to is serious about resolving the conflict. I see that the Syrian president and the government are ready to work together with all the Syrian people to develop some kind of single solution based on the will of the Syrians themselves. This decision must be made by all those who care about the future of Syria. They must come together. The international community should contribute to this process, but the Syrians themselves must determine their future by voting.
RT: If the only possible compromise for the opposition, the only condition for which it is ready to go on a cease-fire, is the voluntary resignation of President Bashar Assad before the elections, how will Iran react to such a development of the situation?
ZARIFF: I don't think we can talk about the outcome of the negotiations before they start. People who put forward different conditions before the start of negotiations and discuss potential results demonstrate their uncertainty. If those or other forces inside Syria believe that they represent the interests and aspirations of the people, they must believe that the people will follow them. They can easily go to the polls, why put forward any preconditions? And it will not be Iran.
RT: Speaking about the conditions, US Secretary of State John Kerry said that Iran could informally assist the negotiations on the Geneva-2 margins. Will Iran agree to facilitate negotiations in this vein?
ZARIFF: We will not accept any options that would degrade Iran's dignity. This is our only condition. We believe Iran can play a much more significant role at this conference than some of the invited parties. But we do not call it, but others, and it is up to them to decide whether it is for the benefit or to the detriment of the conference to invite Iran or not. Iran will in any case contribute to a peaceful settlement in Syria. Whether we will participate in a peace conference or not depends on whether Iran will receive an official invitation to take part in it fully.
RT: Can Iran help convince President Al-Assad to open a "humanitarian corridor" and stop bombing residential areas?
ZARIFF: Humanitarian aid needs to be sent to Syria - and we have been sending humanitarian aid to Syria all these years. We do not make a stir about this, but we believe that this is our humanitarian duty. We will continue to act in the same spirit and coordinate our actions, both with the Syrian government and with other parties interested in providing humanitarian assistance to Syria. We believe that to satisfy the humanitarian needs of the population of Syria is an extremely important task, but it is impossible to cover up the spread of extremism.
RT: Will Iran continue to send weapons and volunteers to the Assad government?
ZARIF: Iran does not send volunteers to Syria. We cooperate with Damascus in accordance with the agreements reached in the past. We have a long
история
military cooperation with the government of Syria - a government that is recognized by the UN. And this cooperation will go further - in compliance with our obligations and restrictions provided for by international law.
RT: Do you have any specific considerations on how the first step towards a cease-fire could be?
ZARIFF: We believe that there is no need to "approach" a cease-fire. You just need to stop firing. The problem is that in Syria there are a lot of armed groups that do not even coordinate their activities with each other. The idea that "fights need to be stopped" is very straightforward, but how to implement it? With the government it is easy to do. But how to make all the forces that sow destruction in different parts of Syria stop killing and sit at the negotiating table? Here it is difficult. But we are ready to work in good faith to achieve this goal.
RT: There is a lot of talk about Iran and Russia discussing the oil-for-goods deal worth $ 1,5 billion a month. Can you confirm that Moscow is currently negotiating such an agreement?
ZARIFF: We are not negotiating any agreement between the governments of the two countries. I came to discuss various issues - first of all, these are regional problems, our nuclear issue, cooperation between Iran and Russia in very many areas. But the state does not control the actions of economic organizations, neither in our country nor in Russia.
RT: In the US Congress, there are many who want to tighten sanctions against your country. They say: "Iran is bluffing; he will not refuse to negotiate, even if we impose more sanctions. " Tell me, can the new US sanctions really cancel these negotiations?
ZARIFF: In essence, the result of the sanctions were 19 thousand centrifuges and the indignation of Iranians, whom the US Congress does not allow to buy drugs. Because these sanctions limit the ability of banks to open letters of credit for Iranian corporations to import medicines. Is Senator Menendez really proud of this? If sanctions are so important, they can enter them and look at the consequences. I do not think that they will like the consequences.
RT: Iran states that any signed agreement allows it to have low-level enrichment of uranium for peaceful purposes. America declares that it is not. The two main participants in the negotiations interpret the same agreement in completely different ways! You do not see this problem?
ZARIFF: It is written in black and white that uranium enrichment will be an integral part of any final agreement - any. The United States may offer its own interpretation of whether there is a right to enrich or not. But for the rest of the world community there is already an interpretation that has been repeated twice - in documents adopted by consensus at review conferences of the Treaty on the Non-Proliferation of Nuclear Weapons
weapons
held in 1990 and 2010's! We believe that we have the right, we realize it. And they must lift the restrictions imposed against Iran in connection with the realization of this right. I believe that I am acting in good faith, and I hope that Secretary of State Kerry and President Obama will also act as honestly as they have said, in order to diplomatically resolve issues with Iran.
This does not mean that we have diplomatic relations with the United States, nor does it mean that if we fulfill the agreement, such relations will be established. The goal of all these activities is to resolve the nuclear issue.
RT: Will you visit Saudi Arabia in the near future?
ZARIFF: Of course! I have repeatedly stated that I am ready to visit Saudi Arabia, I am ready to meet with my Saudi counterpart, His Highness Prince Saud bin Faisal, and discuss bilateral relations between our countries - anywhere. On a number of points we do not share the policy followed by Saudi Arabia, or some elements of Saudi Arabia's policy, especially with regard to Syria. From our point of view, extremism is in no one's interest and represents a threat to Saudi Arabia, and I think many in Saudi Arabia will agree with me; This is a common problem and a common threat; it must be dealt with together. Iran extends a hand to the Saudi authorities for cooperation. We are waiting for the moment when such a visit can be arranged.
RT: A conference in Davos opens in a few days. There will be President Rouhani and Israeli Prime Minister Netanyahu. Is it likely that they will meet face to face?
ZARIF: None.
RT: Iranian Foreign Minister Mohammad Javad Zarif, thank you for being with us.
ZARIFF: Thank you.