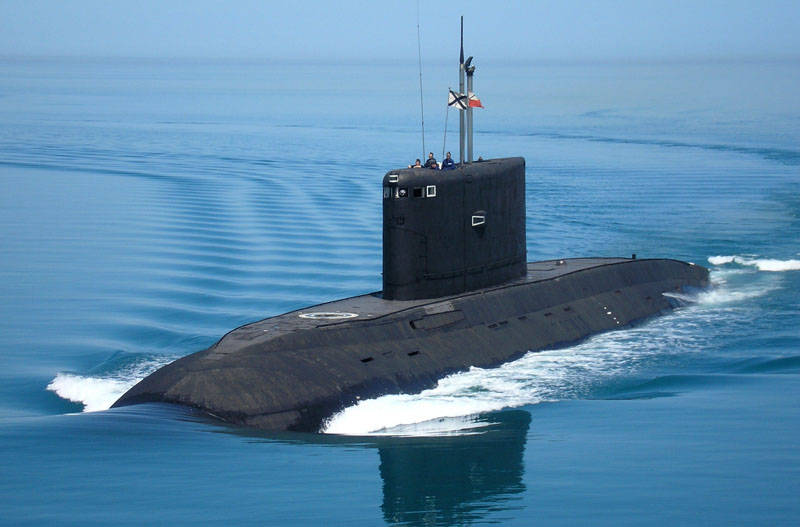 The second of six export diesel-electric submarines (diesel-electric submarines) of the 636 project ordered at Admiralty Shipyards (part of the United Shipbuilding Corporation) was transferred to the Vietnamese customer on Thursday, Interfax-AVN reports with reference to a source in the Russian shipbuilding industry .
"Now at the Admiralty Shipyards there is a ceremony of signing an act of technical acceptance of the second export corps by the Navy of the Socialist Republic of Vietnam," the agency's source said.
The contract for the supply of six submarines to Vietnam was signed in 2009 during the visit of the Prime Minister of the Republic Nguyen Tan Dung to Moscow. In addition to the construction of submarines, the contract provides for the training of Vietnamese crews, as well as the supply of necessary equipment and technical equipment.
The first submarine of the Vietnamese series was transferred to the Vietnam Navy 7 on November 2013 of the year. She was delivered to her base in Cam Ranh on December 31 of the year 2013 and on January 8 she made her first successful voyage. "On the eve of the final act was signed on the acceptance of the order," - said the agency interlocutor.
The third boat of the export series is launched on August 28 2013 of the year.
A training center has been established to train crews of Vietnamese submarines in Cam Ranh with the assistance of the St. Petersburg Concern Avrora Scientific and Production Association OJSC. NPO Aurora has developed and created five systems for these boats, and in particular, the automated information and control system Lama, the control system for the submarine Palladium, and the control system for maneuvering Pyrite.
The diesel submarines of the 636 project belong to the third generation of submarines. These boats have a good modernization potential, allowing to integrate on them new
weapon
, and in particular, the Club anti-ship missile system, significantly expanding the zone of destruction of targets. Due to the ultra-low noise in the west of the boat of this type are called "black hole".