If about household innovations in Russian army many people have heard a lot about it, and few people know how spiritual and moral education is carried out among recruits. The conditions of service of the soldiers improved disproportionately: the Ministry of Defense freed them from their daily duties, engaged in the re-equipment of the barracks and provided soldier food according to the scheme of a buffet. Special attention is paid to the development of modern weapons.
In addition, for some years now Orthodox priests have served in some military units. Priests are appointed as civilian personnel and occupy the post of assistant commander for work with believers. They serve in accordance with the schedule of the military unit
Priests should carry out their activities not only in peacetime, but also in the event of military conflicts.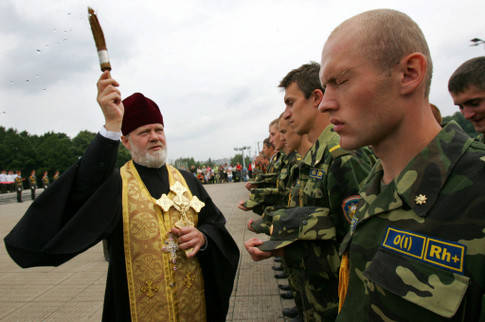 Initially it was planned to appoint ministers and other religious denominations that would work with Muslims, Buddhists and Jews. However, this intention has not yet been realized.
By the way, according to various polls conducted by the sociological center of the country's Armed Forces, more than 70% of employees consider themselves to be believers. And this is logical, because military service is a big burden, not only physical, but also moral. At the same time, about 80% of them consider themselves Orthodox, about 13% are Muslims, 3% of recruits are Buddhists, 4% are followers of other less common religions.
Of course, the introduction of priests is a significant step for the Russian army. The guys who are put in the conditions of separation from the family really need any kind of support and psychological help. What to say about sincerely believing Christians. We are also talking about the moral and spiritual education of recruits, as well as the cultural and historical component of the service. According to Patriarch Kirill, a soldier performing his duty must have high moral guidelines.
Now about 120 clerics have joined the staff of the Armed Forces, but this number will increase. By the way, the commanders of military units support this innovation, for them it is another mechanism for implementing discipline, psychological and emotional comfort in companies.
These are the changes taking place in the Russian army. I am glad that the military reform has touched not only improvements service conditions of soldiers and providing them with adequate nutrition with the solution of all domestic issues, but also the development of moral aspirations and spiritual beginnings in recruits.