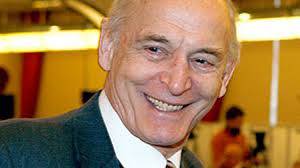 On the eve of his 80 anniversary, the artist told us about peasant genes, horse racing, why Richelieu played for Zhigunov and what he thought about Ukraine's distance from Russia
People's Artist of the USSR Vasily Lanovoy tomorrow will be 80 years old. The star of the Soviet and Russian cinema was born in the village of Strymba, Odessa region. He starred in 60 films, among which are "Scarlet Sails", "Pavel Korchagin", "War and Peace", "Anna Karenina", "Officers", "Seventeen Moments of Spring", "Days of Turbins", "Petrovka, 38", Ogareva-6, Brezhnev. One of the latest pictures, "Three Musketeers" by Sergey Zhigunov, was released on New Year's holidays.
- In this film you played so great Cardinal Richelieu that the film turned out more about him, and not about d'Artagnan. Your Richelieu is a statesman ...
- That's why I agreed to this role, that the cardinal is a tough statesman. It is close to me. Kings and queens were engaged in their personal affairs, and the state then paid for all this. My own Cardinal Richelieu is more concerned with France than Anna of Austria.
- You have played a huge number of officers: Anatole Kuragin, Dzerzhinsky, Vronsky, Andropov. But where did you get this officer's bearing and posture, you're the son of peasant parents from Ukraine? And where is the amazing physical shape for this age?
- I can not say exactly why I look like this and actively work at that age. But I put it on merit first of all not for myself, but for my parents. Obviously, this is a generic trait that helps me in 80 years to do exercises every day for 20 – 30 minutes. And every day I do exercises for voice training. Therefore, I teach, play, concert. The profession, of course, keeps in shape. We must constantly improve our spirituality, take interest in the life of our state, country, and culture.
It so happened that my parents completed several classes for two, but they surrounded me with people who sent me, made me not lazy, carried, one might say, in relation to me, public service (laughs). Instilled moral, spiritual and cultural things. It is a merit of my parents and friends, who for some reason have always been older than me. I entered the faculty of journalism at the university, because my friends advised: "Vasya, you need to graduate from the university, and then engage in acting. After all, parents could not give you a high educational level, you have to catch up ... "As for riding in paintings and bearing, my grandfather taught me in childhood, in the village. He said: "Vasil, sit on a kobil, i if you go on your way with a naked asshole, so you will have to be a top actor."
- They say that you - the darling of destiny?
- Good luck really accompanied me. It is very nice. But I myself helped her, refused the same bad habits. I did not smoke because smoking sets my voice. In a smoky voice I could not fully express the feelings that need to be given out. It disciplines.
- Have you had any bouts of laziness typical of the Slavic nature, Ukrainian character?
- I do not think that laziness is peculiar to the Ukrainian character. It is holy to cope with the need of the duo of garneau-pratzuvati i - so they say, and it is a question of understanding that life is given once. You need to have time to do a lot, find out, help more people. And most importantly, engage in your favorite profession.
- You are a native of Ukraine, live in Russia. What do you think: is it far-sighted to pursue a distant policy with Ukraine in Ukraine?
- Not only short-sighted, but also stupid. I see you now have another entry into the tailspin. When the Soviet Union collapsed, the Americans decided to make maximum efforts so that Ukraine would never be with Russia. But Ukraine is one of the most powerful centers of Orthodoxy, which unites both Russia and Belarus. Orthodoxy is the main educator of patriotism. It's simple. America can undermine the unity of our peoples, it is pure politics. By the way, with regard to the European Union: I see another trend there - the desire of Europe to collapse. There are a lot of countries in debt. Strong powers - Germany, France - are already tired of serving small and economically undeveloped states: Greece, the Baltic countries, etc.
- I read that one of your iconic roles - Ivan Varavvy in the film "Officers" - you didn't immediately agree. Why?
- Yes, because in the script the role for Zory Yumatov was perfectly written out, and mine was so-so. I did not really understand what to do there. But I was exactly told: you need to play the romanticism of a Russian officer. I read
history
, including the military history of the Russian state, and found out that the best, most educated people in Russia served, defended the Motherland. They were romantics. And I understood how my hero needs to differ from the character of Zory Yumatov. In general, I know the war firsthand. As a child, at the age of seven, I found myself on the territory occupied by the Germans - in the Odessa region. I belong to the generation of "children of war", who, as someone said, were more likely to grow up and quickly learn to distinguish truth from lies. This is in my blood, in my subconscious.
- Your heroes are always convinced people.
- Yes, it is important for me that the hero has his position. Be it Karl Wolf from "Seventeen Moments of Spring" or White Guard Lieutenant Mikhail Yarovoy, who was also convinced that Russia should not be torn apart. And our market time is idealized by a merchant, now commerce dominates everywhere. But consumerism is a terrible sin, it destroys the spirituality of mankind. Pavka Korchagin is, in fact, the saint of his time. Major French writer Andre Gide said about Korchagin: "This is the communist Jesus Christ."
- In China, and now they are filming the novel "How the Steel Was Hardened."
- And rightly so. We had three screen versions. I starred in the second. My hero did not think about himself. He sacrifices his life to others. Writer Nikolai Ostrovsky, having lost his health, continued to write "Born of the Storm", so he continued to give himself.
- Do you have any roles that you would like to embody?
- I played a lot. But at the age I want to play such roles where there are deep philosophical reflections. And I would like to play more in the classics. Especially looking at the current cinema, on the half-empty content of the series, which flooded the screens. I love classical poetry and prose. Even this role of Richelieu, albeit in an adventure novel, but in the genius work of Dumas - you can find the depth if you turn the theme correctly. I really want to play in such works, where there is a great moral idea, which, in my opinion, is the most necessary thing now for the full life of our peoples.