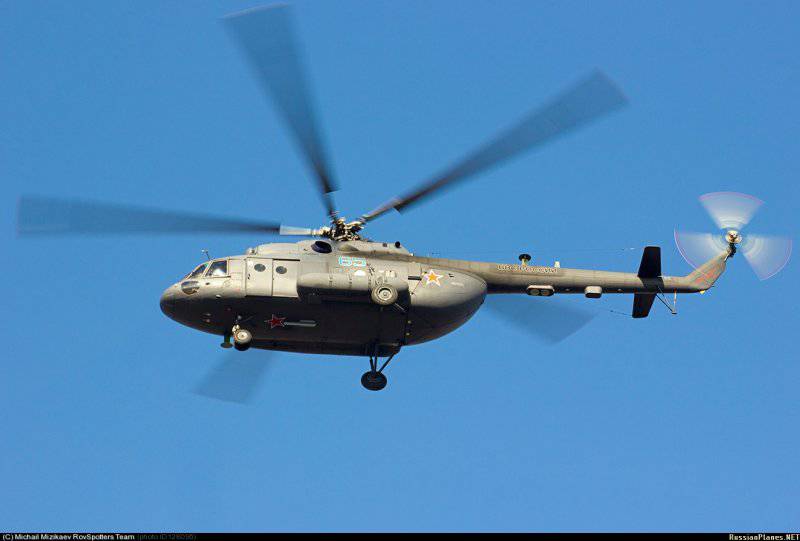 A photo of the new Mi-8 for the Russian Air Force was posted on the Internet, bloggers assume that this is the Mi-8MTPR-1 interference helicopter, which was reported in Concern Radio-Electronic Technologies OJSC last June.
Photo taken on January 14 in Rostov-on-Don. Bloggers believe that the lot of these machines is being built as part of the Kaliningrad Radio Engineering Research Institute (KNIRTI) mentioned in the report for 2012, the year of the contract for OCR, signed between KNIRTI and the Russian Ministry of Defense 23 August 2011 of the year number H / 4 / 08-11-DOGOZ .
The volume of lending for the purpose of executing this agreement amounted to 2012 in 876 million rubles, as specified in the Alexeyvvo blog.
"The term of the contract is not specified, but, based on the terms of the loan, it can be assumed that its execution will continue this year," the publication author believes.
The creation of the special modification Mi-8MTPR-1 is carried out on the basis of new machines built by the Kazan Helicopter Plant. The agreement between the KVZ and the KNIRTI on the supply of helicopters for their further staffing with EW equipment was signed, according to the procurement website, December 12 2011.
From the mass produced and supplied by the Russian Air Force Mi-8MTV-5-1, the new jammer is notable for the lack of ramps and armored plates in the cockpit, narrowed by the left sliding door and the lack of portholes (apparently due to EW equipment and operator positions). blog), an additional antenna on the tail boom.
Outside the fuselage there is a set of additional equipment (probably related to active jamming equipment), similar to the complexes deployed on the previously observed prototypes of this modification, based on the Mi-8MTPB helicopters.
Recall that in the summer of 2013, Deputy General Director of Concern Radio-Electronic Technologies OJSC, Yuri Maevsky, reported that the Russian army received the first batch of the latest helicopter directors of radio-electronic interference based on the Mi-8.
"The concern has delivered the first batch of jamming helicopters based on the Mi-8, which are fundamentally different from their predecessors (Mi-8PP). This technique is capable of providing electronic suppression of detection and reconnaissance equipment, as well as protection of aircraft from being hit by all types of modern
aviation
and anti-aircraft guided missiles, "said Mayevsky.
When the party was delivered and in what quantity, the interlocutor of the agency did not specify, citing secrecy.