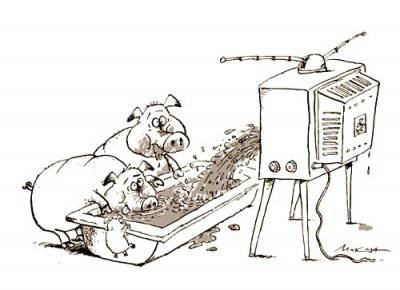 In the late eighties, our country was in euphoria about the erupted freedom of speech, which at that time was called publicity. Publicity has come to the media, literature, art, everyday relationships. Now everyone could say what he thinks, and even what he thinks of in the order of acute delirium.
On the one hand, the arrival of freedom of speech in the USSR (Russia) can be regarded as one of the few positive moments of Gorbachev's restructuring (especially against the background of the economic and social crisis), because we got the opportunity to read, watch and listen to what we want and who we want, were able to access those works that were considered taboos for a long time were able to take a broader look at their activities and the activities of the authorities.
However, as with any medal, the other side of the freedom of speech was quickly discovered. The very understanding of publicity was taken so literally that, along with a completely civilized approach to this concept, something frighteningly clumsy and ugly began to grow in society: something below the belt began to be understood as free speech, mostly blackish and frank vulgarity was discussed. In the theaters, they began to put not just classics ("Dirt-free", "Faust", "Seagull"), but "classics" (in quotes). Three Chekhov sisters in the director's reading every now and then turned out to be either drug addicts or lesbians. People flocked to the "Lady with a Dog" in order to see with their own eyes that of all the clothes of the actress playing the role of Anna Sergeyevna, there can only be dog skin covering the place, about which even with all the current freedom of speech it's just a shame to say ... box-office film, then the bed scene is obligatory, if the book is "readable," then mate, slang and obscenity are necessary.
Over time, the Russian public began to get used to such a "reading" of free speech. They say that this is not a chernukha, but the author's view, not vulgarity, but humanitarian and social innovations, not a selection of vileness, but the choice of the editorial board. Speaking of editorial choices ...
In our country there are not so many government news agencies and other media. Large media of a federal or international scale, funded from the state treasury, can be counted on fingers. It would seem that financial state support of such mass media should, a priori, ensure that on these channels (websites, printed pages, radio) information is presented that should carry, if not truly educational grain, then at least something more or less compatible with the existing such media status. Recently, however, a strange tendency has been observed, when even state-owned media (what can we say about ordinary privateers) allow themselves to give "cash" places or convenient airtime to such materials whose public message looks extremely doubtful.
To such claims did not seem unfounded, it is worth giving specific examples. There is no need to go far with such examples - they are literally next to us.
All-Russian State Television and Radio Broadcasting Company (VGTRK). This giant media holding includes TV channels, radio stations, and Internet information resources. Thanks to the work of thousands of VGTRK employees, people can daily get acquainted with reliable information, have a rest while watching their favorite movies and entertainment programs, discuss economic and political events that have occurred not only in our country, but also abroad. The Federal State Unitary Enterprise VGTRK over the years of its existence has managed to gather, let's say, under its banner a huge audience - more than 200 million people in different countries of the world.
It would seem that everything is wonderful and productive. TV channels delight the viewer with movies, sports broadcasts, scientific and entertainment programs, resources on the Internet echo them. However, upon careful examination it turns out that even such a respected project as the All-Russian State Television and Radio Broadcasting Company is inclined to be quite strange, sorry, miscarriages of freedom of speech. The term used should be understood as a very specific set of "important" information, which is often represented by the holding's subsidiaries.
Let us turn to the large-scale project "Vesti.Ru", which is visited daily by over a million users. Of course, such a project cannot be treated without respect, but in this connection, the information position of the editorial board of this publication, controlled by FSUE VGTRK, looks particularly strange.
The point is that in this Internet project there is an informational section, which is called
"Editor's Choice"
. To the uninitiated people (you and me) it may seem that extremely important materials should be published here that are worthy of wide public discussion: offhand - the fight against terrorism, legislative initiatives, important interviews or a description of the events that caused a great resonance in the world. However, having opened this section, you can not even understand the first time: is the "Editor's choice" really "Vesti.Ru" open, and not a selection of plots from the 25 page of some unimportant "yellow" edition.
So, what kind of informational choice has the editorial board of this resource made over the past few days? To judge the strangeness of choice, it suffices to mention only the headlines, especially since almost in this form in this section of the site (a segment of the state media holding) the information is presented.
Attention! Headlines!14th of January 2014
Hindus use cow urine as a cure for all diseases. Video.
13th of January 2014
The fireman killed with a shovel a guest who had knocked on the gate for too long.A cafeteria worker is accused of raping a schoolboy.

A resident of Dublin killed a neighbor while playing chess and cut out his lung.

Russian sailors frightened Indians with their bare buttocks.

The authorities of the Colombian city opened an exhibition of corpses for tourists. Video.

10th of January 2014 The drunk girl took a bite of a car parked by the cafe.

Drinkers during a feast on a dispute cut off his ears.By taking drugs, the student cut off his penis
From the Pre-Christmas "Editor's Choice" (from 6 January 2014):
20 rescuers minutes took out a naked Australian from a washing machine.
One would think that this is a collection of not the most successful quotes by a satirist writer or a broadcast of the "horror of the day", but this is the choice of the editorial board of the publication, which conducts its work under the wing of a state company. Does the editors of Vesti.Ru really think that topics about the bare buttocks of sailors, cow piss or a drug addict student are worthy of such a respected publication? Is it really necessary to choose a material about a piece of a car drunk by a drunk girl among hundreds of important world events?
It is clear that every resource, every media should be able to earn a living, attracting readers, but if state information structures today can afford this, then what can we say about private (public) information resources ... After all, it turns out that a selection of publications on state information resources - this is the choice of the state itself - the country in which we live. So - bare Australian, cut off by someone, excuse me, penises or ears - this is also our informational choice? Is this the information strategy of Russia in the domestic and international arena? ..