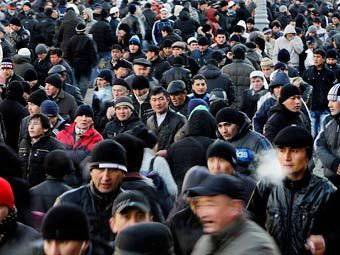 Some time ago, Russian media reported that Caucasian Russians, representatives of the Central Asian diasporas, as well as Tatar nationalists are planning to hold an "All-Russian rally against Islamophobia" in Moscow. Here is an excerpt from Nezavisimaya Gazeta: "People have recently started talking about possible street protests in the Central Asian diasporas. "This situation can lead to an explosion of migrants," Izzat Aman, chairman of the Union of Tajik Young People in Russia, told 3 in an interview with an Islamic site in December, complaining about the allegedly taking place of fascism in Russia. "Last year, when the janitor-janitors in Moscow did not receive a salary, they went out and protested. When the situation reaches the point of the explosion, they will come out again. Only in Moscow, 500 thousands of citizens of Tajikistan, and throughout Russia there are two million, will not find it enough. " Earlier, Aman told the Tajik media that his organization, headquartered in Moscow, established in 2007, has 6 in its ranks with thousands of people.
In turn, Magomedov (Muhammad Magomedov represents the Dagestan regional public organization Union of the Just - approx. E.H.) told NG that the action being prepared by him and his associates in the capital is not planned as "purely Caucasian." "We are Caucasians, but we would not like to close ourselves on this," he said, indicating that other nationalities could be in solidarity with them. "We say that the country has problems along the national and religious lines, and we don't like these processes. There are a lot of people, not Caucasians and even non-Muslims, who share our views, "the representative of the North Caucasus movement believes."
You can, of course, exclaim angrily, in the style of an angry "come in large" inhabitant: "Ah, they are ungrateful, we feed them (Caucasus), we give them the opportunity to earn money in Russia (Central Asia), but they still understand here, they are pumping rights!" All in
historical
habitat, and with Central Asia - an urgent visa regime! "
But let's think for a moment. Why does the degree of ethno-confessional rejection in Russia increase for the post-Soviet reality?
We will not talk about the Caucasus now, this is a separate topic. In the light of the imminent birth of the Eurasian Union, the theme of Central Asia (or, as the post-Soviet expert community sets out, Central Asia) will be increasingly relevant in our Russian expanses. Already in the "hallway" of the new Union is Kyrgyzstan, the likelihood of Tajikistan's entry is quite high, depending on who replaces Islam Abduganiyevich will accelerate, or, on the contrary, will not accelerate, the appearance of Uzbekistan in the new Union, well, there you see, everyone will persuade and Gurbanguly Myalikgulyevich.
And when Russia and Central Asia will reunite at the crossroads of Eurasia (these two "sisters" should sooner or later reconcile), what then will be said by very nationally oriented citizens (let's call them so mildly radical nationalists) of the common space, as they will "send off" each other home"? A common house and your "room" cannot be closed with the key to your neighbor.
Immediately after the collapse of the USSR, when people still remembered what the friendship of nations was, the problem of "alien" from the South of the post-Soviet space was not. It has become aggravated (or it has become consciously aggravated) gradually, a new generation of Russians has grown, two decades of "throwing" the Russian "elite" and its inability to offer the post-Soviet space anything really solving the problem of tension in international relations speaks for itself, somewhere problems are hushed up, somewhere everything is limited to empty declarations, not confirmed by real deeds. Only one point of view has been very active over the past few years in the Russian media - migrants from Central Asia are a negative problem.
Nobody seems to know how to solve this "problem". How quickly all the same we lost the systematic thinking of state people, if, for example, planes fall, tactical prohibitive measures immediately take place, and the fact that the entire branch of Russian civil aircraft industry is not at best, to say the least, and the task must be solved more extensively than the punishment of specific airlines - no, no, it is too difficult, and suddenly we can not cope. Similarly, with people coming to work from Central Asia, the flow has increased - prohibitive and restrictive measures, adaptation only in sweet words.
And the fact that after some time when they unite in a new Union, in Russia they will not be able to point the Central Asians "at the door" and they will become the same citizens of a common state, somehow endure-love? The problem will not go anywhere, and this "problem" is already dissatisfied and speaks openly about this with statements by the same chairman of the Union of Tajik Youth, and modestly wants to note that discontent is not unreasonable. If those who came to work from Central Asia were treated normally, did not poison, did not humiliate, did not look at them in the capitals as a working cattle, would there be any reason to say the same to a representative of the Tajik youth?
After all, immediately there will be a mass of people willing to translate this discontent into the ethno-confessional plane and pour oil on the fire.
Two decades after the collapse of the USSR, our Russian "elite" did not come up with any more progressive project than raising our national identity (and who suddenly told them that it is low) and building statehood on a national basis, even if it's the biggest and most important ethnos of a multinational country.
Who can take our history, our country and our future from us - Tajiks, Uzbeks, Turkmen, Kazakhs, Kyrgyz ?! Moreover, this story is common - international. We ourselves are not ridiculous of this, why cherish national complexes?
Meanwhile, back in 1996, in one of the articles, Andrei Grigorievich Zdravomyslov (Ph.D., director of the Center for the sociological analysis of interethnic conflicts of the Russian Independent Institute of Social and National Problems (RNIS and NP), a specialist in theoretical and practical sociology), stated: "Orientation Russian state policy on nationalism in any of its variants will inevitably lead to a rollback to the reproduction of archaic forms of consciousness. "
That's interesting, but why does our "elite" pundits, if she still does not listen to them?
Recently (already after I wrote the article "Russia without Central Asia is only a regional power") I stumbled across the Internet on an article by Fyodor Lukyanov, the chief editor of Russia in Global Affairs magazine, a short excerpt from it: "Zbigniew Brzezinski's statement : Russia remains an empire only if Ukraine is in its sphere of influence. After almost 20 years, the degree of Russia's future "imperiality" is determined in another part of the world - in Central Asia.
When the founders of the Soviet Union decided to dissolve it in the Belovezhskaya Forest of the Republic, the leaders of Central Asia were simply confronted with the fact. "
Russia needs a new "Throw in the South" ... but this throw should not be aggressive and colonizing, but progressive.
What can the post-Soviet Russian "elite" offer to the Central Asian "national outskirts" today, the archaic raider seizures of national enterprises by Russian oligarchs? So there are plenty of local volunteers there, and there is no much money in Russia right now, because of the greed of all the same Russian "rulers," China for example uses this, buying all of Central Asia under Russia's nose ...
When we are able to give progress to the Central Asian "national suburbs" (including, and perhaps primarily in interethnic relations), and not archaic, then we can talk about a real common country.
In the meantime, if we do not take up the national policy of the future of the Union, then the ethno-confessional tension may sooner or later result in ...