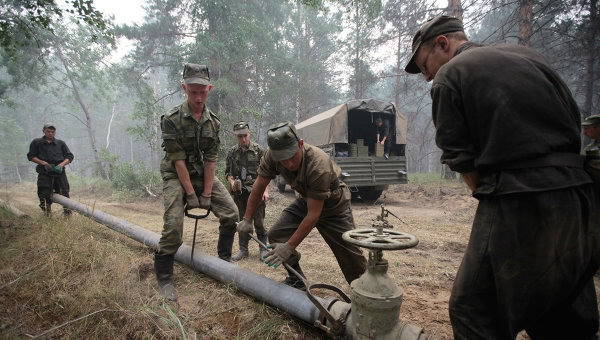 14 January Pipeline troops of Russia celebrate their professional holiday. November 22 1951 Chairman of the Council of Ministers I.V. Stalin signed a Resolution on the manufacture of a prototype pipeline of a new generation, writes
calend.ru
.
The USSR Ministry of War and the Ministry of Oil Industry were instructed to conduct joint testing of the pipeline in the field. January 14 1952 of the year on the basis of the adopted Decree of the USSR Minister of War Marshal of the Soviet Union A.M. Vasilevsky signed a directive, which prescribed the formation of the first separate battalion of fuel pumping. It is the date of the signing of the directive that was the birthday of the pipeline troops.
Gradually, the first divisions of the pipeline troops turned into regular troops, and by the end of the 80-s the best field collapsible trunk pipelines in the world were built. At present, pipeline troops are part of the Central Directorate of Fuel and Fuel and have no analogues in foreign armies.
For several decades, designers, engineers, pipeline soldiers, workers have created, developed and put into service various sets of field trunk pipelines that have no world analogues, machines for their installation and mobile pumping facilities.
Today, the main "weapons" of the troops are pipelines, pipe-mounting equipment and other means of mechanization of work, as well as special vehicles and communications. And their main task is to ensure the continuous delivery of fuel over long distances.
A serious test of the combat readiness of these troops was their work during the war in Afghanistan, on the territory of which field field pipelines with a total length of over 1200 km were deployed to supply fuel to the Russian troops; as well as during the counter-terrorist operation in the North Caucasus.
The operational and competent work of the pipeline troops was repeatedly confirmed in peacetime during the aftermath of natural and man-made emergencies: putting out large forest fires and peat bog fires in recent years, eliminating the 1989 earthquake in Armenia and eliminating the accident at the Chernobyl NPP when it was Uninterrupted supply of a large amount of water (up to 4 thousand cubic meters) from the nearest reservoirs to maintain the operation of the concrete plant and other facilities on the territory of the nuclear power plant. In addition, all their actions have helped save many human lives.