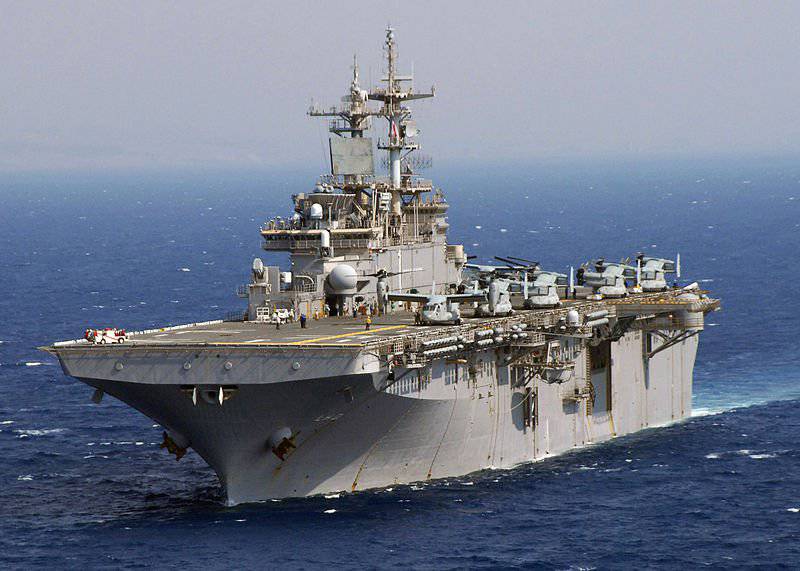 I was asked to describe how the UDC is organized. For this, he pulled out his Cruise Book (something like a dembel album, but officially printed after each long trek) from our trip to the Mediterranean in 1998, and looked there. I will try to describe the internal organization of our ship, but naturally I do not pretend to the present. I do not think that something has changed drastically, but the information is correct on 1998 year. I will not translate organizational groups into Russian, as I am not sure about the accuracy of my translations and do not want to confuse anyone.
And so - organizational ship is divided into departments which in turn are divided into divisions. Divisions can be broken up into smaller groups depending on need. In each department there is a commander and (sometimes) his assistant (both officers), as well as the senior chief petty officer responsible for working with the private soldiers. The division also has an 1-2 officer, a senior officer (senior chief petty officer) and a senior officer of the 1 article (LPO - a leading petty officer). The standard procedure for executing the order was as follows (in the example of our Air Department) - the mission control center decided to lift the helicopter from the hangar to the deck, where the Air Boss (the Air Department commander) ordered the officer in charge of our hangar division about it. He called the office where the chief foreman or foreman of the 1 article commanded everything. He radioed into the hangar what was to be done and there already 2dn / 3rd class petty officers (foremen of 2 st / 3 of the first article) organized the direct movement of the helicopter. The officers did not participate in the whole operation.
Naturally everyone is in charge:
Captain of the ship - according to the rank of Captain
Senior Commander - Commander
Chief ship foreman - Master Chief
Further organization of the ship (in alphabetical order)
Aviation Intermediate Maintenance Department
Responsible for support
aviation
squadrons and repair of aircraft and helicopters. When air squadrons arrive on board, they bring their mechanics with them, but the ship's department manages repair facilities, machine tools and supports them when there are no aircraft on the ship.
Consists of four divisions.
IM01 - clerks responsible for supporting documentation, training and quality control
IM02 - responsible for the repair of metal and composite structures of aircraft, repair of hydraulic systems, wheels and crew rescue equipment (ejection seats, parachutes, etc.)
IM03 - responsible for avionics and aircraft and helicopter combat systems
IM04 - responsible for ground support equipment - tractors, stands and so on
People:
1 Officer - Lieutenant Commander
2 midshipman
4 - senior officers
35 - privates and foremen
Air department
Responsible for the movement of aircraft on the ship, as well as avi-firefighters and tankers.
Consists of three divisions
V1 - responsible for the flight deck and all that applies to it, also for the suppression of aircraft fires on the deck
V3 - responsible for the hangar and everything that happens there
V4 - refuelers
(The missed V2 is on real aircraft carriers and is responsible for catapults and landing equipment)
People:
Air Boss - the commander of the entire department (Commander)
Mini Boss - Assistant Commander (Lt. Commander)
4 officer - division commanders
1 midshipman
6 - senior officers
95 - privates and foremen
Combat Cargo
Responsible for the movement of goods to and from the ship helicopters and amphibious boats. Constantly the entire 4 person - all the marines (officer and 3 sergeant). When marines come to the ship, the department is complemented by working hands.
Combat Systems Department
Responsible for the armament of the ship (including suspended under the aircraft). Everything that can shoot or explode is under their control.
Consists of three divisions
CSA - responsible for the aircraft armament of the ship (all that is suspended under or loaded on board aircraft and helicopters)
CSF - responsible for the radar and armament of the ship, as well as small
weapon
on the ship.
CSW - are responsible for EW funds
People:
3 officer
1 midshipman
3 top officers
60 privates and foremen
Command, Control, Communication and Intelligence (C4I) Department
Responsible for shipborne radar, computers, radio and intelligence
Consists of three divisions
CA - ship programmers (in 1998, the ship had a good internet connection and satellite telephones for calling home - this is about the fact that sailors should not be allowed to watch TV)
CE - manage radars, radio, ship television, telephones and so on
CR - responsible for communication with the shore
People:
5 officers
8 top officers
63 privates and foremen
Deck department
Boatswana - responsible for mooring the ship, refueling at sea, in charge of ship boats and a docking camera
Consists of two divisions
First - responsible for the mooring of the ship, refueling at sea, in charge of ship boats, etc.
Second - in charge of the dock
People
4 officer
1 midshipman
2 Chief Sergeants
67 privates and foremen
Dental department
Shipboard dentists - 1 officer and three foremen
Engineering department
The largest department on the ship, responsible for the engines and all major ship systems
Consists of seven divisions
Auxiliary - responsible for air conditioners, refrigerators, ventilation and water
Assault - are responsible for the boats, diesel generators, aircraft lifts and the ship's ballast system
E - all that is connected with electricity
Damage Control - all that is connected with the struggle for the survival of the ship
MP Forward - front boiler / engine room
MP Aft - rear boiler / engine compartment
People
8 officers
1 midshipman
5 Chief Sergeants
109 privates and foremen
Executive department
Ship clerks include mail, salaries and priests, etc.
Consists of six divisions
Ship's Office - the captain's assistants - are responsible for transmitting his orders to the ship
Personnel Office - Human Resources Office
Print Shop - if you need to print something, you go there
Public Affairs - a public relations office (for example, they make photos that we then discuss).
3-M - Maintenance Material Management System - a system to support the technical condition of the ship. Roughly speaking, they say that when it is necessary to check, lubricate or repair. Each department has its own list of what needs to be checked every day / week / month / year.
Chaplain is a ship priest. He is a ship psychologist and a representative of the Red Cross.
People
2 officer
5 Chief Sergeants
24 privates and foremen
Medical Department
Ship doctors. Since the amphibious assault ship, there was a full-fledged hospital on 48 beds, 17 places in resuscitation and 3 operating rooms
People
2 officer
1 Chief Sergeant
14 privates and foremen
(when the ship is landing, they are complemented by the Marines' doctors and a separate team of military surgeons)
Navigation Department
Navigators and signalmen
Consists of two divisions
Quartermasters - navigators
Signalmen - signalmen
People
1 officer
2 Chief Sergeants
13 privates and foremen
Operations Department
Ship scouts, meteorologists, dispatchers, etc.
Consists of four divisions.
OA - Meteorologists
OC - ​​air traffic controllers
OI - responsible for monitoring the situation around the ship (which is located in the sky, on the water and under water)
OZ - scouts - collect a picture of the enemy from various information
People
5 officers
1 midshipman
6 Chief Sergeants
60 privates and foremen
Safety department
Roughly speaking, observers who go around the ship, watch the flights, the landing force, the delivery of cargo and have the right to tell anyone that he is doing something wrong in terms of safety. 1 officer and three foremen.
Security department
Ship police. Maintain order on the ship, check for drugs, etc. 2 chief officers and 4 officers.
Supply department
Cooks, suppliers and so on
Consists of eight divisions
S-1 - responsible for the supply of the ship.
S-2 - Cooks for privates and foremen
S-3 - ship shop, hairdresser, laundry
S-4 - those who pay a salary
S-5 - Officer's mess-room and canteen
S-6 - aviation supplies
S-8 - Responsible for keeping parts inventory at the right level
S-9 - quality control.
People
7 officers
1 midshipman
8 Chief Sergeants
50 privates and foremen
These were all ship departments. In addition, a lot of other departments are attributed to the ship at sea, depending on what the ship goes to sea for. In our campaign, we went with ComPhibRon8 (the headquarters of the amphibious group), Assault Craft Unit 2 (4 amphibious platoon LCU with crews), Fleet Surgical Team4 (naval surgeons), HC-6 (two rescue helicopters). And of course, about 1700 marines, but there are no details about them in our Cruse Book.