One of these days I decided to distract from everything and everything and indulge in a bit of childhood - to play the uncomplicated computer game "Red Alert" ("Red alarm"). For those who do not know, this is such a strategy, which, however, does not require special mental abilities, much less military knowledge. You just need to have superiority (if not numerical, then technical) in the direction of the main attack.
Moreover, one of the warring parties in the game is the USSR. Well, what could be nicer than grinding the decaying West with Soviet caterpillars
tanks
?
I'm not going to describe the game to you here, of course, but at first one detail of it really made me laugh and then interested. The fact is that under the terms of the game, the Soviet army has at its disposal ... STORM BEARS. Yes, such ordinary brown bears in helmets and bullet-proof vests, who can also swim, unlike simple infantry.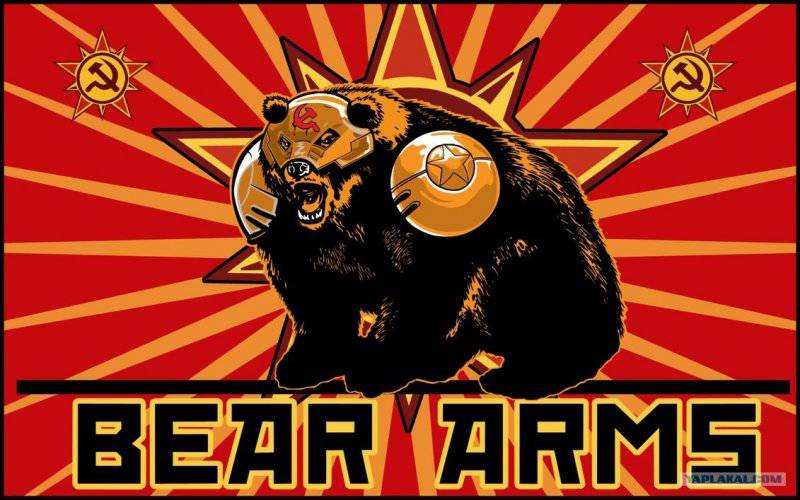 Well, of course, in the case of the game, this is yet another mockery of its developers (and you probably guess that you didn't create it) over us, "stupid Ivan," who called the bears into the army.
However, natural curiosity, for which, I will not hide it, not just received on the nose, made me take up this issue and find out, and what the hell is not joking, it may be that a bear in war is not such a rubbish.
Fortunately, in order to find out something, nowadays it's not necessary to sit down in the reading room of libraries, it is enough to competently make a request in the world wide web search engine. That with success and done.
And came across an article by a certain V.T. Ponomareva "Fighting Animals: Secret
weapon
of all times and peoples. " Work, I tell you, the most interesting.
Of course, most are devoted to such traditional animals in war as horses, dogs, in more ancient times war elephants. But there was a lot of surprising and even, I would say, incredible.
However, whoever wants, he will easily find this material and get acquainted with it. I was interested in bears. Well, as it is sung in that old song: "He who seeks will always find it!" It came down to the "clumsy" too. It was nice to know that it was our ancestors who succeeded in taming them. But the beginning of the chapter on bears was not impressed. The author wrote about "bear fun" (man versus bear duel), about hounding dogs with packs of dogs, and finally, about purely bear fights and training (very cruel).
It was getting boring already, because everything that was described above (except for the ancient methods of dressing), anyway, any schoolchild knows. I wanted to give up before I reached the lines:
- With trained bears from the village to the village, from the city to the city went fun buffoon. Amusing people gathering in the square, the bear, at the behest of the counselor, amusedly depicted various scenes: "like pop to the mass goes," "like a guy from a tavern returns," "like women rinse underwear," and so on. Russian tsars eagerly invited to join the service of the masters of the bear comedy.
Few people knew that the masters of the "bear comedy" not only entertained the audience, but also consisted in the royal secret service. Many such artists with bears roamed the cities of Western Europe, performing important secret assignments.
The Novgorod Chronicle writes that in 1572, by decree of Ivan the Terrible, "in Novgorod and in all cities and townships, sovereign took merry people and bears ...". There were all sorts of different incidents. The official who was involved in this business did not like one of the bears mentioned in the review. Then the buffoon, in order to prove the merits of his pupil, let the intractable clerk of the bear on him. The chronicle reports: "Subota Oseter, sexton Danila Bartenev, beat and beat him with a bear." Danila tried to hide in the Zemsky hut, but the bear broke in behind him there.
Here's your time! What is it that turns out, bears are not just "strap pulled", but served in intelligence?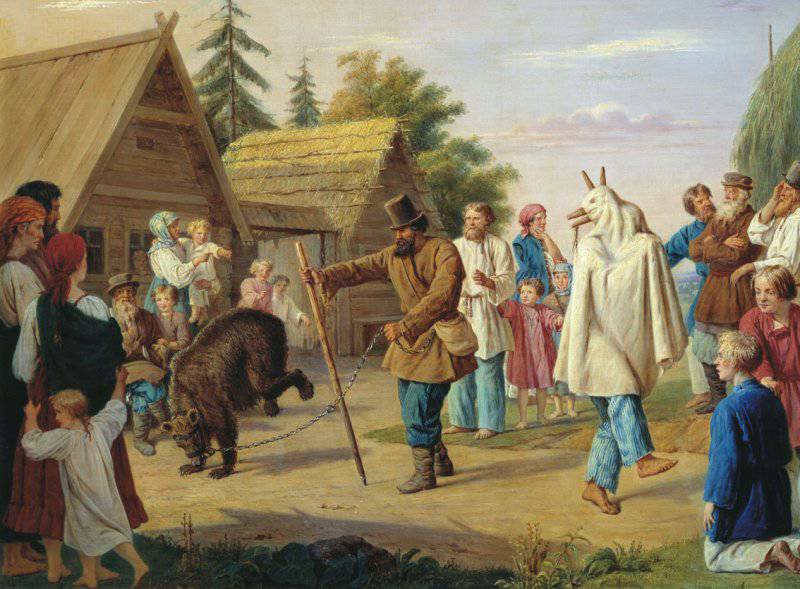 I have the courage to assume that the duties they performed there were not only distracting and entertaining. For some reason I have no doubt that if such a "buffoon" was taken out to the clear water, a teddy bear would at least help the owner to escape, having taken the blow upon himself. Although, I confess honestly, Ponomarev does not write about this.
And then - more:
"In the course of time, the experience of guide dogs and buffoons led to an improvement in the training methods of the" brute "... I did not disregard the" scientists "bears and the army. There were cases when trained bears, along with archers, stormed the enemy fortresses. In this case, the bears worked with their front paws, holding the body in an upright position.
At the time of Peter I, the Moscow home of Prince Fyodor Yuryevich Romodanovsky (by the way, one of the few representatives of the ancient boyar clans who unconditionally supported the beginnings of the young tsar), the formidable head of the Transfiguration of the Order who was in charge of secret political intelligence, was famous for its trained bears. To the arrested, who were brought to Romodanovsky for interrogation, a white bear was assigned instead of guards. While Romodanovsky interrogated one prisoner, the bear guarded others, without causing them any harm, but also not allowing them to make an extra move. When, at the request of Peter I, Romodanovsky was sent to him for interrogation by the leaders of the Astrakhan revolt, a polar bear was also sent with them. Most likely, the king wanted to see how such an unusual "officer" was serving.
And here I ask readers to pay special attention: the WHITE bear and the WHITE bear! Unlike brown bears, modern trainers prefer not to get involved with these polar relatives. For reference: in the Moscow Circus on Vernadsky there are spouses Yuri Khokhlov and Yuliya Denisenko, working with polar bears. In 2012, they were the only ones of their kind in all of our vast Russia.
In general, after reading this, I was already seriously interested in the question and decided to look for whether it is possible to develop some special skills in a bear that will allow it to be used for military purposes and in modern conditions.
Without much difficulty finding the website "Bear World", I read there:
- In truth, bears are in many ways similar to humans. They can be taught almost everything, it all depends on the skill and professional skills of the trainer. Circus bears can act as equilibrists, cyclists, riders, motorcyclists, boxers, acrobats, musicians.
Everything is subject to bears, from ballet to walking on a wire, a fashion show. A special respect deserves a bear named Stepan Mikhailovich, who became the first animal in the world to receive a real driver's license and was able to drive a Niva car. Driving school "Strela" gives rights not only to bears, but also to ordinary citizens. Stepan Mikhailovich became the real pride of the entire USSR, as well as its leaders Olga and Viktor Kudryavtsev.
To this I will add that older people probably still remember the two hockey teams of bears. The legendary Soviet trainer Valentin Ivanovich Filatov coached these "ice squads".
Imagine what it is like to put, in general, a wild beast, on skates. But you still need to teach at least a stick to hit the puck.
From my own childhood, I remember how once my father and I were in a circus, and there, the bears, like real dzhigits, climbed under the belly of a horse when it rushed at a gallop.
In general, even animals that are close in structure to humans, like monkeys, cannot do what they managed to train with "tops".
Well, well, why can a bear be needed in a war? The first thing that comes to mind offhand is hand to hand. After all, it still happens that, for various reasons, it is impossible to use firearms. I hope no one will argue that the enemy simply has no chance against such "attack aircraft"? Especially if the fight is in a tight room. By the way, with proper training, the bear can wean a roar and growl loudly.
The second. Having fixed the same video camera on the bear's head or back, it is quite possible to use it in reconnaissance. Here he will have some advantages in comparison with, say, a dog. Imagine, it happens in the forest, and agree that the "clumsy" one who gets out of the thicket will look much less suspicious.
Another question is, is it safe to hire such "soldiers"? Will the clumsy "warrior" turn into the most crucial moments of the assault around its own axis, going to destroy its own? - In fairness, we note that many trainers consider a bear to be more insidious and unpredictable than a lion or a tiger.
But let's remember about the archers, who took the "tops" on the attack, when really shock power was required. Are the ancestors so stupid? Hardly, rather, on the contrary, they did not sit for hours at the computers and knew about the surrounding nature much more than ours. Probably, the animals were able to teach how to distinguish between their own and others.
And here is one modern
история
about bear devotion. So to speak, as indirect evidence.
American naturalist Casey Anderson picked up a little grizzly bear (the cub was only two weeks old) and left it, leaving it to live at home. Anderson called his pet Brutus, and since then they have been inseparable.
Brutus lives in a special refuge that Casey built especially for the beast. Because of this, he can live like a wild grizzly bear in the natural world and comfort. According to the naturalist, living near Brutus is not at all dangerous, for he loves people very much.
Today Brutus weighs 362 kg and has an increase in 2,4 m. However, the large dimensions do not prevent him from happy to spend time in human society. He never stays alone and even dines at the table with the Anderson family. Moreover, at the naturalist's wedding with Hollywood actress Missy Pyle, the bear was invited as a "best man".
For many years, Anderson and his supporters have tried to debunk the stereotypical opinion of people about bears. The opinion has taken root in human minds that the grizzly is a dangerous and bloodthirsty man-eating predator (by the way, he is considered angrier than a Russian brown bear). In fact, according to the scientist, bears always try to avoid meeting a person.
- They are afraid of us. They are afraid because many members of the human race are much more bloodthirsty and merciless than bears, "Casey explains.
In other words, "a bear is not so terrible as it is painted". And I want to pay special attention to the fact that this story took place in the homeland of the game developers who amuse themselves with the "Russian bears". Good always laughs the one who laughs last (and preferably, without consequences).
In conclusion, I want to say that the article was written out of curiosity and in order to prove that there is nothing impossible in this world. But, frankly, I am categorically opposed to animals (and even more so beautiful and proud like bears) to be used for fun or, even worse, killed and maimed in the war. And therefore, unlike all previous articles, I beg you not to take this as a guide to action.
Brown bear - the beauty and pride of the Russian forest. May God grant him good health, let him live!