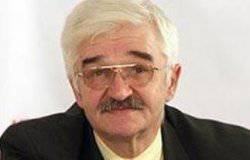 The military of Senegal detained the Russian fishing vessel "Oleg Naidenov", officially motivating it with illegal fishing by the crew of a fish vessel in the waters of Senegal. The fate of the trawler is still in question.
Is there a geopolitical background in these events, or is it just an economic conflict? What should Russia do now to free the trawler and prevent the incident from recurring again? Konstantin Sokolov, vice-president of the Academy of Geopolitical Problems, comments on the situation for KM.RU.
This is a humiliation, and everyone understands this perfectly!
So, the new 2014 year has begun, and at first glance, the scattered events that caught the eye earlier now add up to one row. They have a deep relationship. The incident with the Russian trawler "Oleg Naydenov" operating in the traditional fishing zone, secured by international treaties and quotas, was so strange that so far they could not really make a valid claim. However, the trawler is still being delayed, and from my point of view, it's incorrect to explain this quarrel over fishing quotas.
The fact is that now Senegal has dared to detain our ship; But could he do this with the Soviet trawler? .. This is a humiliation, and everyone understands this perfectly! I believe that the attacks in Volgograd, the attack on the Prirazlomnaya platform and the detention of Oleg Naidenov are elements of one system of action. All this is a demonstration of the thesis that Russia should "take its place" at the master's foot, be a humiliated slave and should not have any claims to something of its own. That's what's happening now, and this is important.
I believe that the situation with "Oleg Naidenov" is a political provocation, and it will be very well worked out by all the world media. I do not doubt it! In the end, our sailors will be released, there are no violations there, and this is also clear to everyone. But we have to understand that we have fallen into a position when we either give up or finish us off. But this is a matter of principle: after all, they are now finishing our positions in the world. I draw this conclusion from recent events.
We must understand that the enemy will not regret us
The question arises: what should Russia do and what can it do in response? Formal diplomatic actions have already begun, we see this, so Moscow defended the sailors. That is, at the diplomatic level, the face of the country is saved. But on the eve of the Olympics, any conflicts are contraindicated to us, and we are driven into a corner. Now Russia can not do too much. However, we must act not defensively and not where we are attacked according to the plan of the opponents.
We need to figure out who the enemy is, why he is attacking, and we must understand that he will not regret it. Therefore, it is necessary to counterattack, and not where it is convenient for him. That is, to thwart the enemy's plan, we must act in those areas where he does not want to.
I would like to see such actions of Russia now, from which at one time our probable opponents changed in the face. This is called an asymmetric response, and what exactly it will be is the work of the relevant structures. Here I can not tell, not knowing all of our capabilities. Nevertheless, I believe that it is necessary to answer not where they expect it from us, that is, in Senegal, but unexpectedly, in another place.