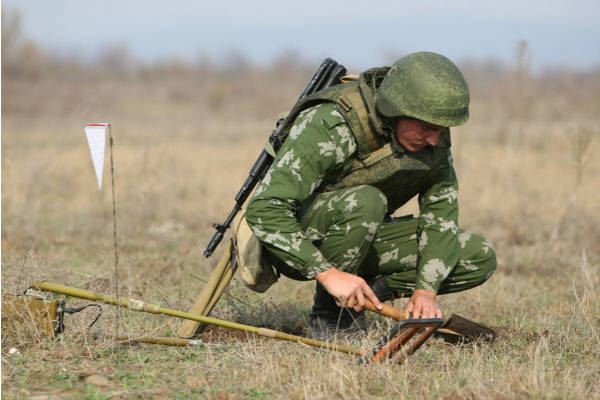 The announcement of the tender for the development of a device for the remote detection of "hellish machines" appeared on the official website of public procurement even before the terrorist attack at the railway station in Volgograd - 27 December last year.
Scientific-Production Association of the Ministry of Internal Affairs "Special equipment and communications" placed a special order entitled: "Development of an instrument based on the multi-frequency non-linear radar method for remote detection of explosive fragmentation devices used in committing terrorist acts," the code "Medal (Minusinets-1 ) ".
Applications for participation in the tender are accepted until January 29, the competition results are scheduled for February 12. And it was proposed to do all the work by November 15 on 2016.
The device, according to the technical specifications of customers, must recognize an explosive device at a distance of up to 10 meters with a probability of at least 98 percent. The preparation time of the device for operation should not exceed five minutes, and the signal processing should take no more than 0,5 seconds. When a bomb is detected, the buzzer should sound. It is planned to spend 39 million 17 thousand 700 rubles for the project implementation.
The method of nonlinear radar (NRL) allows you to detect almost any electronic devices on semiconductors, not only working devices, but also turned off. In fact, we are talking about finding not explosives, but the fuses themselves, possibly detonators.
The experts of the Ministry of Internal Affairs told the "RG" correspondent that in our country there are already more than a dozen models of non-linear radar, differing in their technical characteristics.
But, apparently, they do not satisfy a range of technical requirements, including mobility, search range and detection quality of a super-weak signal. For example, an industrial-grade electronic fuse installed permanently, existing devices can catch.
And if the device is mounted on the body of a suicide bomber or in a car and is in motion? If artificial interferences are created (and non-artificial ones too)? Terrorists themselves often make fuses from the receiving devices of Chinese electronic toys, which are triggered by the signal of a mobile phone. Recently, there have been reports of the so-called "liquid explosive", which can be "pumped" directly into the body of a shahid.
According to experts, the new device must be combined with a device that recognizes the chemical composition of explosives. Such devices, including those operating on fast neutrons, can detect explosives even in concrete walls at a depth of 10 centimeters.
In the meantime, the dog's nose is the most effective means for detecting lethal devices.