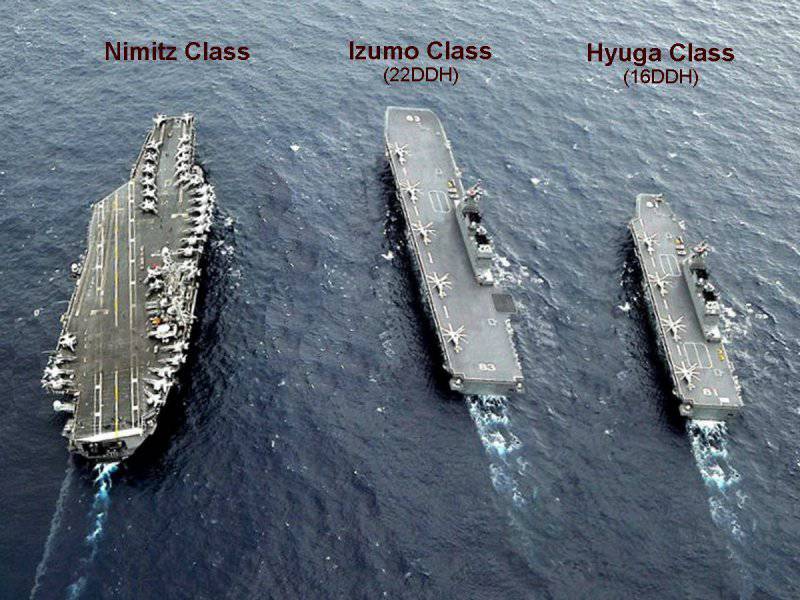 The new ship of the Japanese Navy under the name Izumo has a deck and is almost the same size as the Sekaku and Dzuikaku aircraft carriers that took part in the attack on the Pearl Harbor base of the US Navy in 1941, but the government insists that it is not an aircraft carrier reports ajw.asahi.com 7 January.
With a length of about 250 m and a standard displacement of 19500 t "Izumo" is the largest ship in the Japanese Navy. 9 helicopters can simultaneously land on its deck. Nevertheless, the Ministry of Defense and the command of the Navy insist that this ship, launched last summer, is "just a destroyer capable of carrying helicopters." The media in China and South Korea have stated that this "semi-avino carrier" is evidence of a heel to the right of Japan's foreign policy.
Military journalist Shinichi Kiyotani (Shinichi Kiyotani) said that "in accordance with the international standards of this class of ships, Izumo is an aircraft carrier. The government is afraid to admit this fact, as it fears political consequences. " Published annually by the authoritative British warship directory, Jane's Fighting Ships classifies this ship as a helicopter carrier. Izumo is to replace the Sirane helicopter carrier with a standard displacement of 5200 tons. The Japanese Navy already has two Hugo and Ise helicopter-carrying destroyers with a standard displacement of more than 10000 tons each. At the construction stage is another ship with the size of "Izumo", which means that the Japanese Navy will have four large ships of this class.
Izumo can be based fighters with a vertical landing, such as the F-35B, but a senior defense official said that "such modernization is possible, but practically impracticable, as it will require a huge amount of time and money, including the purchase of fighters and training the necessary personnel for their operation ".
The former commander of the Japanese Navy Yoji Koda (Yoji Koda) said: "Izumo" is a ship that is fundamentally different from an aircraft carrier. If appropriate conditions arise in the future and a decision is made to build an aircraft carrier, such a ship can be built only after explaining to the public what it is for. "