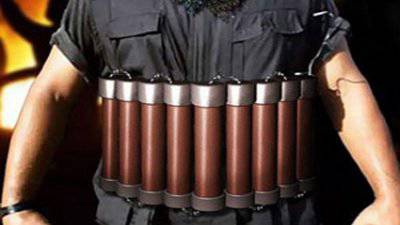 Today, many countries in the world are looking for effective solutions to the problem of terrorism. However, terrorism is far from the first place in the list of major threats to humanity. Sergey Pereslegin, an expert of the Center for Strategic Research "North-West", spoke about the threats that are born in post-industrial society, and his vision of how to deal with them.
- Vladimir Putin recently spoke about the need to include preventive, preemptive strikes against terrorists in the actions of Russian security forces. What do you think, will the effect of such strikes?
- Putin's statements were made regarding a very specific war in Chechnya, which is being conducted quite successfully for Russia, despite all the statements of our and Western media. And now we are talking about the fact that Russia has chosen the tactics of decisive active actions. What the President said should be read as follows: "We know the bases of terrorists in the Caucasus and Transcaucasian regions and we will smash them within the limits of the possible, and at the same time the impossible, and if anyone opposes this, he is an accomplice of the terrorists". I completely agree with this position, but it is absolutely impossible to cope with terrorism in this way. The fact is that it is impossible to call the Chechen war "terrorism", for our happiness.
Why do I say that to our happiness? Even the leaders of Islam themselves do not consider Ichkeria seriously. Ichkeria is a country that was trampled into the archaic phase from the traditional phase in which it was staying before the start of the war. Therefore, nothing but archaic forms of terrorism, Chechen militants can not organize. And when they say that the attacks in Beslan or Nord-Ost were organized by the Chechens, this sounds funny to me. The maximum that they can do is suicide bombings on airplanes, and this will be the limit of their strategic planning. Moreover, it should be noted that over time, the level of human material in them naturally decreases, and the quality of terrorist attacks decreases in the same way. And from this point of view, preventive strikes can be delivered to the terrorist bases they have left before waiting for the terrorists to take action.
However, now the real terrorist threat has really arisen in the world. Terrorist groups are used by strong industrial and post-industrial military regimes. And against them we cannot deliver preventive strikes, because we do not know where they will act, nor how, in any group, nor, most importantly, to whom they are really subordinate and in whose interests they act.
Recall the same Beslan or "Nord-Ost." Of course, investigations were carried out, but they did not manage to reach the real organizers of this terror. It is clear that Chechens there were used as working material, which is not a pity, like the 11 Arabs of September in America. But who planned these attacks? The answer to this question was never found. Against this kind of terrorism, simple ideas of preventive strikes, mind you, have already been declared by Bush in connection with Afghanistan in due time, in my opinion, not to cope.
- You say that Chechen terrorists are poorly prepared. But after all, the same Basayev is prepared enough ...
- Of course, individual Chechens, or individual Arabs, or, for example, individual, relatively speaking, Moroccans can be developed arbitrarily high to organize real terrorist acts. But then they are representatives of international structures. There is such a notion of a "world city" - from some stages of a city's development, they cease to be "country", and pass into the world class. Such cities are Moscow, New York, Shanghai. St. Petersburg is also to a certain extent a world city.
Terrorism is a similar situation - there are "country" terrorists, and there are world terrorists. World terrorists are another level, this is not pre-industrial, this is post-industrial terror. And, of course, specifically Basayev, by himself, is much higher developed than ordinary Chechens. But, on the other hand, fortunately for us, there are relatively few such Basayevs, and most of them are not interested in Ichkeria itself - they have just a different scale.
- How do you think the media should cover the attacks?
- There is only one possibility to really deal with terrorist acts - the Soviet one. If you remember, there were terrorist attacks in the Soviet Union, although not many, but no one ever heard anything about them. No one, except for the units that were engaged in security, or dissidents, who were engaged in a special collection of information. The population as a whole knew nothing about these acts. Even really scandalous
stories
the type of family of ovechkin at that time remained virtually unknown. Therefore, the only real struggle in this sense is not to cover the terrorist act in any way, for example, regarding its cruelty and so on, but simply not to publicize it at all.
I will give you an interesting example. At one time, Russia suffered greatly from the Volga river piracy, suffered until such time as Tsar Alexei Mikhailovich declared: we do not have Volga river piracy, and all the complaints of merchants to pirates are a lie, for which the merchants the king ordered to beat with batogs. The most ridiculous thing is that from that moment the river piracy on the Volga almost disappeared, because the opportunity to "cut money" on the basis of contacts between pirates and merchants, i.e. The material base for the activity of pirates disappeared. Therefore, I believe that we should have a similar policy: a position like "we do not have terrorism, we do not know what it is."
- And how, in this sense, to "fight" with such a source of information as the Internet?
- If you wish, you can. Any sites are easy enough to close if there is a need. A simple example is that it is no longer possible to find a new Harry Potter on the web, 15 sites were closed in my eyes for a few days. And sites can not be closed forever, but only for a while. In a week they can be opened - no one will be interested in this topic. Another option: you mask these events with a significant outburst of completely different information, for example, about the disclosure of a terrorist attack that happened somewhere in Andalusia. At the same time, it does not matter at all whether this terrorist attack was there or not.
And, finally, you can even quite calmly publish information about terrorist acts, but before that people need to be educated so that they do not treat this information as disturbing, exciting information. Those. so that there should be an absolutely calm reaction, approximately corresponding to the real scale of the tragedies taking place.
Last year, Russia lost about 2,5 thousands of people from crimes, terror, all sorts of violent deaths. It's a lot. But at the same time on the roads, we lost 8 thousands of people, and this absolutely does not terrify anyone and does not hurt. That's when people learn to compare information in such a way, to perceive terrorist acts not so emotionally - it will be much more difficult for them to be affected by terrorist methods. Information about the terrorist attacks, they will simply put under the overall cloth: there is a threat to get under the car on the street, and there is still a threat of terror, much weaker. No one is afraid to go out because a car can knock him down.
- But after all, people, fearing terrorism, are primarily afraid of uncertainty?
- That's it. The problem of today, which is very much involved in Japan and the United States, and much less in our country, is actions under conditions of uncertainty. This is one of the fundamental tasks, and the problem of terror is just part of the task. These actions include technological disasters, which themselves are far more dangerous than terrorist attacks in the future, and political disasters. I mean that terror is terror, but in general a political catastrophe can always happen, which will translate into a small war, and not only where in Rwanda, where it happens regularly, but also, for example, in Europe. This kind of things should be dealt with and prepared for the population, and the danger of such situations should be written.
The world has become extremely complex, it is over-complicated. Today, those things that used to be almost innocuous, at the time when they are combined into a combination of different factors from 10-15, can lead to real serious problems and victims. And terror is the tip of the iceberg, far from the most dangerous. Neither a single person from the street, nor experts, nor political structures in the conditions of an over complicated world and uncertainty can act. And this is really a problem.
- And how to solve it?
- This problem has not been solved even theoretically. Americans have more than 10 years the problem of action in the face of uncertainty is occupied by their main research center "Thought Factory". There is a concept of unmistakable action. As a rule, a person always intuitively feels internally when he does something wrong, and it does not matter how this is explained. But we do not know how to listen to these sensations. Now, if we learn, we will take a very big step forward towards faultless actions, and this will solve a lot of problems, including in the field of terror. The second possible logic is to teach people how to act during chaos. People should be trained, despite the chaos, to withstand a certain line of conduct.
And finally, the third, very important. In fact, terror is terrible in the fact of death. Remember: Christians never feared death. Now those who believe in Allah or the Japanese who do not believe in are not afraid of death. That's about the fact that the fear of death is an extremely negative and dangerous social factor - you need to talk and write about it. A person who is not afraid of death is not subject to threats of terror. The attacks against him are useless.
Sergey Borisovich Pereslegin - physicist, sociologist, historian, critic, publicist. Born and lives in Leningrad (St. Petersburg). He graduated from the Faculty of Physics of the Leningrad State University with a degree in nuclear physics and elementary particles. Since 1989, he has been working on systems theory at the Moscow Institute for System Research (NIISI). Over the years, he has carried out information development for corporate systems: the technology of information flows and their structural support. In 1996-97, he lectured on sociology at the University of Kazan and at the Riga Sociological Center. Since 1985, a participant in the Leningrad seminar of Boris Strugatsky. Researcher and theorist fiction. Author of more than fifty critical and journalistic materials on the history and theory of science fiction. Winner of a number of literary awards. Pereslegin is the compiler and editor of the books of the Military History Library series. The author comments on the books B. Liddel Garth, M. Galaktionov, E. von Manstein, F. Sherman and other military-historical works. Author (with E. Pereslegina) of the Pacific Premiere monograph. He is the author of more than thirty papers on systems theory and strategy theory.