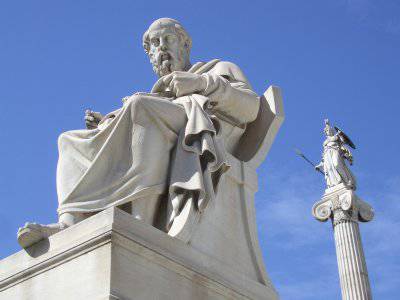 At one essay contest about Socrates, an 12-year-old girl won, writing the shortest: "Socrates walked among the people and told them the truth. For this he was killed. Better, perhaps, one cannot say in two words about this barefoot old man, whom the Delphic oracle called the "wisest of mortals".
He was born in 469 BC. in Athens and died there in 399 BC, after drinking a bowl of juice of a poisonous plant, according to the verdict of the court, hemlock. His father, a poor sculptor-mason, could not give him a decent education, and from where Socrates had gathered his extensive knowledge, admiring contemporaries, is unknown. It is known that in winter and summer he walked in the same clothes, worse than other slaves, often barefoot. But its popularity was such that in 404 BC. The government of 30 and tyrants called him to his service, but he, risking his life, refused outright. He condemned all forms of government: aristocracy, plutocracy, tyranny and democracy — as equally hypocritical and unfair. But he believed that the arbitrariness of one is still better than the arbitrariness of many - and that a citizen is obliged to observe any, even the worst laws of his homeland.
In his youth, he distinguished himself in three military campaigns, carried out a wounded comrade from the battlefield. Entered into the tradition, as a model of stupidity, his wife Xantippus, the union with which the poet Mandelstam noted:
Meets Drunk Socrates
Winged swearing wife.
Perhaps he really often came home tipsy, because he loved most of all, hanging around the city for a long time, to ask everyone who is not too lazy to engage in conversation with him, his famous questions. Well, the conversation and the ancient Greeks was a companion of feasts and wine. For all his life, he did not write a single line, imprinted like Christ, in the retelling of his speeches by his disciples - the main thing is Plato and Xenophon.
Socrates is considered the founder of dialectics and the first who deeply dug up the question of entities - common concepts for different things. For example, what is in itself "beautiful", "bad", "useful" and so on. But he himself, the master of figurative and tenacious speech, did not formulate his philosophical task. But as a wanderer drawn by some guiding goal, he tortured everyone with seemingly ingenious, but gradually insidious, even questions, sometimes filled with sarcastic irony. The more arrogant and self-confident the interlocutor was, the more mercilessly furnished Socrates - and, having pushed into a dead end, he still seemed to recollect: yes, I myself am such a fool that I completely misled a man!
But behind this seemingly ridiculous thing lay the method of Socrates, immortalized, which he compared with the hassle of a midwife who helps a woman in labor. And the purpose of these troubles was to get rid of the chaos of the contradictions and thoughtlessness of what Socrates put above all in life - the truth.
But what great truth did he bring to light? Yes, no - except the only one that never got tired of repeating: that he knows only that which knows nothing. And this is only different from the ignorant, who also know nothing, but think that everyone knows.
Why, then, was he so revered during his life - and was posthumously erected almost in the forefathers of the science of philosophy? Formally, for his dialectic method, later formalized in the theory of "unity and struggle of opposites." But in essence - for the image of a thinker embodied by him, who has the courage to go beyond the limits of everything driven, in order to comprehend with the power of his mind a mysterious, bottomless world - first of all the human world. His fierce passion impartially and meticulously judging everything in the world did not bypass either the most simple-looking, "children's" questions - not the most paradoxical and even taboo: about the essence of gods and power. He may be the first of all thinkers to bring such a view into the system that truth is not a certain God-given absolute, but a set of contradictory and even mutually exclusive at first glance sides.
Here he, for example, starting from the most trivial, is trying to establish the essence of such a concept as courage: "Does courage," he asks the interlocutor, "not to leave the battlefield first?" - "Of course." - "Is it cowardice to flee from the enemy?" "Of course." - "And if a warrior escaped with cunning and with its help defeated the enemy?" Then the interlocutor was already somewhat confused: how could he have missed such a trick? And further from question to question, as if stripping a leaf after leaf of a head of cabbage, sifting away any false or even inaccurate judgment, Socrates strives to the core - and what does it come to? Most often, there is no definitive answer. But the powerful mind of an insistent vagabond as if pushed through us through all the contradictions of the subject, infected us with the feeling that this tearing through the outer foliage is the way to the truth. It is only necessary, as it were, he constantly instills, fearlessly, without blinking, looking into the eyes of truth — or darkness, in the absence of sufficient light.
Like others, there is an absolute ear for music, he has an absolute ear for every untruth. And his statement about his own ignorance was most likely neither a deliberate paradox, nor coquetry. It seems that he had in his heart some kind of ineffable image of truth, realizing that in the modern world he does not have the opportunity to speak it. Therefore, mainly tirelessly swept away all that was untruthful - and there are much more negatives in his conversations than statements.
From here, apparently, two of his most mysterious confessions for his contemporaries, for which he paid in the end with his head, also originate. One thing is that for some time a certain inner voice or "demon" has settled in it, who has never said what to do, but said what should not be done. But the second is the most seditious. Reflecting on the subject of the many gods of the time, he suspected that they did not act on their own, but behind them was a certain manager of their actions, the archibog.
But with all this he strictly kept and some positive principles. All the same, probably, the inner feeling that broke all the patterns of abstract judgment, forced him to build civil virtue into a higher human quality. And surprisingly echoing again with Christ, he, for 4 century before Christ, spoke one of the main guidelines of the future God-man - that it is much better for everyone to tolerate evil than to create it. But along the way he fell into some kind of insanity for the sage - considering that if people understand what is good, only he will be followed!
Civic duty, he steadfastly performed not only in war. The citizens remembered his principledness in the post of pritan - a member of the council of Pritania, an institution that sent imperious and ritual functions. In Pritaney they were still treated to an exquisite dinner at public expense by the heroes who distinguished themselves in favor of the fatherland - for example, the winners at the Olympic Games. And when someone was convicted of execution, unfairly in the opinion of Socrates, he was one of all 50 and fellow pritans loudly opposed.
But even to a modern child it is probably already clear that sooner or later this registrant with his indomitable word and mind should not be happy. For aristocrats, he was a provocative commoner, mercilessly beating up public education in big debates. For the Democrats, they are scaring away their catch and tearing down their whistleblowers. Someone even compared it with an electric stingray, which with its blow deprives the language of any debater. Someone else was scared by his great criticism and complete detachment of judgment ...
But since even the 30 tyrants did not dare to openly pursue him for refusing to serve them, the Democrats who replaced them brought a secret intrigue against him. It is believed that the sophists put his hand to it, whom he ridiculed for aimless verbal juggling. But then fashion arose on them, they gave costly lessons to noble young men - and Socrates, who taught everyone for free, also undermined their business.
The famous comedian Aristophanes played a bad role in his fate. Belonging to the conservative party of agrarians, he did not distinguish between Socrates and the sophists: both of them were for him free thinkers who trampled on holy antiquity. In the comedy "Clouds", he derived Socrates just in the image of a sophist who sits like an owl in his "thinking" and teaches young people not to pay taxes and spit on their elders.
As a result, the "group of comrades" of the Democrats, led by a certain Anit, brought Socrates to trial on the fabricated accusation, as they say now. He was charged with the corruption of youth, the denial of the gods of the fathers and the introduction of a new deity - "firing" then the article. True, in Athens, which was proud of its enlightenment, it was practically not used - and the trial of Socrates was thought rather as a sham, with the aim of only shortening it, but not depriving it of life. But old Socrates, a military veteran who did not worship the former 30 tyrants, did not allow himself to be put in a clown role.
When he was given the floor in court, he, usually quite modest in self-assessments, changed his rule and said something like the following. Everything that was said here against me is a lie. And even though everyone knows that I can outshine anyone with eloquence, today I will not resort to it and say one truth. And it is that if there is an impeccable citizen in Athens, it is Socrates, the hero of three wars, the servant of the fatherland and truth, not a debaucher, but an educator of the best husbands, whose names everyone knows. And if you want to hear according to custom, which I myself consider worthy of my deeds, this is lunch at Pritania. Especially since I need it more than the winners of the Olympiad: they do not need food, but I need it.
The judges, who were awaiting requests to replace the death penalty with exile, or at least repentance, became enraged by such bold reprimand - and contrary to their original plan, they condemned Socrates to death.
It was an unprecedented sentence: in Athens, no one has yet been punished so strictly for expressive words. And when the first rage of the judges was asleep, they decided to correct another one of their meanness - telling friends of Socrates that if he wanted to run out of custody, they would not interfere. Plato's "Criton" dialogue is devoted to this nasty business. Criton, a student of Socrates, was sent to persuade his teacher to escape, to which rich citizens even made their club. But Socrates, who did not flee from the enemy, responded to Crito's argument that the most worthy of the Athenians should not be executed, so.
All my life I have been preaching law-abiding, and can I now allow people to say that it was only hypocrisy that came to light, as soon as the matter touched my life? Would my children be better off if I disgrace in a foreign land? I am already old, still die soon, so it is better to die with honor! Premonition tells me that my judges will be punished by rock, and my name will be in glory.
It is still widely sold in Athens and in centuries such a detail. Another student of Socrates, Apollodorus, came to say farewell to the teacher, bitterly lamented: "It is especially hard for me, Socrates, because you are unjustly convicted!" To which Socrates replied: "Would it be easier for you if I were convicted fairly?"
His last desire was to wash himself before he died, so that later he would not have to mess around with others. He drank a cup of poison, a bowl of poison, lay down and died. The Athenians, who until the very end did not believe in the execution of Socrates, retroactively came to such anger against his accusers, that those in fear fled from Athens - thus confirming the philosopher's last death prophecy ...
It is indicative that Christianity, which was rather badly attributed to the ancient pagan world, singled out from it Socrates as a forerunner of Christ - for the conjecture of that archibog. And in early Christian churches, Socrates was even depicted on icons.
But why all the same, if you turn away from the details, was this rattling righteous man killed? I think that he himself answered best of all with his dialectical message. Such personalities, who served posthumously the glory of their peoples, during their lifetime it was their perfection that came into conflict with the government, composed in one way or another of the imperfect majority. And therefore on such beacons as Socrates, Christ, Giordano Bruno, the proto-priest Avvakum there were always such treasurers as the Athenian court, the Sanhedrin, the holy inquisition, the Russian Orthodox Church. Moreover, the latter executed those convicted by them in the name of the executed Christ.
The dialectic of Socrates, gone beyond the framework of his time, perhaps explains this inexplicable paradox now. The brutal Stalinist regime gave birth to the cult of personality in us - when powerful figures were unimaginable now. Composers Prokofiev and Shostakovich, writers Sholokhov, Bulgakov and Pasternak, designers Tupolev, Yakovlev, Ilyushin, Lavochkin; scientists Kapitsa, Landau, Kurchatov - and the list goes on and on. According to the current metaphysical interpretation, all of them occurred "contrary to" - but for some reason nothing like this happens in our "free" and good time. It does not smell like the accomplishments of that "bad" pore, and the last fragments of that great "in spite of" -industry - Tu-204 and Il-96 - are ditched thanks to the current "thanks".
In other words, our "freedom", paradoxically, but caught by Socrates, turned into the Athenian court, the Sanhedrin and the Inquisition combined. In the embryo, this circular clip killed the entire creative urge, once again proving the Socratic message: that the view from the outside could be the complete opposite of the essence hidden under it.
During the tyranny, Socrates survived, and under the Democrats he was executed - and with his whole life and death gave us an opportunity to think about the paradoxes of being on his own skin for the 24 centuries ago!