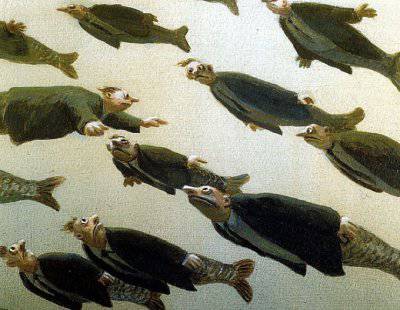 After reading the article about the oligarchic penal battalion, some ideas for discussion appeared. I would like to share them with the Military Review community. It is no secret that the premise of the oligarchy laid the party and administrative apparatus in the 1980-x.
To begin with, it is necessary to prohibit the executive branch from doing business. For example, in 1990, almost all military units became legal entities. About the police and security officials are not even talking (private security, technical inspections and other paid services - down).
Prohibit arbitration for individuals and legal entities.
Eliminate non-state BTI, ban private property appraisers more expensive 50 million rubles.
To make the FAS controlled by the society (the representatives of the Duma factions, scientists, engineers and social workers, urban planning experts in specialized positions on an electoral basis).
Make a list of priority topics in the legislation (from 101 to 1) and organize equal distribution on the agenda. The whole correspondence is for an unscheduled (emergency) meeting with all the members on the list. The absence of the deputy - the transfer of the meeting or a temporary solution. To pass laws concerning constitutional rights and national security to a referendum, with the adoption of a decision based on it, and not in the way it was with the collapse of the Union. By the way, it would be nice to give a legal assessment of the decisions on that referendum.
Put all officials and civil servants (and their families) on full state support (by status, but with a price limit) without the right to receive bonuses and salaries, personal housing and property - only retired. A good filter from the baryg in power. If you want luxury - raise the national economy. Ban the next of kin to do business. Those who want to work for people and the country will come. That is, they will give you everything, just work.
The rating (prestige) of the president is formed on the basis of the credit of trust: for example, 1000 points after the election, deduct 50 for each unfulfilled election promise in the program. Without an electoral program to prevent elections. When 500 is reached, re-election is prohibited. Less than 100 - impeachment (in Russian - expel). Control over the rating is entrusted to the Constitutional Court.
After this minimum, it is possible to take on the oligarchs by law. Autobiography, its verification by special services and fiscal authorities, initiation of cases (or refusal to do so), redemption of the former state enterprise at its purchase price, taking into account the old money index used by the Bank of Russia, plus modernization, minus depreciation and depreciation.
I think the measures will work, if, of course, after (or during) their adoption, something like a revolution, intervention, and the like does not happen.
The listed list is not exhaustive, but, in my opinion, necessary. I will be glad to constructive criticism.