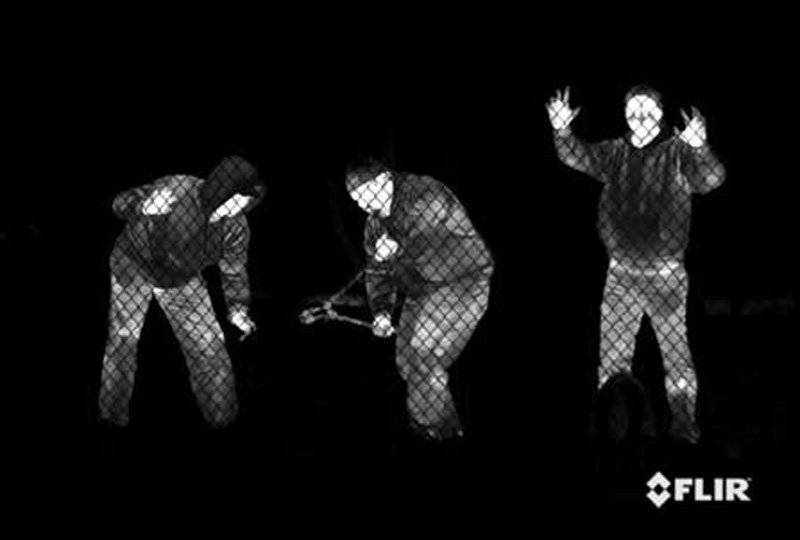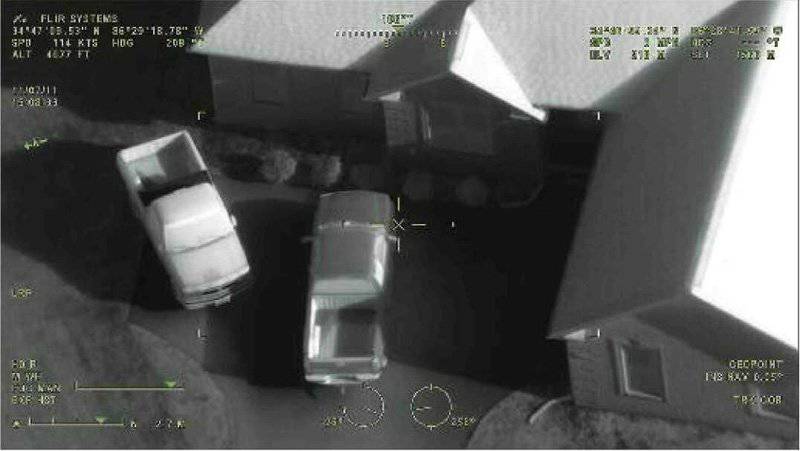 The latest developments in the field of improving the performance, reducing the size and energy consumption of thermal imagers offer unprecedented opportunities not only for combat units, but also for law enforcement forces and commercial structures, which perfectly shows us the pictures taken by the FLIR Systems instrument
In order to meet stringent combat requirements regarding the detection, recognition and identification of targets in any light and in any weather, the capabilities of medium-wave and long-wave infrared devices are constantly increased by improving their performance and reducing weight, size and power-consuming parameters.
The key parameters of highly efficient cooled and smaller uncooled systems are sensitivity, resolution and signal-to-noise ratio. Developments in the field of visualization in the short-wave infrared region (SWIR) of the electromagnetic range (from 0,9 to 1,7 micron) are expected to be in demand in a wide range of military applications of perception and display of images. The collection and compilation of images from detection devices became the dominant need for combat operations, leading to two-touch devices for dismounted operations. ITT Exelis i-Aware TM NVG (Tactical Mobility Night Vision Goggles) night vision goggles, which combine an image intensifier with an uncooled thermal imager, as well as numerous optical / electronic / infrared systems for ground and air applications are in this case a good example. In the case of small drones, these developments also made it possible to move from one-touch to two-touch on-board equipment configurations, while the development of electronics for summarizing data from on-board sensors increased the soldier's situational awareness by reducing the time needed to identify targets.
The third and last generation of infrared systems provides improved features, such as a large number of pixels, high frame rate, better thermal resolution, as well as multi-color functionality and built-in signal processing for color and non-color matrices of video converters. In the third generation systems, three detector technologies are currently being developed:
• cadmium and mercury telluride (MCT - mercury-cadmium-telluride), also known by the abbreviation HgCdTe;
• Quantum-Well Infrared Photodetector (QWIP);
• superlattices (SLS) with strained type-II layers based on antimonides.
Currently, cadmium-mercury telluride is the most common semiconductor material for infrared photodetectors and it is expected that, due to the properties of this material, its capabilities and field of application will only expand.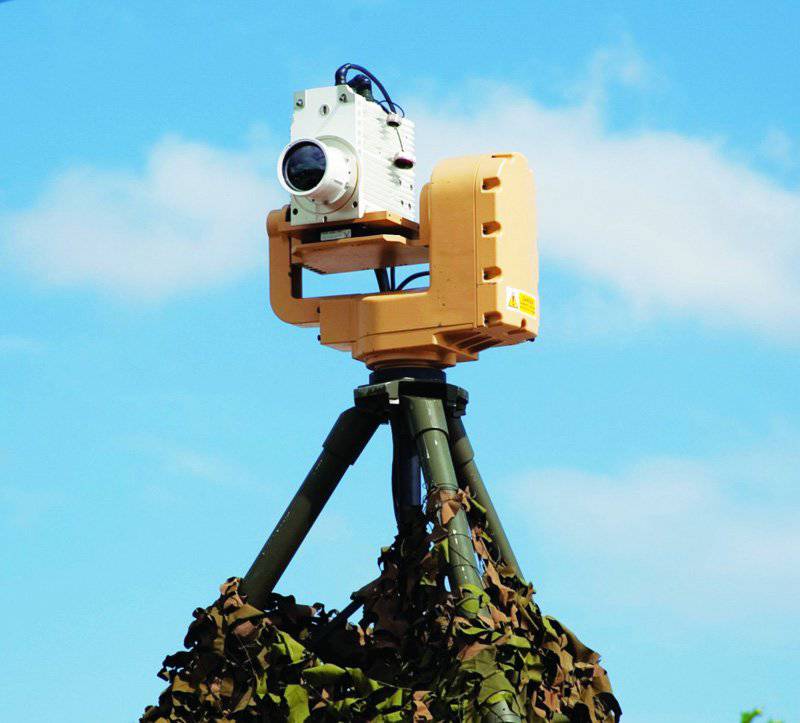 The very compact QWIP photodetector (384x288 matrix, 25 micron pixel pitch, long-wave infrared spectrum) manufactured by Sofradir is well suited for vehicle-mounted systems, such as Catherine-XP TI from Thales. The picture shows a stationary version.
Since the QWIP photodetector technology is at an early stage of development, the relatively new InAS / Galnsb type-II superlattice structure (Indium Antimonide / Gallium Indium Antimonide — indium antimonide / gallium-indium antimonide) may well become an alternative to long-wave MCT technology spectrum. Currently, a VOx-based microbolometer matrix (vanadium oxide) is the most common technology in uncooled detectors. They are produced more than all the other infrared matrices combined and, as expected, this trend will only increase in the near future. Meanwhile, the development of thermal imaging cameras continues, for example, the DRS company is working on miniaturization of long-wave (LWIR) cameras using the Aware program (Advanced Wide-field-of-view-architecture for reconstructing and using images), issued by the Department of Advanced Studies, United States Department of Defense (Darpa). This program was launched with the aim of increasing the field of view, resolution and day / night capabilities of thermal imagers with reduced weight and power consumption characteristics and cost. The development and further development of thermal imagers operating in the short-wave infrared region of the spectrum contribute to additional support for combat operations. Thermal imagers of this type offer several advantages, including: operations with starlight (they can receive an adequate amount of light from weak natural phenomena known as atmospheric night-time glow), imaging close to the visible spectrum, detecting hidden targets in the dark, camouflage permeability, and finally the ability to display beacons and lasers used in night vision goggles.
US suppliersFlir Systems
Flir Systems manufactures various video camera modules and arrays for integration into larger systems. The portfolio of long-wave sensors Flir recently increased with the emergence of uncooled matrices Quark and Tau 2. An uncooled vanadium oxide quark microbolometer is available with 640xXNNMX or 512x336 video converter matrix resolutions with 256 micron pixel pitch. It is reported that he is the smallest in the world and, as a result, the "unsurpassed" option for small drones. It has dimensions of 17 x 17 x 22 mm, weight from 22 to 18,3 grams (depending on the lenses) and power consumption of less than one watt. The very compact dimensions allowed the Danish company Sky-Watch to replace in its Huginn Xl drone with a 28,8 kg mass one sensor with two. Now he is able to use both the thermal Quark 1,5 and the conventional camera at the same time. Aerovironment continues to upgrade hundreds of its Quark-based Raven Mantis UAVs. A new firm, Trillium, launched a universal joint based on the Quark matrix of 640 size and 6,35 gram weight.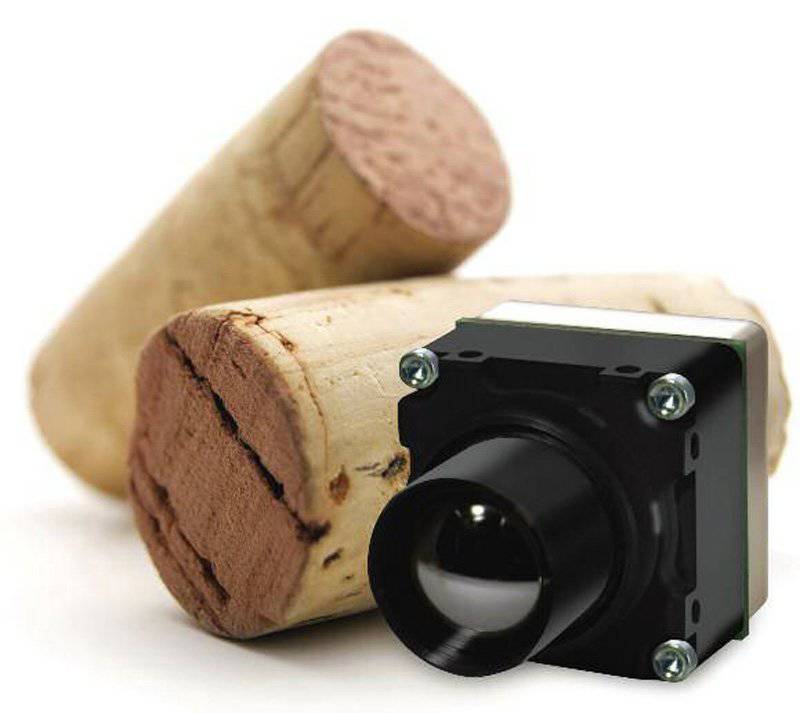 Flir Systems' quark uncooled microbolometer is considered the smallest in the world. It is available with a resolution of the 640 x 512 or 336 x 256 video converter matrix and 17 micron pixel pitch
The new generation Tau 2 arrays of uncooled thermal imagers come with improved electronics in three formats (Tau 640x512, 336xXNNXX and 256x324) with two pixel pitch (256 micron for 17 / 640 and 336 micron for XNX). Canadian Helipad Draganfly X25, Desert Hawk III UAV from Lockheed Martin and Puma from Aerovironment. The Tau matrix has been used in hundreds of unattended ground based situational awareness sensors made by NGC Xetron, L-324 Nova Engineering and Digital Force Technologies.
Presentation of the FLIR H-Series Tactical Thermal Night Vision Camera with my subtitles
Among the mid-wave cooled cameras, Flir represents the Photon HRC camera with one of the smallest matrices of the 640x512 format. The indium antimonide matrix with a 15 micron pitch weighs less than 454 grams and is used in many different applications. In the same range, Flir offers several more of its products. This is the smallest and lightest Neutrino camera on the indium antimonide matrix 640x512, 15 microns, as well as a family of very compact MCT 640x512 detectors based on µCore-275Z and Min-Core HRC with continuous optical zoom, eliminating the need for multiple lenses, advanced processing and optics with multiple fields of view. It is reported that the basic model µCore-275Z has a range of detection, recognition and identification of humans and machines, respectively, 9,2, 2,9, 1,2 and 15,5, 6 and 3,3 km. And finally, the Flir company offers a Tau camera with a matrix on gallium arsenide 640x512 or 320x240 25 micron. Both versions weigh only 130 grams with an M24 lens, making them an ideal choice for small cars and battery-powered surveillance devices.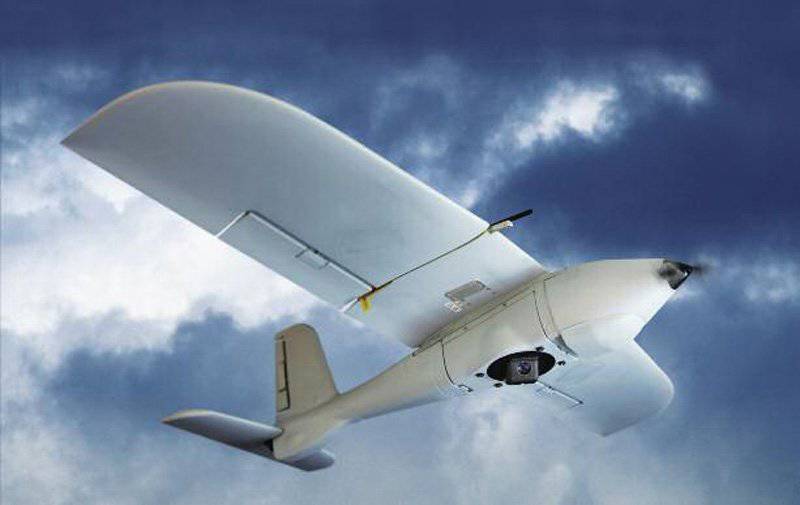 A new generation of Tau 2 Flir Systems family of uncooled LWIR thermal imagers features improved electronics and is available for various applications, including small drones, such as the Canadian Draganfly X6 and Desert Hawk III from Lockheed Martin (in the figure)
Raython
Raytheon, as the world leader in uncooled and cooled thermal imagers, offers the widest range of products for space, sea, air, ground and dismounted applications. Raytheon offers an extended range of airborne multisensor kits, integrating medium- and long-wavelength cooled thermal imaging cameras into controllable and remotely controlled platforms.
On the other hand, its uncooled detector technology is mainly intended for ground-based applications; Durable and extremely lightweight binoculars and PhantomIRxr thermal sights capture targets night and day, in smoke and fog. Tracked and wheeled vehicles equipped with Raytheon's DVE driver booster do not lose maneuvering qualities day or night, including full mobility in fog and haze. Raytheon offers an uncooled longwave Vox matrix in the 320x240 and 640x480 format with a 25 micron pitch, while in the shortwave IR spectral region it offers uncooled matrices of the 640XXNNXX, 512XXNXX and 1280 formats.
L3
At the AUVSI unmanned systems exhibition, L3 Cincinnati Electronics unveiled its new Night Warrior µCam 640 medium wave system, which according to the company is one of the smallest cooled thermal imagers. This thermal imager is based on the 640x512 matrix with a 15 micron pitch and the technology of high operating temperature HOT (High Operating Temperature). It operates at higher temperatures compared to products based on indium antimonide, forming an image of the highest quality comparable to systems based on uncooled thermal imagers. Weighing less than 500 grams and consuming 6 W, the NightWarrior 640 has a size C battery (also called R14, 343, Baby), which allows it to be added to systems that previously only uncooled devices could use. L-3 CE engineers created the NightWarrior 640 for easy integration into various applications, from hand-held devices to remotely controlled combat modules. L3 CE is considering various optical device options, including medium 250-mm lenses.
BAE Company
At the same exhibition, BAE Systems showed what it calls the smallest (weighing just 144 grams) a multispectral camera designed for installation on small drones. The company also introduced a system with its own processing of sensory data and their combination in order to improve the soldier's situational awareness by reducing the time for identifying targets. Thanks to the Digitally Fused Sensor System (DFSS) digital sensor data fusion system, the innovative sensor combines an image from a highly sensitive night vision camera and an image from an uncooled long-wave thermal imager (supplied by BAE Systems for sights of weapon systems) on a single display, which allows soldiers in extremely short time Intuitively evaluate the scene using a remotely controlled device. According to BAE Systems, when using this image fusion technology, soldiers do not need to switch back and forth between day and infrared cameras. The multispectral sensor kit was shown on a drone with four Air Robot AR-100B rotors. The system itself adjusts to the external conditions of each task, so the operator does not need to choose between day or infrared sensor before starting. BAE Systems is exploring the possibility of using a full-color night vision camera in addition to the laser pointer and the uncooled thermal imager. This system is being tested by the US Special Operations Command. The possibility of obtaining digital information images at distances up to 3500 meters is also being considered.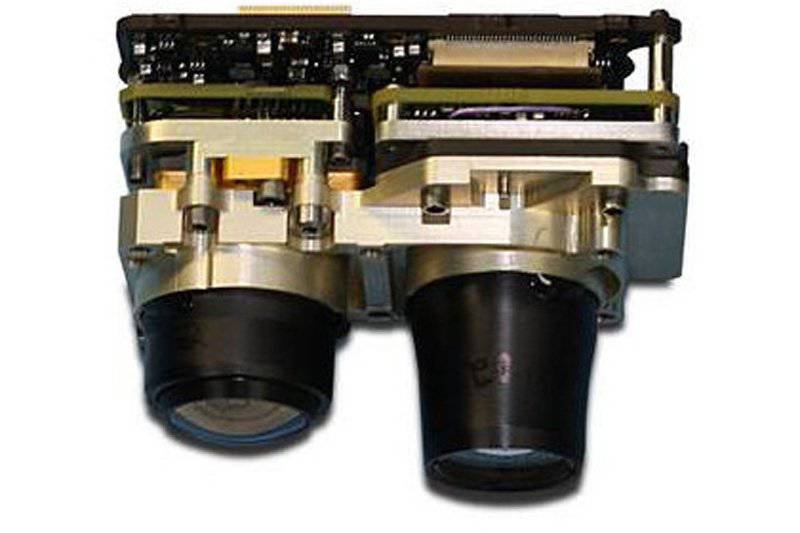 An innovative sensor combines an image from a highly sensitive night vision camera and an image from an uncooled long-wave imager (supplied by BAE Systems for weapons sights) into a single image using the new digital image fusion system Digitally Fused Sensor System (DFSS)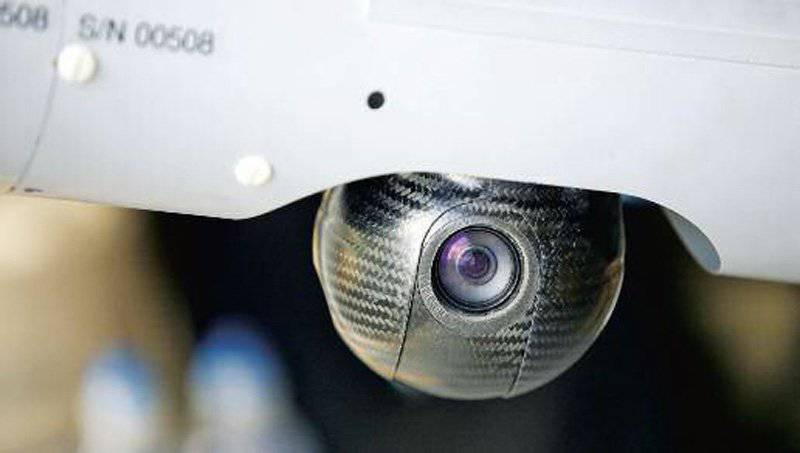 SWIR and LWIR thermal imaging cameras from UTC Sensors Unlimited are used by a subsidiary of Cloud Cap Technology to create a family of Tase optical-electronic stations, including Tase 150 for small drones
UTC Company
UTC Aerospace Systems - Sensors Unlimited offers a complete product line for image sensing in the SWIR range (far [shortwave] infrared spectrum). Last April, Sensors Unlimited presented a new generation SWIR-camera on indium and gallium arsenide, which has reduced mass and power-consuming characteristics and high sensitivity due to the 640xXNNXX pixel array with 512 micron pixel pitch, using proprietary image enhancement algorithms.
This camera, weighing less than 55 grams and power consumption up to 3 W, provides a real-time image under various lighting conditions (from daylight to low light), a thermal image that can "see" through fog, haze and smoke screen, and laser target designation . In April, 2012, the Sensors Unlimited, unveiled a new uncooled camera, GA640C-15 A, Cubic Inch, which has a resolution of 640x512 pixels in 15 microns. With a mass less than 26 grams without a lens and the power consumption of the entire 1,5 W, it is an ideal candidate for integration into solutions designed for a dismounted soldier. Short-wave and long-wave thermal imaging cameras are used by a subsidiary of Cloud Cap Technology to create a family of Tase optical-electronic stations, including the Tase 150 for small drones.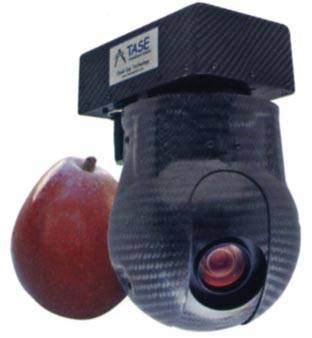 The smallest of the micro-station family offered by UTC Cloud Cap Technology includes the 900-gram Tase 150, which includes a full-frame 640xXNNXX dual-mode imager (image enhancement and thermal imager), a miniature GPS / INS system and the corresponding interfaces
DRS company
DRS Technologies is a leading manufacturer of uncooled vanadium oxide (Vox) microbolometer chambers and refrigerated cadmium mercury telluride (MCT) chambers. It was the first company to offer 17 micron pitch uncooled imagers and more recently 12 micron MCT thermal imagers. DRS Technologies is the primary supplier to the US Army and many drone manufacturers. The ultra-compact device Tamarisk 320 has a light weight (30 grams), low power consumption (750 milliwatts). Its core is a VOx 320x240 microbolometer with a 17 micron pitch and uncooled NIR technology. It is offered either as a standalone camera or as a configurable module with different lenses and frame rates. In February 2013, DRS Technologies introduced the Tamarisk TI 640x480 variant, which delivers superior performance in a compact size (46x40x31 mm without optics), light weight (<60 grams) and low power consumption (<1,5 W). The Tamarisk family of devices is widely used not only in vehicles, UAVs, but also as part of the equipment of dismounted soldiers. The 640 model from this family is installed on the Falcon drone.
Europe and the rest of the worldSOFRADIR company
Sofradir is one of the world leaders in technologies based on cadmium telluride and mercury. With the acquisition of india antimonide equipment and technological developments from Sagem, QWIP technologies (quantum well infrared photodetector) and indium and gallium arsenide matrices from Thales under an agreement signed in December 2012 of the year, Sofradir strengthened its leading market position in Europe and worldwide as a supplier of a complete line of refrigerated and uncooled technologies and products. Uncooled products are the responsibility of its subsidiary Ulis.
This French industrial group offers a new uncooled detector (42x30x9 mm) based on an InGaAs array (640x512, 15 micron, SWIR), called Snake. It has high sensitivity and resolution, and is well suited for a variety of applications, such as handheld and portable night vision devices and onboard optoelectronic stations.
Very compact QWIP photodetector (384x288, 25 micron, LWIR) are well-suited for vehicle-mounted systems, such as the Thales Catherine-XP TI, while the long-wave thermal imager Scorpio is the newest addition to the widespread family (640X512, 15XXXNUMX, XNUMXXXXXXX, XNUMX). This family provides for terrestrial applications the necessary qualities such as high sensitivity, high resolution and increased range.
Sofradir infrared detectors are used in a variety of already proven applications, including the MBDA Storm Shadow / SCALP EG rocket, Thales Damocles targeting containers and Navflir navigation, Thales Sophie hand-held vehicles and Catherine thermal imagers, and Sagem Iris and Sada II thermal imagers (for American vehicles) armored vehicles).
The company is working on new detectors in order to introduce innovations, increase the capabilities and compactness of their products. The latest products include e-APD (avalanche photodiode), dual-band video converters with very low equivalent temperature difference noise (NETD) and other new applications. The main direction of development at Sofradir is a further reduction in the size of the minimum image element, which will increase the number of pixels in one detector and preserve the overall size of the system. In this regard, the company has already demonstrated a matrix with a step 10 micron. Sofradir is also exploring the possibility of increasing operating temperatures to 150K in order to offer smaller, lighter, and more reliable cooled matrices to create products with low weight and energy-consuming characteristics.
CASSIDIAN
Cassidian Optronics offers cooled and uncooled thermal imagers as part of the Attica family (Advanced Thermal imagers with Two-dimensional IR CMOS Array - advanced thermal imagers with two-dimensional CMOS infrared matrix), which use modern technology for medium and long wavelengths. They can be mounted on a tripod and in vehicles, while a miniature uncooled thermal LWIR camera is preferred for handheld devices. Cassidian Optronics offers its products for a variety of applications, including surveillance systems for Goshawk-II HD / HDT air systems.
AIM Company
Aim Infrarot-Module (Aim) owns Diehl BGT Defense and Rheinmetall in equal shares, it supplies cores and modules for the entire spectral range from 1 to 15 microns based on infrared MCT and Type II infrared detectors (InAs / GaSb). Today, Aim offers HiPIR-640 thermal imagers (MWIR or LWIR, 3rd Gen, 640x512, 15 micron pixel pitch) based on cadmium telluride and mercury, while the MWIR detectors operate at temperatures above 120K. The Aim portfolio includes the µCAM-640 thermal imagers (MWIR-cooled MCT-based and uncooled LWIR) for the Luna and Aladin drones, as well as the HuntIR / RangIR thermal sight for the German army. Two-color MWIR / MWIR devices with a Type II superlattice-based cryogenic machine provide breakthrough solutions for missile attack warning systems, while the 640xXNNXX MWIR / LWIR dual-band matrix is ​​being developed for the next generation camera.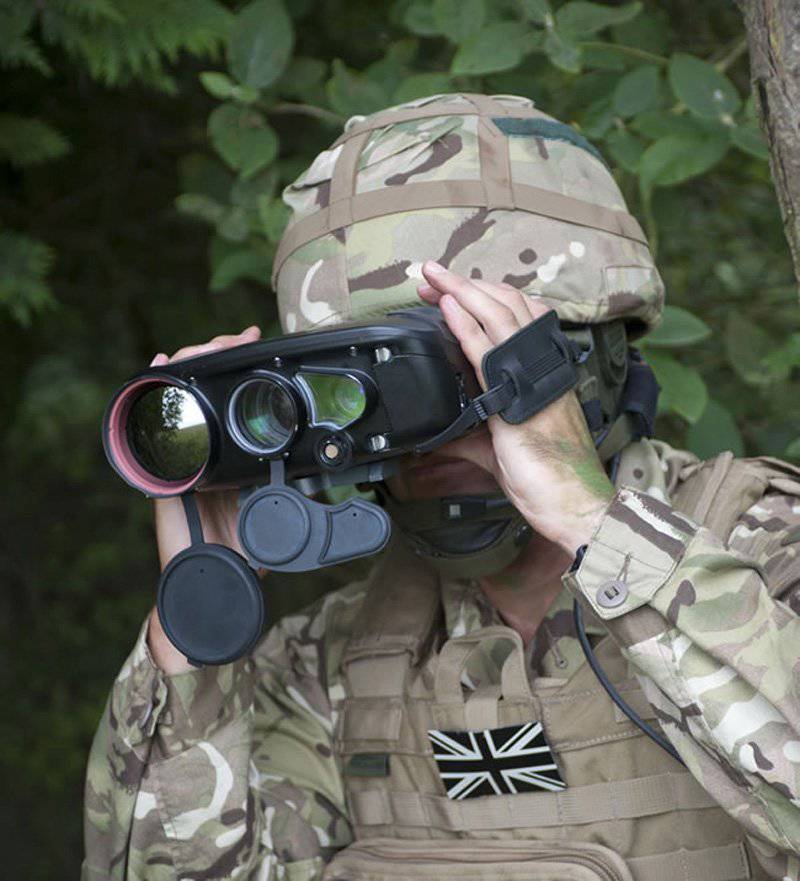 Sofradir's sensors are used for a variety of proven technologies that include the MBDA Storm Shadow / Scalp EG rocket, target navigation and navigation containers Damocles and Navflir from Thales, Catherine and Iris cameras and the Thales Sophie family of hand-held systems.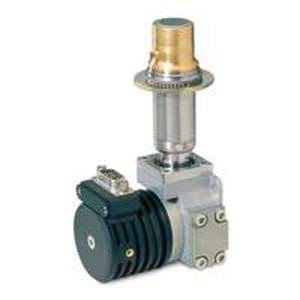 The Scorpio LW detector is the newest member of the 640xXNNMX, 512 micron format family
THERMOTEKNIX
The British company Thermoteknix Systems offers a family of Miricle video converters with XTI free technology. It includes an ultra-compact, uncooled 110KS model without moving parts (no shutter), while the Belgian Xenics Infrared Solutions offers a family of high-resolution cameras based on the so-called "Xenics Core". Built on a common platform (SWIR and MWIR FGA), the Xenics SWIR XSW-640 camera and the LWIR XTM-640 camera weigh less than 100 grams and consume less than 2 watts. They are easily combined, the corresponding images obtained in any weather and in any light, superimposed and merged into a complex spectral image with a high content.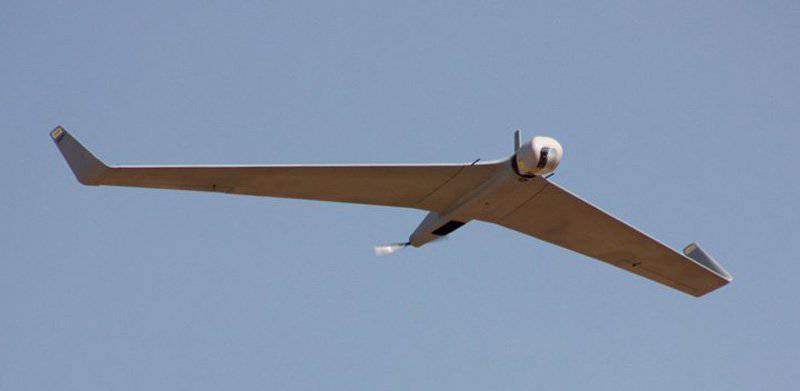 The M-STAMP optoelectronic station of the Controp Stamp family weighs only 1,2 kg. It includes a daylight camera with magnification and an uncooled thermal imaging camera. It is well suited for light drones, such as Elbit Systems Skylark-I and Aeronautics Orbiter (pictured)
ASELSAN company
In order to meet national and international needs, Aselsan has developed a family of stations for large and small drones with biaxial stabilization of a universal joint, which incorporate a laser pointer and one sensor - this is either a daytime color camera or a night uncooled infrared camera. A variant with an infrared camera was shown at IDEF 2013 on minidrones and ARI-1T rotary-wing vehicles.
The armed forces, and later the export needs, forced the Israeli industry to develop its national capabilities in this sector. Opgal Optronic Industries is equally owned by Rafael and Elbit Systems, and offers a wide range of ultra-compact, low-power thermal imaging arrays, which serve as the basis for thermal imaging systems, both in Israel and abroad. Opgal thermal imaging arrays with support for VOx and ASi based photo detectors are ideal for dispersed, terrestrial and aerial applications. Also worth mentioning is Semiconductor Devices (SCD), a joint venture between Elbit Systems and Rafael. It designs and manufactures a full range of infrared detectors based on InSb, MCT and VOx technologies and is the world's largest supplier of indium antimonide based 2D arrays.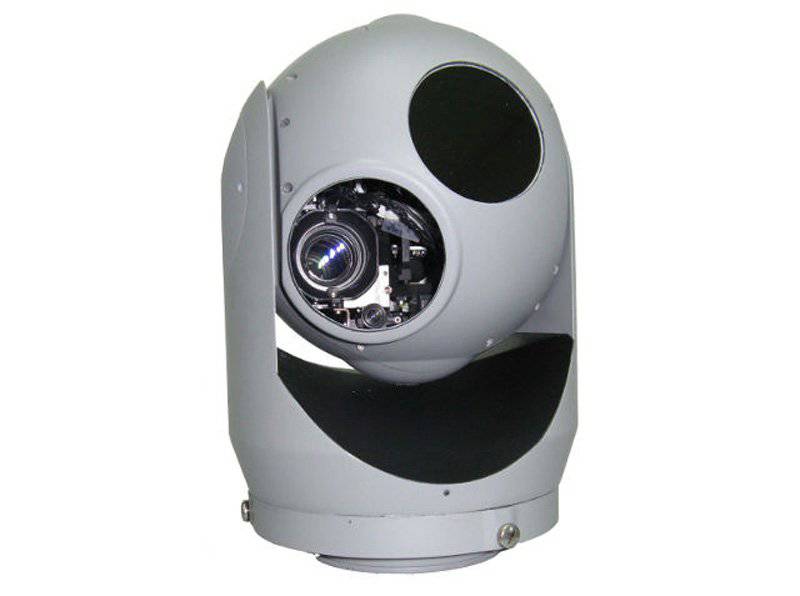 Controp recently showed its T-Stamp station with a 3 kg mass, which houses a day camera, a night camera and a laser pointer. The thermal imaging camera OP is available in a cooled or uncooled version, but in both cases a unique lens technology with continuous optical zoom is used.
CONTROP company
The specialized company Controp, owned by Rafael and the manufacturer of UAVs Aeronautics, is the world leader in the field of onboard equipment for light drones, although it also produces products for land, air and sea platforms. The smallest member of the Stamp M-Stamp family weighs only 1,2 kg with a daytime camera and an uncooled thermal imaging camera, and is well suited for installation on drones such as the Elbit Skylark-I and Oreronautics Orbiter and various Bluebird Aero Systems systems.
Skylark-I-LE drone performance by Elbit
In June, Controp introduced the three-sensor, fully stabilized T-stamp optical-electronic station with a mass less than 2013 kg, which includes a day and night camera and a laser pointer. A thermal imaging camera can be cooled or uncooled, plus, like most Controp thermal imaging cameras, these options have a unique lens with continuous optical zoom. The company also supplies a family of FOX cameras with x3, x22, x36 magnification lenses, which include 55 generation arrays in the 3xXNNX or 320x258 medium wavelength spectrum, as well as uncooled long-wavelength detectors with proprietary lenses with continuous optical zoom.
Information sources:
Armada International October / November 2013
http://www.flir.com/us