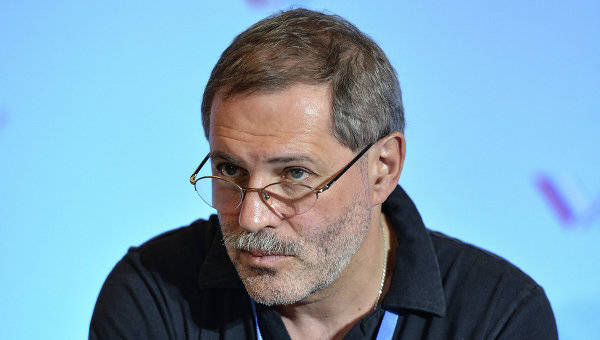 KM.RU experts sum up the 2013 of the year. Today, the main events of the past year are analyzed by TV journalist Mikhail Leontyev.
What we now see in Ukraine is "Georgia the other way around"
The first main event is global, the second is local. The first event is terribly positive, the second is very depressing. Of course, Russian diplomacy was a success in Syria: we managed to prevent a war. But I would note not how much it is, how much a global turn in politics. Yes, this turn is incomplete, it is the beginning of a tight reversal.
We have already said that Russia was right. In what? Our emphasis on multipolarity was considered idiocy and marasmus, but this turned out to be absolutely correct and pragmatic. I would even say, superpragmatic, because the United States (the American elite), realizing the situation, began to negotiate and conclude deals. We were ready for this. And this is not about the "chemical supply", but about our policy both in the region and in general. We gave Americans the opportunity to make pragmatic deals. Previously, they were not ready for this, they did not want and did not understand. And now they are ready, willing and understand.
Look, we see this practically across our entire interests: Georgia, Syria, Ukraine ... What we now see in Ukraine is "Georgia the other way around." There was a game on the principle of "not to say neither yes nor no", but in the end everything turned out, in fact, conventional. This is the first, and this is indeed a turning point.
Born to crawl can not fall, and it is humane
The second is the economic recession that began in Russia before the crisis. It is systematically caused by macroeconomic policies, which I would call completely degenerative, vile and vile, and it stretches from 1991 year. Within its framework, the only successful action was the default of 1998 of the year, and even that was forced. Everything went to the detriment of the Russian economy!
This is probably the most effective anti-crisis policy in the world, because when the global crisis hits us, it turns out that we already have a full-blown crisis, and nothing hurts us. Born to crawl can not fall, and it is humane. There is no country in the world that implements such macroeconomic policies. It is fully aimed at completely exterminating domestic production and bribing the population, subsidizing it for the purchase of imports through the roasting of natural rent. This - the main disgrace that may exist at all. This is how it looks.
Integration is needed, because in the world that exists now, we alone will not survive
I will say something about integration projects. If we take everything that concerns the world view and self-consciousness of Russia in that part that can be determined by one person (Putin), then everything is in order. Integration refers to understanding including being Russia in the world. It is clear that in the world that exists now, we alone will not survive.
Putin thinks normally, but where he does not consider himself really competent and trust God knows who — there is a nightmare, with one exception. Vladimir Vladimirovich chose a person who is hardly personally close to him and with whom not the best associations are associated. I mean Sergey Glazyev. Here he is absolutely committed to this idea. He is a fan of integration, he is a real imperial politician. He is so much a fan that he doesn't even understand how others can not understand this.
When I said that Putin trusts not to whom, then this does not apply to Glazyev. But all the post-Soviet elites are disintegrative, they hate it, because otherwise they are nobody.