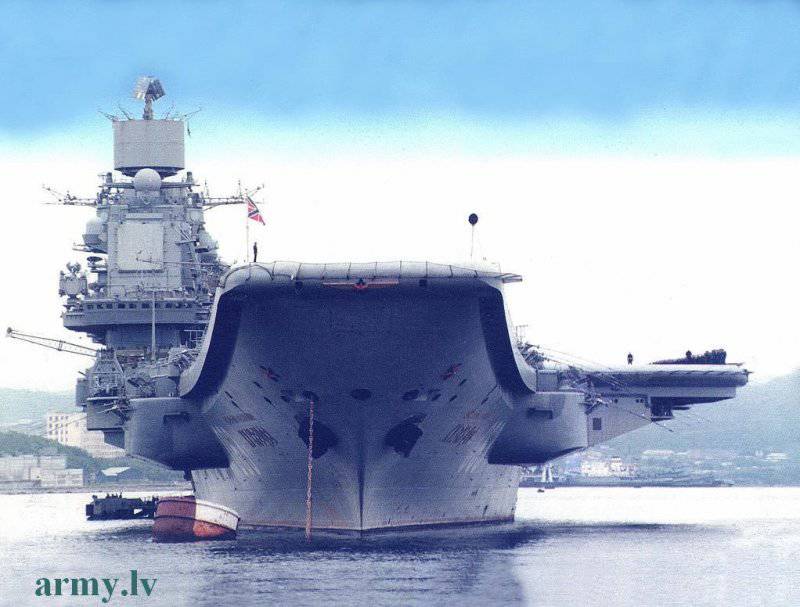 In a note to the Navy Day, I wrote that the domestic fleet twice became the second strongest
fleet
of the world. We will not argue now whether he was such before Port Arthur or not; it is somehow later. And now, in order to answer the question asked in the first comment, I want to try to figure it out: is it now necessary to strive for this?
Based on today's realities, I see two aspects in this question.
First: Does Russia need a powerful navy in the conditions that have developed in the world now and are looking for the future?
Second, where does the state armaments program lead us? That is: what does the leadership of the state see the DESIRABLE might of the fleet?
Do not expect granite formulations, unambiguous statements from me. Anyone who has read a little something about naval leaders, admirals, prime ministers and parliaments at the moments when they thought about, discussed the needs of their fleets - anyone knows how subjective it was to understand the role and needs of the fleet people competent in duty and disposable capabilities. How can I, an amateur ...
What I want to say. Tempted gentlemen, do not bother me with Captain Obvious! That you know all this, and a hundred times more than what is written here. But I know - I know for sure! - that people who go here are horrified as far from the subject matter. Often, by the way, because they simply do not know that it is interesting. There are many, and I want them to be even more. Because my main passion is to show others what interests me. Sorry for the pathos - to enthrall.
And to you, sophisticated, thank you for expanding and deepening this whole thing in the comments.
So the first aspect.
***
The simplest consideration: the length of the coastline. As well as the corresponding vastness of the economic zone, the one that is along the coast, but outside the territorial waters. The tasks here are clear - guarding the border and the economic "birthright". If we talk about these tasks, then, again, the simplest consideration: there is a need for a large patrol fleet.
Then you can not discuss. Even the most numerous patrol fleet, consisting of light-tonnage vessels with light weapons, is not considered to be one of the world leaders. And its necessity, I think, does not cause doubts.
But it is not a war, it is a peace time. And the war?
Traditionally: the support of the coastal flanks of their armies, the attack on those of the enemy armies. Protect your cabotage and impact on enemy coastal communications. Fighting enemy landings and landing their own.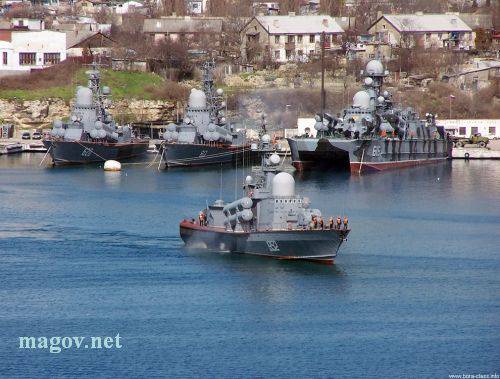 Missile boat pr. 12411М "Lightning" in the center, at the berth from left to right: two intermarkets, pr. 1234 "Mirage" and MRC pr., 1239 "Samum" (air cushion catamaran)
In the heyday of the Soviet Navy, this complex was again solved by small ships: small missile and anti-submarine, missile (and before that - torpedo) boats. Plus submarines (although we practically didn't build special "babies" after the war), plus the base
aviation
. This is for communications; and for landing and supporting the flanks - not the largest landing ships of various specializations.
I wanted to start thinking about whether defense of coastal communications, an attack on roads like Petsamo-Kirkenes or Constanta-Sevastopol is now relevant. However, do not need it. Because this is again not an ocean fleet, but for second place (both third and fourth), the fleet must be capable of some part of its forces to go out into the ocean.
So why Russia ocean fleet?
For some reason, he was always needed ... They built our first nautical battleship, "Prince of Pozharsky", and immediately it - on the Mediterranean Sea. Even the monitor type "Peter the Great", and the one in Middle-earth was noted. And always the Russian Imperial fleet kept a squadron there: at least one battleships, yes one cruiser, yes one little gunboat, yes messenger ship ...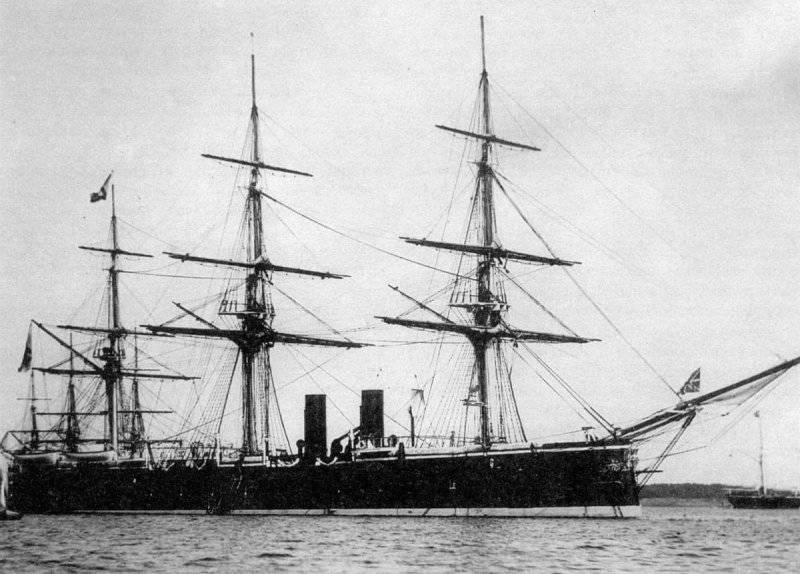 Armored frigate "Prince Pozharsky." How I love them, these old armadillos ...
Yes, everyone did that. Anyone who could. And not only in such key points as Miditeranien or some West Indies. We read about "Varyag" - in Chemulpo we see British, American, French and Italian stationery. In Chemulpo! Not in Singapore, not in Nagasaki - in some unimportant Chemulpo!
There can be no point in this. If I do not see it, it does not mean that it does not exist.
Fine; but this is not an argument for a huge fleet! Some corvette "Vityaz" with Miklukha-Maclay quietly sailed to the Papuans, but it was just a wooden steamer in the 2 with a thousand tonnes displacement. Build a dozen relatively small, but well-going ships, and display the flag where you need it.
There is also the task of protecting ocean communications. However, how relevant will this be for Russia, if, God forbid, a big war? I think, in today's scenario, we will not have special ocean communications. This is England without them not to live, and we can handle. We don't even need to bring nickel from Sweden.
And in peacetime - what is now privateering-privateering? Is that the Somali ... So for this super cruiser is not needed. Even, frankly, it was ridiculous to read in February 2009, as "Peter the Great" detained three pirate boats ...
Well, that came to the main point.
Defense of the country from the sea.
Half a century ago, it became for us to mean fighting nuclear carriers
weapons
and with carrier strike groups. We must understand that everything was serious. Already at the beginning of 1960's, the boats with the Polaris were on duty in the Mediterranean, and there were always at least one aircraft carrier in the 6 fleet. And already in the ocean ... And now ...

Ours on the Mediterranean. It is written on topwar that the boat is American. Yes, and it seems. If this is the case, then this, I think, is a Gatou-type diesel-electric substation.
The sovereignty of the country was understood, including, as its ability to repel a military attack. What did the leaders of the state do?
Before the advent of nuclear weapons, it was possible to groan, but to tolerate impunity superiority; after all, well, well, half a dozen aircraft carriers go ashore. This means - plus three hundred bombers, besides small ones. Wintering ...
With the advent of long-range nuclear weapons, the requirements have changed, and a real, urgent need to confront its carriers has emerged. And they began to build a fleet corresponding to the task. And built, and, I believe, did the right thing. The fact that it became so large responded to the problem. If he had been built on other principles - without searching for relatively cheap countering options, but by blunt opposition of similar forces - he should have been even more. At least because of the geographical features of the country. And certainly more expensive.
I do not think that among my audience there will be someone who will say: yes, it was all on the FIG ?! But who was going to attack us?
Who is going to attack France? However, she had her own strategic triad, quite classic; and now there are submarines with multiply-charged thermonuclear missiles. The status of a sovereign, independent power, you know, obliges. Do you think that if Germany and Japan were not in the position of villains who lost the war to all respectable humanity, would they now have nuclear weapons? I think it certainly would. They would have got them in 60-70-s and would hardly refuse now.
And what, then, is sovereignty understood differently? Did not the well-known European Union have a predecessor in the person of NATO's purely military bloc? Does not now have this unit as an adjacent organization? See, what does the desire to gain the ability to beat off the enemy come to? Immediately after the great fight, the former enemies united against the new ...
I believe that literally all countries of the world that have a viable central authority draw their own scenarios of a possible military conflict and are looking for and find ways on which they hope to successfully confront it. Sovereignty still includes the military sector.
And for us, with our geographical openness to "winds from all points", this sector turns into more than a semi-circle.
Even if you exclude nuclear weapons. I think, considering the potential conflicts between the major powers, it can be excluded.
But only because now it is possible without him.
Again the truism: long-range high-precision weapons take the place of nuclear ones. Already now, in order to cover, say, Vladivostok from the impact of the Tomahawks from the sea, it is necessary to go almost a thousand miles from the coast. Yes, even in the "home waters" of the Japanese fleet ... And when the long-range cruise missiles come to replace the Tomahawks; or when a "potential adversary" decides that it is not a pity to retool ballistic missiles on boats under conventional warheads, then it will be necessary to have absolutely ocean-going ships to fight it.
In this case, one cannot hope for basic aviation. First, it is difficult to detect a submarine from an aircraft, and it is even harder to hit, especially if you have only one aircraft patrolling. It is impossible to organize permanent tracking at all; It will take so many airplanes that it is better to build aircraft carriers.
See, the IL-38 is flying one. Yes, even to him, the unfortunate, "Corsair" was attached. It is also hard for the Corsair: although it is subsonic, it is so difficult for him to fly so slowly. See how pitch noticeable?
Secondly, submarines can be equipped with a naval-air cover, then an anti-ship (anti-aircraft) is added to the anti-submarine mission. It will be necessary for the submarine to send the same three regiments of missile carriers.
Of course, PLs are quite effectively watched by PLs. They can work against the ship's shock, aircraft carrier, amphibious connections.
So, do we focus on submarines?
Maybe, maybe ... Make a fleet that:
- its underwater component will be able, far from the family beaches, to resist the combined power of the surface forces of any possible combination of fleets of our opponents. And also, in combination with the basic anti-submarine aviation, the aggregate potential submarine enemy AS AT BIG, SO AND SMALL REMOVAL from the coast;
- and the surface component, together with aviation, will be able to perform all the required tasks at relatively small distances from the bases.
That is, in short, let submarines go far into the sea and drench everyone there; and let them drench close to the sea, but not any enemy, but mostly underwater. And let the surface ships and aircraft go close to the sea and wet all the surface there: cruisers with Tomahawks, airborne troops and all kinds of military transport. And on occasion, wet submarines, which started a Škoda on our coastal communications.
So?
May be…
I must say, the state armaments program is about that and plans. Only shock and multi-purpose nuclear boats for such a picture is not enough. Well, yes, this is how expensive ...
And the surface - corvettes of the near-sea zone, corvettes and frigates of the distant sea ... Giant destroyers, undoubtedly, oceanic, - sometime later; however, in my scenario, and it is not clear why they are needed at all. Are frigates of the far sea zone unable to overcome the "roaring forties"?
Could such a fleet be the second in the world?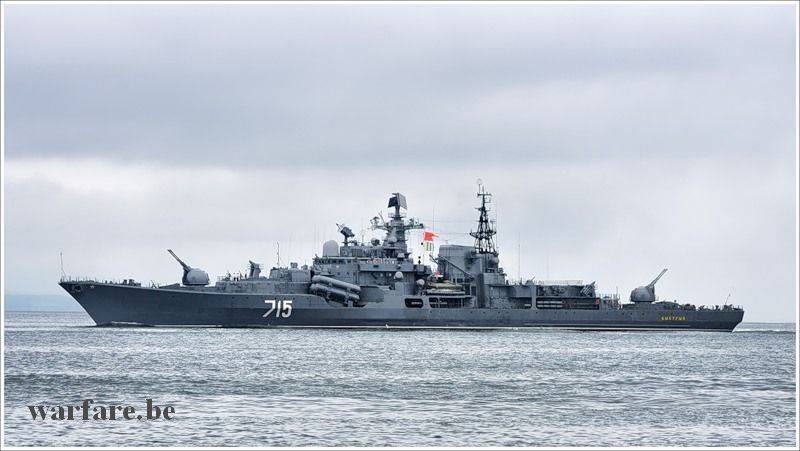 "Fast" - the only ship class "destroyer", who is now in the ranks of the Pacific Fleet
***
Please note, I avoid any clarification. The first of which is just asking for the language: how to distribute the forces between the maritime theaters? What is the principle of distribution: from opportunities or all the same from "how much is needed"? And then - and how much is needed?
What do we need on the Black Sea? How in the XIX century - to catch up and overtake Turkey? Or God be with her, with Turkey, is enough and just reliable defense of their shores? Or, on the contrary, will we prepare for a breakthrough through the straits of the mighty united NATO squadron?
What is needed in the Far East? Overpower Japan? Or just scare her away from the islands? Or, conversely, to pump up so as to repel the combined Japanese-Chinese attack?
And so on. But I, I repeat, bypass this question. Not my mind is this thing. At least, now even it would not be desirable to improvise.
So I repeat the question: can the cumulative fleet of the Russian Federation become the second in the world after the execution of the program before 2025?
Do you understand what's wrong. Now, when it turned out that the logic of the state program coincides with mine, the question: should we take the fleet to second place in the world? This question loses its meaning. If I have approved the state program, then why further ask if it is properly drafted? Therefore it is necessary to ask - shouldn't it? can it?
Hell knows.
Above, I talked about the LG, but we already have something. Large is: an aircraft carrier, four huge nuclear cruisers, several BOD, several destroyers. Some of this is floating, something is being upgraded or waiting for modernization. And also "Mistrali" ... If all the plans are fulfilled, the fleet will have so many ships and such that it will be enough not only to demonstrate the flag, indeed, anywhere in the world, but also to measure the belly with other maritime powers.
By the way, why destroyers are needed: they will ripen when the ships being modernized today will finally develop all the possible resources.
Actually, I myself did not notice how I became involved in the second aspect: what the authors of the weapons program want.
So what's up with second place? With whom we will be measured?
The first thing that deserves this honor is France. For only she (the States do not believe, here and until the end of the article is coming soon!), Only she has a normal aircraft carrier.
Two "Rafal" and four "Super Etandard" on the deck of "Charles de Gaulle"
What else?
Four nuclear missile "Triumfana" do not consider. In addition to them, six multipurpose nuclear submarines.
And then - continuous frigates and corvettes. 23 first and nine second. And about twenty small patrol ships. Plus three Mistrals, plus one or two Foodr docks.
Well, if we really build 2020 corvettes and 20 frigates by 14, then the French do not dance.
Britannia.
The most fig in the sense of our calculation is that England is building two large aircraft carriers, with a displacement of the same as our Kuznetsov. True, they are designed for the fighter UP F-35. Missile boats will not be considered, there are four of them. There are nine attack / multipurpose boats, all atomic - but here we are also stronger.
Six solid destroyers, 13 solid frigates, two universal amphibious assault ships and one amphibious assault ship.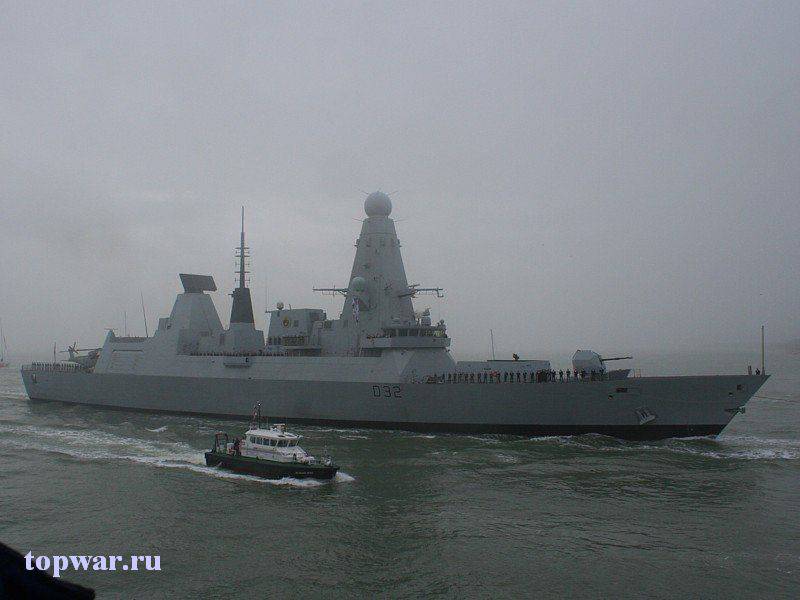 The squadron destroyer Her Majesty "Daring". And what, really solid car. But - I feel a great deal of sadness in the outgoing classic of ship architecture ...
With the mistress of the seas everything is clear. If "peremogut", then only by aircraft carriers. I do not think that this would allow them to take second place overall. We occupied it in 1970-x, when we did not have a single intelligent aircraft carrier.
Japan.
It's simple and stressful.
Simply - because I recently dealt with this issue.
Tense ...
Four powerful destroyer-helicopter. Plus 41 destroyer of various denominations, mostly large. Plus six frigates. Very powerful ship fleet, distinctly oceanic. If the Japanese were standing still, we would have "made them". But they will not stand! And if the Japanese want to have an aircraft carrier, they'll build it in three years! They want to have three - they will build three at once!
In general, the sons of Amaterasu can not let us into second place. And if I'm not doing the stupid things that I'm doing now — an abstract comparison of total forces — and looking at the balance of forces in the theater, then, as they say, Honduras is bothering me.
Speaking of theaters. Turkey has 14 submarines, 19 frigates and seven corvettes. So our Black Sea Fleet is where it is going.
Finally, try to see the Chinese.
As I understand it, China's multipurpose nuclear submarines will have 14 units by year for 2020-25. This is a dangerous rapprochement with our similar forces. By the way, the nuclear missile boat from China is still one, but four more are being built.
Non-nuclear boats from the Chinese are now 48, and there will be more. Apparently, in this class they will overtake us.
The first Chinese aircraft carrier, our former "Varyag", was introduced into the fleet last year. The second, of its own design, experts expect that year to 2020. That is, if so, they will then have two aircraft carriers against one of ours. Poorly.
The landing fleet of the Chinese is powerful, about a hundred ships. Of these, two airborne helicopter dock; maybe the Mistrals were bought with an eye to this circumstance? Be that as it may, 100 amphibious ships and 150 amphibious boats - as I understand it, several times more than our similar forces.
On the 2011 year, the Chinese Navy included 27 destroyers and the 51 frigate. Ships of these classes are being built now, but not quickly. In general, quantitatively there are many of them, but qualitatively they are relatively weak. Because they are mostly old weapons and electronics. Even on the newest ships, these things correspond to foreign technology (often ours) 10-15-year-old.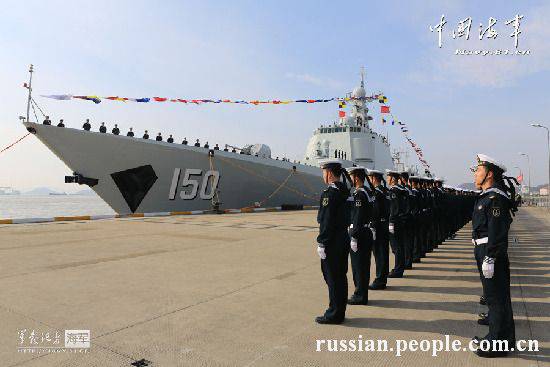 The missile destroyer "Changchun" entered the combat force of the PRC Navy. Source: People's Daily Online 18: 20.05 / 02 / 2013.
Well I do not know. Looks superfood
On the other hand, the experts write that the Chinese are much more able to do for yourself, and do a lot more in a simplified way. Gas and steam turbines, high-pressure boilers they can not do even under license. They do not even have automatic guns, mines and torpedoes of their own design.
That is, we seem to have a quality handicap.
However, what is quality? This is thin matter ... How many conversations were there that our huge socialist fleet was, like, on clay feet because of the imperfection of electronics and weapons?
Yes, even the Chinese have a lot of rocket boats. Since the rocket doesn't care if it was launched from a cruiser or from a plywood shell, they, too, should probably be counted in the balance.
In short, here I do not presume to argue. I won't even be able to promise to understand - a real expert is needed here, not a fan like me.
***
What do we have in the "Total" section?
If the Japanese take a mighty throw in the part of building up their navy, they may not miss us in second place.
However, I seriously would not consider such an option.
If the Chinese get powerful technological support and modernize at least half of what they are currently swimming, and even build something, they may not let us go to second place.
I would consider this option seriously. Especially if the planning horizon is not 2020, and not 2025, but at least 2030 a year.
If we begin to disrupt our program, we do not shine at all. If we start to tear strongly, then we will leave behind the Gauls with the Britons. However, in this I also do not believe.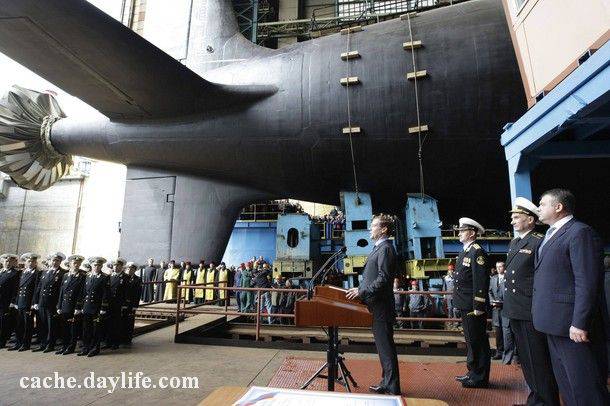 Well, to reach such a second place, which we had at the end of 1980, when the Soviet Navy was inferior in combat capabilities to the US Navy, but the displacement exceeded them - we won't get another 50 years to reach this second place, I think .
Of course, this is already stupid. Over the years 50 this can happen ... so ...
Everything. Again, consider writing all day. But I'm on vacation. And I do not see the light of God.