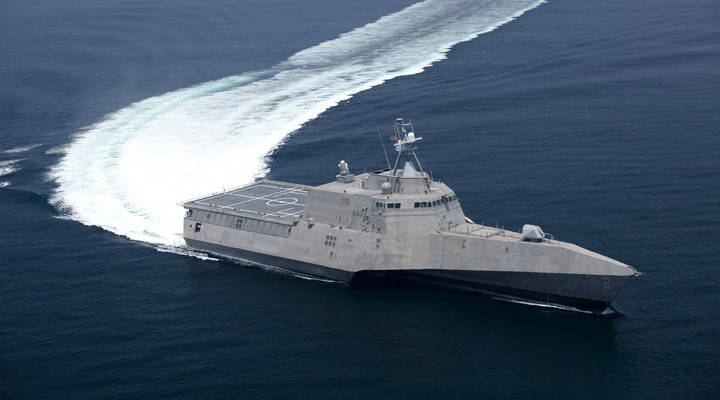 In 2011, the US Navy detected "aggressive" corrosion around the coastal warship engines "LCS Independence". The problem was so significant that the vessel, which was barely a year old, had to be put on dry dock to replace entire parts of its hull.
As it turned out, the 125-meter warship actually disappears before our eyes due to one miscalculation in its design. For him, even have their technical name - "galvanic corrosion." Civil scientists call it electrolysis. This occurs when two dissimilar metals, after electrical contact with each other, begin to corrode at different rates.
"This means that the metal dissolves completely, and not just rust," an analyst writes on the Independence problem.
fleet
Raymond Pritchett.
It should be said that the fate of the Coastal Combat Ship (LCS) series is not easy. For example, the US Navy has not yet completed the key tests of their combat suitability, which causes a lot of controversy - and will not finish before the 2016 year. However, by this time, American taxpayers will have already paid for the purchase of 24 ships that are already under construction under the terms of the military contract, while the Fleet will start preparing for the purchase of the next batch, aiming for the planned number of 52 ships.
At the same time, the fate of the three planned "operational modules", which are actually replaceable sets of equipment, turns the LCS on demand into a minesweeper, a submarine hunter, or a platform for fighting small vessels. The first of these, the most difficult and most critical, will not even enter the phase of the initial limited trials before 2014, but by this time the US Navy will have already purchased four of them. By the time the complete mine sweeper completes all tests in 2018, the Fleet will have already purchased at least 13 ships.
From the point of view of the US Navy, Independence and other coastal warships are unique. In fact - uniquely cheap. Each ship is expected to cost less than 400 millions of dollars - compare that with the more than a billion dollars worth of a larger destroyer of the Arleigh Burke class.
To ensure such a low price, a lot of things were removed from the design of the ship - including, for example, guns of the main caliber. And something called the "Cathodic Protection System", which is designed to prevent electrolysis, has been added to the list of these remote parts.