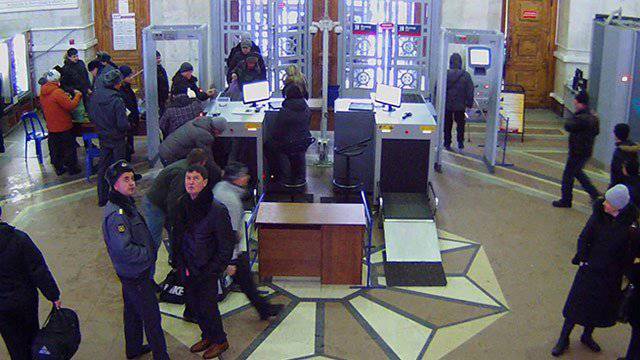 The recent attacks in Volgograd have brought to life a mass of conspiracy theories. Bloggers are considering a version of the evil FSB, bad Putin, the leadership of Russian Railways (!), Who wants more money for security systems, disassembling of the Volga and trying to overthrow the governor Bozhenova. Versions are to a certain extent plausible, but they are united by a single feature characteristic of "pop" conspiracy - the view that the mysterious super-powerful organizers (special services, etc.) are "firing" on nonsense. Found a passport at the site of the explosion? Here are idiots! What a suicide bomber with a passport will go "to work"! Finger with a check from a grenade? So, even a pedestrian knocked down by KAMAZ rips off shoes from his feet, and then 10 kg of TNT didn't fly away! Well, further in the same vein.
At the same time, the key forensic question, "look for who benefits," is not something that is ignored, but simply relegated to the background. In the first plan - small details and unanswered questions, as well as irresponsible conclusions.
Let's try to understand the inconsistency of both the conspiracy and the official versions.
Version number one. "FSB Blows Up Russia"
At one time, the opinion of the FSB for bombing homes in Moscow and organizing the seizure of the school in Beslan was very popular. No matter how you feel about conspiracy theorists, but the logic in these calculations was. The central government and, if you like, Putin did receive the maximum benefit from these terrorist acts. After the bombings of houses, public opinion craved for blood, "a small victorious war" that immediately followed, Putin's rating jumped, well, etc. And after Beslan, regional power was to blame for everything, it means that governors must be dispersed, their elections and insert all "domineering vertical."
It is impossible to say that the bloody gebnya set things up. In our case, the key point is that she could do this and was interested in this. Unfortunately, a good version almost instantly turned into a religious trend of a liberal sense, and therefore was not seriously analyzed in the domestic information field. The liberals believed in it, the patriots did not (precisely because the liberals believed in it). There is no longer up to logic. Although one could dig. The version is perfectly divided into options - for example, the authorities could already do anything (even the parliament from
tanks
shot, and nothing, without any excuse, and rewrote the constitution, and no one uttered), and there could be an elementary setup, etc. In any case, the topic is too serious to touch on it casually. The main thing was the motive. That is, from the standpoint of logic - yes, the authorities could be guilty of those attacks. Let's now see why in our case this version is not viable.
The federal center now has no such numbers. Raise the rating? There are no elections and there will not be for a very long time. And just enough explosions to raise the rating, we need an "effective answer." And what reaction of the authorities can be in our situation? Military operation in Chechnya, Ingushetia and Dagestan? Stripping? Again, the same rake? For a short time, maybe the rating will take off (crazy joy in the eyes, sour patriotism, "finally they have taken on black"!), But then Kadyrov will again become a fighter, again the coffins will go, real terrorist attacks like Budennovsk will begin, and with the rating will be trouble And the flywheel unwind exactly to the next election. That is for the government one harm.
Conspiracy therapists call in a shout: "The FSB could blow up houses in Moscow, which means it could blow up the station in Volgograd." Typical logical error. In Moscow, she could. In Volgograd - no. Communication - no.
Version number two. Getting funding to fight terrorism
Well, everything is easier, because the version is completely insane. With Railways in general schizophrenia. They have little money? Well, look at the palace complex of the main railwayman Yakunin. This is not the Arab sheikhs. And risk this here - for what? For the sake of hundreds of millions of new metal detector frames? Yes, and to steal from this hundreds of millions only half will turn out, the framework is still to buy. It's easier to raise prices for 10% - they will still drive, there is no competition! Who are the performers? Security Railways? Fatty retired lieutenant colonels? Or what, hired thugs? Information leakage in both cases would be such that the police would not have to search for anyone.
More funding can get the same FSB. However, in this case it is necessary to consider the special services not as an instrument of the bloody Putin regime, but as an independent unit. But the fact of the matter is that in this case the FSB has no common motive for all employees (or at least most of the managers). Money may be allocated (although not a fact). But no one knows in advance who and how much. They may be the main efesbeshnikam in Moscow - and may be regional in Volgograd. And they can even North Caucasian or even emvedishnikam. Again, control over the funds has not been canceled, everything cannot be stolen.
That is, the whole FSB as a whole, if it were a close-knit family, maybe it could. But who would take the risk of getting a life sentence and sit somewhere in the White Swan, or get a bullet in the head and an honorary funeral (if colleagues decide not to take the rubbish out of the hut) for the ghostly prospects for an increase in 2,5% of financing related management?
Again - a problem with performers. Summon two captains and order "to blow something up somewhere for two months and to kill more civilians" not a single colonel or general. Whatever power he possesses over these captains, they can run to knock, because in the "White Swan" it is very, very sad to live. To organize a terrorist-controlled cell? So now is not the 19 century, and the probability of "burning up" is much higher - cellular, Internet, video cameras everywhere, passenger traffic is controlled, it is difficult to forge documents, and satellites are watching from space. And what if the "pocket" terrorists are seized by colleagues from the Ministry of Interior or military intelligence in general? And the number of initiates within the department requires a considerable amount (including those who simply will not interfere), and the cost of the operation is monstrous. And the expected profit, as we have already found out, is very, very doubtful.
Version number three. Official
Actually, the full version is missing. There is a set of theses and informational stuffing. For the time being, we will refrain from conclusions that can be made from the official version, and we will just deal with inconsistencies.
First, no one took responsibility and made no demands. For example, Shamil Basayev was quite a normal terrorist (and a bloody geek, but that's not the point). In Budyonnovsk, he put forward demands, and in general, they were feasible (and later fulfilled in Khasavyurt), humiliated the power with negotiations ("Speak louder, Shamil Basayev" (c)), tried to leave (and left) alive.
And there are no requirements. So why? To receive targeted financial assistance from traditional friends of Russia - Turkey and England - it is possible only for terror in the Caucasus: they need destabilization there, and they will not pay for anything else. They pay, for example, for the explosions of armored personnel carriers, confirmed by video evidence, but this is clearly not our case. And why not take responsibility? Why not put out a video message (it would have gone instantly, the Internet would not stop this process, and the media would show, as a last resort, with bills - won, Bin Laden would be shown, and nothing!). Here, popularity is also useful - and it is easier to recruit youngsters (we are cool, we are the same, yeah), and you can still try to raise denyuzhku - if not from the Turks and the British, well, at least from frostbite Saudis, for example. But - there are no requirements, no personalization.
Secondly, why precisely suicide bombers? Why not leave a bag with ammonal and a detonator from a cell for 500 p.? To make it worse? But a suicide bomber may break down, get scared, surrender, explode in the wrong place. The bomber is a footprint. And very fat. Especially if it comes to dealing with a passport. And if the organizer is not afraid to leave such a mark - then why not take responsibility? Vicious circle.
Thirdly, why not take the organizers alive? They laid in a private house (or in an apartment building, with the evacuation of residents), offered to surrender, were refused, threw five pieces of RPO "Bumblebee" into pieces, fired machine guns, threw grenades at them, pulled out the corpses. Effectively. Explain that the special forces do not want to take risks. I agree, I would not give one of our soldiers to 100 bearded ones. But still. We need to find out who financed, who planned, who was in charge, how the suicide bomber was zombied, how they were promoted, who helped. This can help in prevention - and save tens and hundreds of civilians in the future - and then the risk is justified! So after all not necessarily under bullets to climb. If the organizer is known, you do not need to come to him on the APC. It is necessary to wait until he goes for some bread, but to give teme with a baton. Or just make one. And then a long, thoughtful conversation. According to the method of thermorectal cryptanalysis. And then - in the "White Swan", and let him regret that he did not shoot himself while he could.
And finally, the use of Slavs is strange. No, I have no doubt - there are those who adopted radical Islam, and traitors, etc. But the credibility of such an audience is usually small. Betrayed time - will betray the other. And what if it's a mess? Recognizes the whole scheme, and will pass. Yes, and zombies harder, yet very strangers from another culture, the subconscious will resist.
In general, there are a lot of questions. Let us try to formulate a version that answers all questions, but does not have logical flaws.
Again conspiracy
Let's define: conspiracy is not bad. Just by developing a version (and the conspiracy therapists in a bad sense - they always know the truth, and not build the version), you can not build everything on a foolish puncture (they threw a passport !!!), and not on logic.
So. The bombings are organized by the US Central Intelligence Agency and / or related structures. For a start - a small introductory. Any special service is obliged to have plans in case of unforeseen changes in the situation, otherwise it is not a special service. Domestic special services usually develop defensive plans, external ones - offensive ones. Yes, at the moment relations of the Russian Federation and the USA are generally cloudless. Snowden, Syria - it is, touches. In general, everything suits our strategic partners. We regularly sell resources for unsecured paper. We are a great market. We are helping in Afghanistan. We consume heroin tons. We are dying out. At the same time - we are able to provide sufficient internal order to be predictable. Nuclear
weapon
under control and obviously does not fall from us in the wrong hands. We practically don't have foreign policy weights (and we don't need Syria, we'd like to, again, they didn't give a damn about the Security Council, or anything else)
But. Our world is now global. Problems may begin as a result of a new financial crisis - and we will stop selling resources. We can start too much friendship with some Germans or Chinese, and spoil the whole wonderful monopolar system. In the end, we can have a military coup, and we can start a real modernization - and after 30, everyone knows that these crazy Russians can do anything for 10 years. In any case, our friends need to have plans. Plans for war.
As we know, smart people are now fighting not with bayonet attacks. Orgruzhiye, myatobezhevoyna, velvet revolutions - much more efficient. Yes, it is possible to combine, supplement, but without these components, the West no longer represents war. And against a country that can turn half the world into a glass desert - and even more so.
Now we will put ourselves in the place of a potential adversary and try to think, how can you demoralize the population of Russia and its leadership, arrange mass riots, make state structures and the army wallow in internal problems, organize total chaos? Answer number one is the Arabic script. And then there are "but."
For a political split, our society is too homogeneous. Liberal ideas have support only in the capitals, while their carriers are fluidly popping at the first shot into the air, have no military training, will not throw stones at armored personnel carriers and run for machine guns. Moreover, the bearers of liberal ideas have something to lose. If it comes to the point - to shooting and mass arrests, everyone will immediately remember about the mortgage and the Focus on credit. This is not a white ribbon for you to wear. Our overseas partners, for sure, understood this, and after a little testing of the model in real life (the last presidential elections, the Swamp, etc.) were finally convinced of the futility of the direction.
Another thing - the national question. This area has unlimited potential. The most, it seems, adequate people, at the slightest throw, suddenly emit saliva and turn into Dr. Goebbels - "Hang! Shoot! To the seventh knee! Scorched earth!!!". At the same time, it is not the asexual dolls from the LGBT community that are potentially involved in the conflict, but evil, militant youth.
At the same time, it is necessary to understand that such a rich potential for creating "controlled chaos" in Russia as the national question also requires a beta test. It is necessary to measure this potential and work out the methodology.
There is no way to ignore the events in Biryulyovo. October 14 - black riots, and 21 - the first explosion. What did we see in Biryulyovo? Very strange video from a camera installed at the entrance. In this case, the provocation smelled a mile away. Where does the camera come from at all (nevertheless, Biryulyovo is not Arbat)? Why did she hit the net so quickly if she had to be almost immediately taken away by the police? Wild, crazy actions of the suspect. [Url =] youtube.com [/ url]
Moreover, no contradictions - the organizers specifically could arrange precisely low-grade provocation sewn with white threads, in order to measure the level of a critical attitude of society to such stuffing. And the society did not disappoint!
It would seem that here it is necessary to force a provocation - to organize the killing of several visitors by "Russian skinheads". Ideally, old men (given Caucasian respect for old age), can be a clergyman or a woman / child. After that, Caucasians would immediately organize themselves, relatives from other regions would pull themselves up, a mutual bloody score would start to grow ... But then the level of the problem would go too far for a simple "cut" (and moreover, by pouring puddles of blood into Biryulyovo, society could get vaccinated from in the future - at least, would be more cautious about provocations). And why, if the main thing was checked - by sacrificing one person, you can partially destabilize the region (the police were brought in from the entire region), then - just throw a little more firewood, and really flare up!
A week later, the second stage of the "slice" is launched - the first explosion in Volgograd. He was prepared in advance, which is why - so quickly (of course, no suicide bombers, just an IED or a person used in the dark, who was asked to "hand over the suitcase"). Measured: the reaction of the authorities, the actions of power structures, media coverage and public behavior. And here is a miss - neither black pogroms, nor mass protests. Therefore, it is decided to hold a "strengthened second stage", two months for preparation.
However, it did not work out here either. No, the resonance is huge, but for our society, terror is a past stage. Tears more than hate. At the same time, the authorities behave sensibly, and do not give the boat a rock.
The FSB has been assigned the task of organizing a quick, convincing investigation, which is not very reliable, the main thing is without very serious mistakes. And the FSB copes brilliantly. Instantly invented "suicide bombers" - this adds to the doom of the bandits, which is not bad. And at the same time explains exactly how the security services so quickly "took a trace." The good idea is "Slavic terrorists" - the question is internationalized, and there are problems with personifying hate. And then the organizers were found and destroyed (in fact, ordinary militants) - that's all.
So, the version answers all the questions posed and is not internally inconsistent. Not the fact that it was in fact, but it could be.
What if it was so?
The organizers, of course, were convinced: the Biryulev scenario was much more effective than the Volgograd scenario. If in several more regions at the same time, but the sacrifices on both sides are everything! Do not stop!
I think that claims to the FSB in this case can not be. Do not beat yourself with a heel in the chest and tear your underwear. The task of the security officers - to stop the chaos. Chaos is stopped, effectively and convincingly (yet, apart from hundreds or other bloggers, no one found any contradictions). Systemic national problems in our society are beyond the competence of the FSB. At the same time, it is quite possible that the real foreign organizers have been installed (the version is certainly being worked out, not less stupid than me by analysts from the Chekists).
Authorities need to draw conclusions. And even if the version is wrong. The national question in any case represents a strategic danger, and the current "efforts" aimed at its resolution are clearly not enough. I will refrain from recipes.
PS
I want to apologize to the Volgograd citizens and relatives of the victims for cynicism. Political journalism is not very clean. But we still need to think about what really happened ...