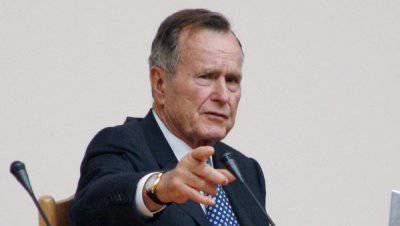 Well, let us, in order to draw a line under the "suffering in Ukraine", read a piece of an absolutely amazing interview with outgoing President George W. Bush in December of 1992. He was not shy there, and he burned off frankly with such napalm at last, that the earth is still smoking:
- Mr. President, do you think that the loss of Ukraine is good for the Russians, but here is a former National Security Advisor ...- Are you talking about Brzezinski? Village fool Jimmy in politics could not distinguish between apple and cow cake, and therefore listened to idiots and clowns. I voluntarily left the post of Director of the CIA, so that my name would have no relation to this booth. Brzezinski wrote that without Ukraine, Russia would never become an Empire. So it was in those times. But this is the rule of the 20 century, and we will live in 21.

Do you know why the Russians needed Ukraine? Then, that there the population growth is higher than in Russia itself. In past wars, Russians needed Ukrainians to throw someone with grenades under German Tanks. But only. But as soon as they got nuclear weapon and rockets, the meaning of keeping so many hungry mouths became negative. It is easier for Russians to raise the standard of living of their Russian population, and for Ukrainians to work for them in the same way that Mexicans work with us and for us. All the same, it is not necessary to fight with a rifle and grenades in a modern war. And therefore, it becomes not necessary for them to take the military oath of the Ukrainians ...
That was a great interview in December 1992. Okay, here's another piece:
- ... It was the collapse of the Soviet Union - is my most important defeat. I am afraid that this is a foreign-policy Disaster, the size of which we have not yet understood.

- Could you develop your thought? After all, you yourself have made so much effort for the Victory over the USSR?

- Yes, I did, but for Victory, and not for our Defeat. The Soviet Union had a very important role for America. He had not had the military ability to defeat our country for a long time, but he could cause us damage — unacceptable. And we were afraid of him, as fear of a wild wolf, or a bear. We taught ourselves to follow the constipation in our home, we watched our form. However ... Now, when the Union is gone, we - the Americans - began to forget about the danger.

Our people are growing fat and fattening, and these are signs of our defeat. After all, the existence of the Union was beneficial to all of us, and the current situation multiplies political risks with uncertainties and, in my opinion, is a direct path to catastrophe. I mean that I did everything so that the Union would remain very hungry and weak. I fed him from my hand and taught me to caress. There was no money in our treasury, and I provided the Union with humanitarian aid from my personal funds.

- You want to say that all this humanitarian aid to the Russians, all these legs ...

- It was all from my personal funds. The Russians needed money, and as best I could, I supported them. They needed food, and I ordered to feed them from my personal means. There were people who entered the share with me, but we did not spend on it - not a cent from the federal treasury. No Cent!

- Then I do not understand - why did you do this?

- Then what - "Friend in need - Friend forever" (Friend in Need is - Friend indeed). You do not understand what happened. Russia is not defeated, on the contrary - it is very strong and we need her to be Our Friend - that is why I fed all these Russians for free. And those who beat me - they only want to rob. The Russians will not forget that and someday will send us a response bill.- I do not understand why you are sure that Russia has increased. After all, she had just been defeated ...

- Russia and the Union - as Matryoshka. They were nested in each other. In reality, we competed with Russia, but she was in the form of the Union, that is, she had huge Giri on her feet. Now, with the collapse of the Union, these Gears have been removed, Russia will overcome its current problems and become much more evil and powerful, and will well remember everyone who has offended it now. And I would like to be the same Friend of Russia as I was the Enemy for the Soviets.

It is necessary to put on the best horse. Do you want to know what kind of Geary she had? This is in numbers - there were two bottomless holes in the Union, where all budget surpluses flowed - Agriculture and Social Assistance. Since today's Russia may have former incomes and not spend money on these unprofitable items of expenditure - in the coming years it will become stronger and more dangerous than the USSR.

- I do not understand - why Russia will be able to cut its spending on social assistance and agriculture?

- It's all in numbers. The main consumers of rural farms in the Union were in Ukraine. Ukraine is leaving - the Russians are closing the "black hole" in the budget for subsidies for the village. The main consumers of social assistance were located in Central Asia and the Caucasus. If there is no Union, then Russia, the main earner for the Union budget, stops subsidizing its large Muslim republics. And then - arithmetic, - Ukraine, Central Asia and the Transcaucasus find themselves with budget deficits and plunge into the abyss of despair, Russia turns out to have budget surpluses and its treasury turns out to be bigger and more powerful than the Soviet one. And then she will return with a triumph and remember us all, but our economy already has a boundary condition - zero profit. My opponent, Clinton, promises to "stimulate the economy," which means that we are in debt, and our economy is in a state where we can no longer afford to borrow. This means that our budget will be negative and over time we, as a country, will become naked and barefoot, and the Russians will be rich and powerful.

And for the sake of Friendship with strong and powerful - my free chicken legs at the moment when they have nothing to eat - will bring huge dividends. And they would have brought even more if I could keep the pack of our ever-hungry hyenas and jackals from robbery ... Ah, if we could keep the Union from disintegrating, if he was used to our good hand and eventually became manual, like a lap dog ...

But nothing can be done. All these jackals themselves decide their fate - I know the Russians, they will not forgive anything, they will not forget anything ....
But nothing can be done. All these jackals themselves decide their fate - I know the Russians, they will not forgive anything, they will not forget anything ....
Once again - this is 1992 year. It seems to everyone that Russia in the ass, having received the freedom of the republic, are happy and are waiting for the manna from heaven to fall from the sky, each will have a Mercedes and a villa in Cannes.
And Bush Sr. already knew everything.