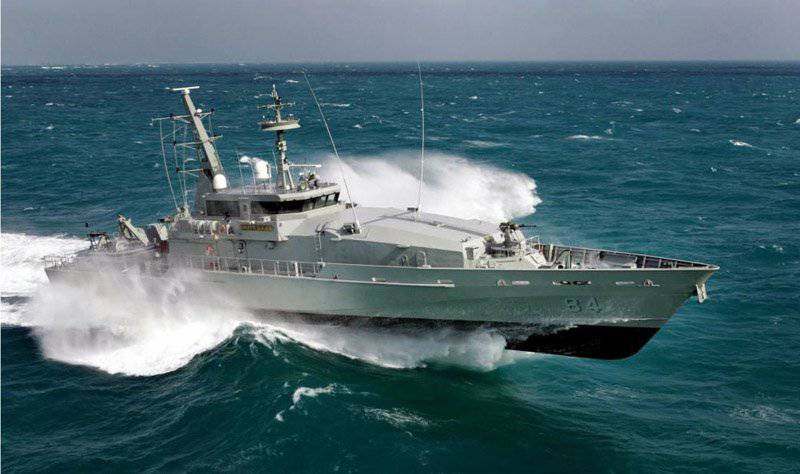 Installing the Rafael Typhoon on the Australian coastal patrol ship Armidale
In recent years, naval forces around the world have faced new threats, ranging from the outbreak of global terrorism to the transition of naval hostilities to coastal scenarios. To cope with a variety of unconventional asymmetrical threats, the range of which varies from small boats with outboard engines used for suicide attacks with explosives or piracy, and to high-speed combat boats armed with heavy machine guns, rocket launchers or anti-tank missiles (not to mention slow and low-flying aircraft, such as helicopters, light aircraft and UAVs), many fleets are actively buying small-caliber guns to protect their vessels.
Along with light weapon systems (for example, 7,62-mm machine guns mounted on the turret), small-caliber complexes with guns of caliber from 20 to 30 mm were supplied to the fleet armament to provide increased range and much greater stopping power. Moving from manually operated systems without drives, many fleets and companies have developed drive and stabilized installations equipped with modern sights and capable of shooting independently of the ship's movement in space, as well as remote controls to increase the levels of protection for the operators of these systems.
Company RAFAEL
Based on the requirements developed based on the experience gained by the Israeli army, and demonstrated for the first time during combat shooting at sea in the middle of 1995, the Rafael Typhoon family of shipboard stabilized and remotely controlled gun systems can claim to be superior in its own way, winning the market and reaching significant sales success. The Typhoon complex has independent control due to the use of an optoelectronic kit (station), which includes a camera, a thermal imager and a laser range finder (although the installation can be synchronized with an external optoelectronic control unit). Installations of this family perform fire control calculations using their ballistic computer. The installation can take various guns up to 30 mm with an ammunition up to 200 shots depending on the caliber. A stabilized unit with less than 0,5 precision. The Milliradian can accept an 7,62-mm coaxial machine gun, which is not only an auxiliary weapon, but also saves gun ammunition during combat training. The Typhoon family can operate autonomously or in synchronization mode (in this case, the system is controlled from the operator console and synchronized with the surveillance or fire control system, which calculates the lead and vertical pickup angles for accurate tracking of the target within the line of sight). In addition to the gun, the units of the family can receive either surface-to-surface missiles or surface-to-air missiles. For example, in the Typhoon NTD, Spike-ER missiles are installed, while the non-updated short-range surface-to-air missiles are added to the Typhoon GSA model. In addition to Australia, Colombia and India. Singapore and Sri Lanka Typhoon complex was selected by the US Navy, where it is supplied as a modification of the Mk 38 Mod 2 Machine Gun System Ordnance (Ordalt).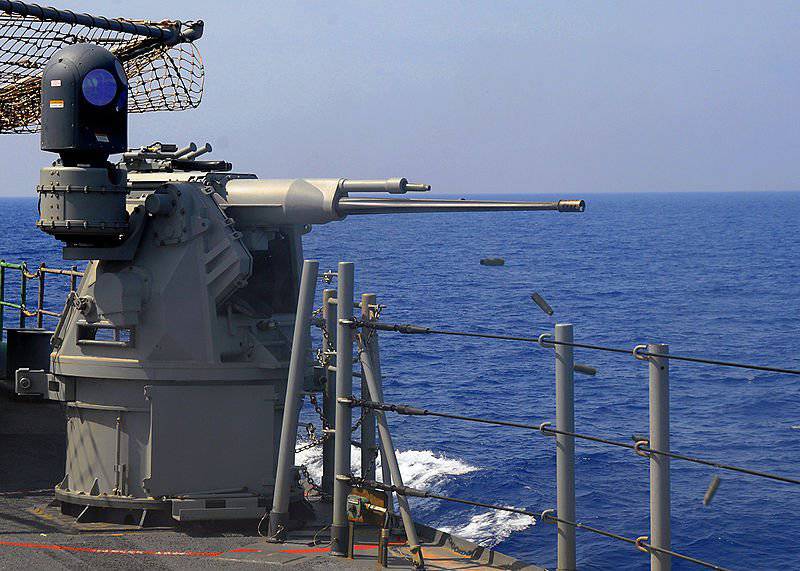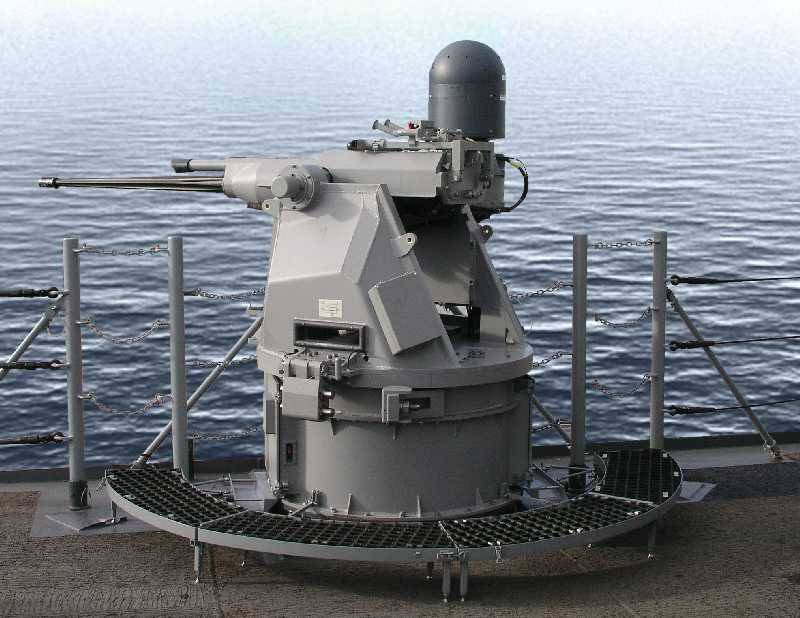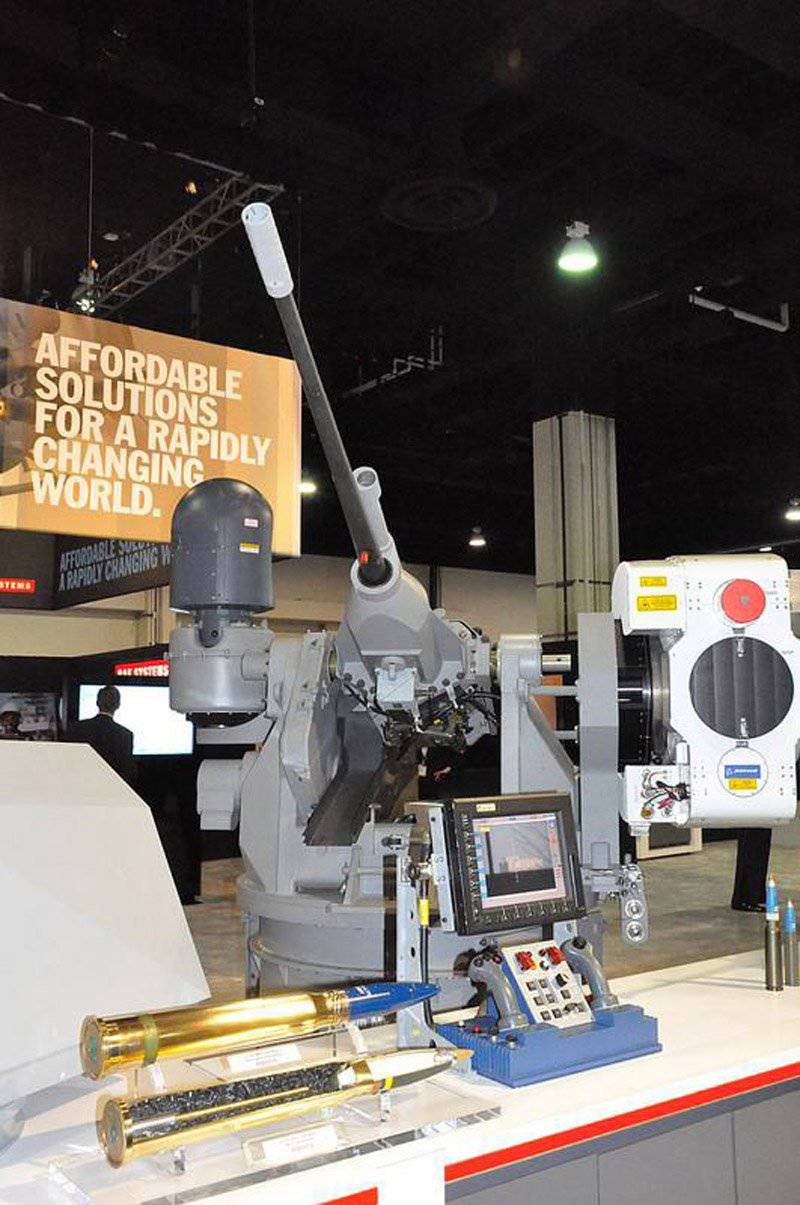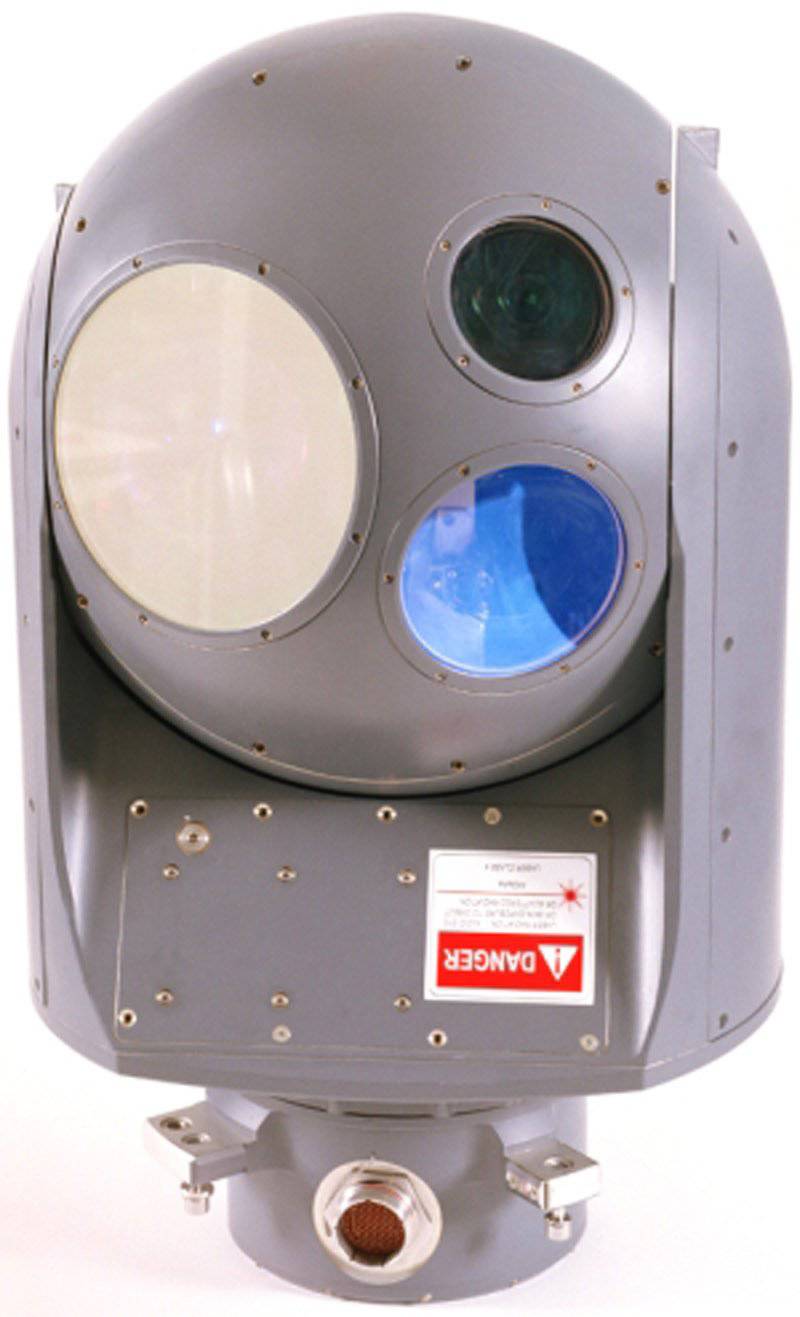 In cooperation with BAE Systems and Rafael, the US fleet is upgrading the Mk 38 Mod 0 / 1 guns, installing the fully stabilized Typhoon installation and the TopLite EOS optoelectronic station (bottom photo). Several systems have already been sold to Spain and the Philippines.
BAE Systems, in conjunction with Rafael, upgrades existing Mk 38 Mod 0 / 1 installations based on the ATK M242 Bushmaster with a chain drive and installs a fully stabilized Typhoon cannon installation and a Top Lite EOD optical electronic station. The installation of the Mk 38 Mod 2 also received contracts from the Philippines and Spain.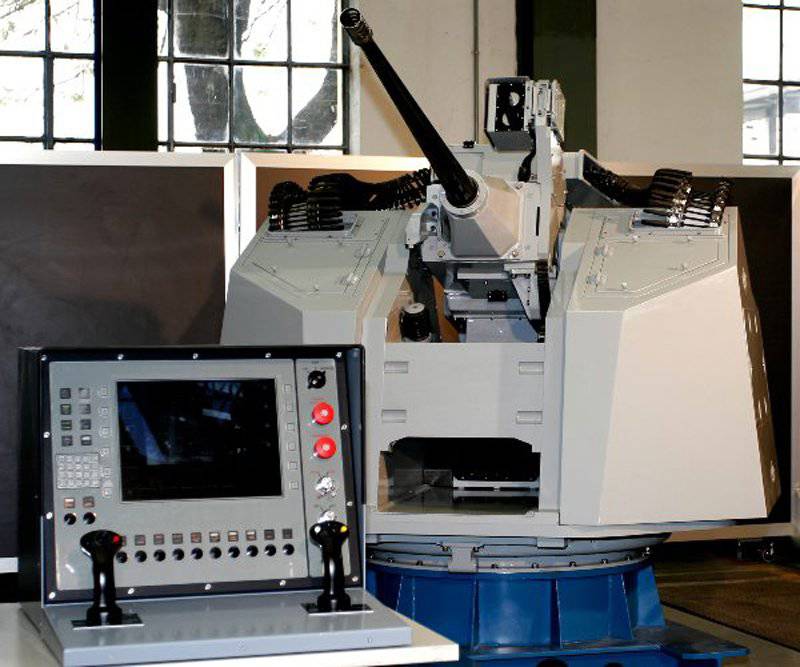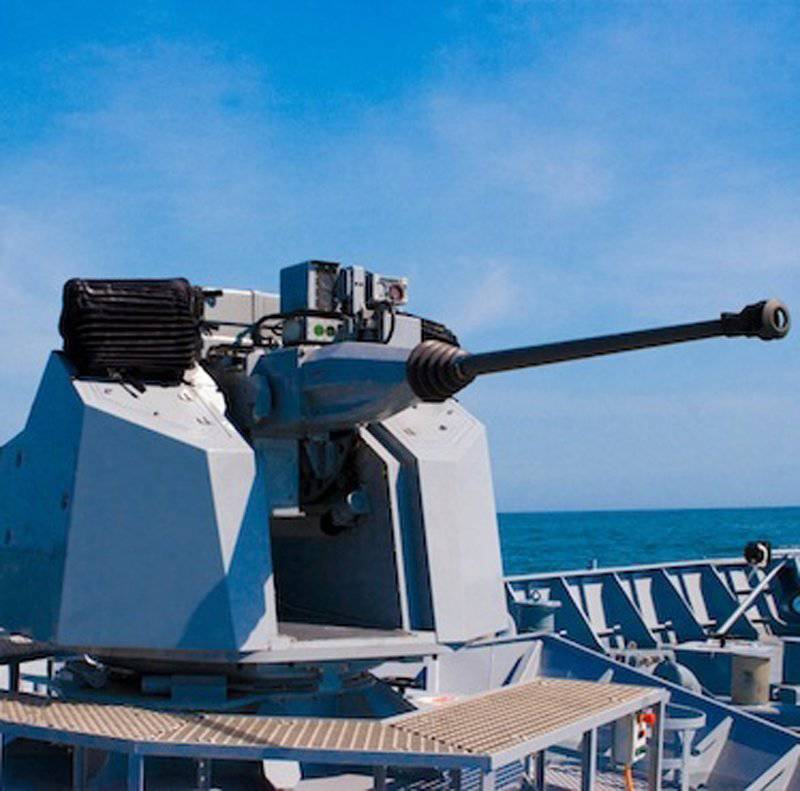 To equip its Fincantieri Saettia class patrol vessels, the Iraqi fleet bought the Marlin-WS Oto Melara variant with coaxially mounted optoelectronic sensors. Marlin's modularity becomes especially apparent when comparing this photo with a new installation of Marlin on board the Holland patrol vessel (photo below)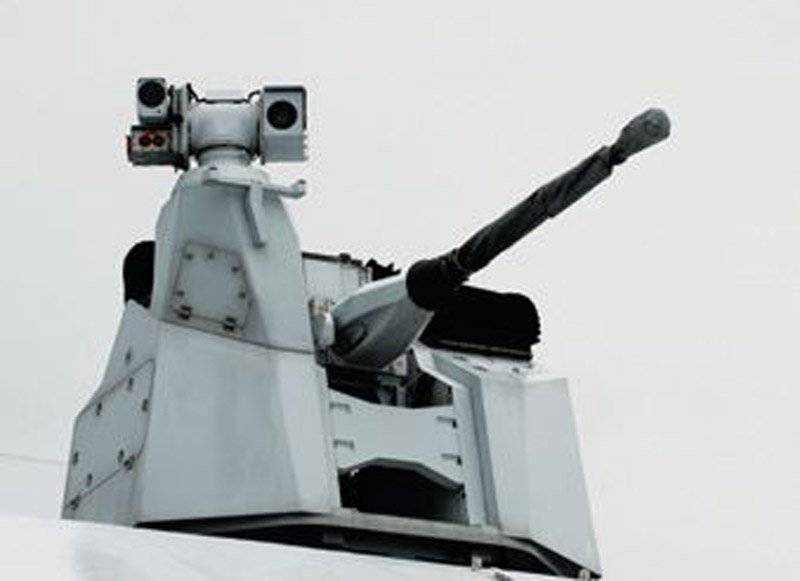 Marlin-WS from Oto Melara has a new modular configuration that allows you to take a variety of weapons, sensors and OMS. For example, in this installation on the ship Holland OPV, the optoelectronic station is located on an independent basis
Company OTO MELARA
With extensive experience in providing small-caliber ship cannons in caliber from 12,7 to 40 mm, the Finmeccanica division of Oto Melara developed the single-barreled 30-mm Mod 584 Marlin-WS (Modular Advanced Remotely Controlled Lightweight Naval Weapon Station) complex - a modern lightweight modular ship-based remote weapon system) in order to meet the requirements of modern fighting at sea. Marlin-WS has a new modular configuration that allows you to install a variety of weapons, sensors and fire controls on a fully stabilized lightweight deck. Having a fully digital architecture, it can be configured for several operating modes, including remote control and synchronization with the combat system of the ship, remote or autonomous operation using independent optical-electronic sensors and its own ballistic computer, and remote or autonomous operation using its own optical electronic kit and ballistic computer.
The first tests of the Marlin gun complex on a patrol boat in the North Sea
Marlin cannon complex can accept 30-mm cannons Rheinmetall Mk 30-2 and ATK Mk 44 with 160 rounds, 25-mm Oerlikon KBA and ATK M242 Bushmasters with 200 rounds. The general configuration of the Marlin includes a dual-feed system with a choice of a feeder, a stabilized two-axis installation, a gun cradle, a gear motor for vertical and horizontal guidance, angular position transducers, servo drives and an opto-electronic kit. External systems include power supply from the deck, and a remote control console.
The mass of the complex varies from 1090 to 1350 kg, depending on the set of ammunition guns and electronics. Marlin-WS is also offered in a still-tested configuration, which will include two twin launchers for surface-to-air missiles MBDA Mistral and KBM 9M342 Needle C. According to Oto Melara, due to its high horizontal and vertical transfer speed, the installation Marlin-WS was sold and installed on a Fateh Iraqi Navy patrol vessel built by the Fincantieri shipyard, on Abu Dhabi class corvettes, UAE coast support vessels and coast guard vessels, Netherlands Navy Holland coast patrol boats, coast patrol boats Boats class Viana do Castélo Portuguese
fleet
. It is also ordered for Al-Ofouq Omani Navy patrol vessels.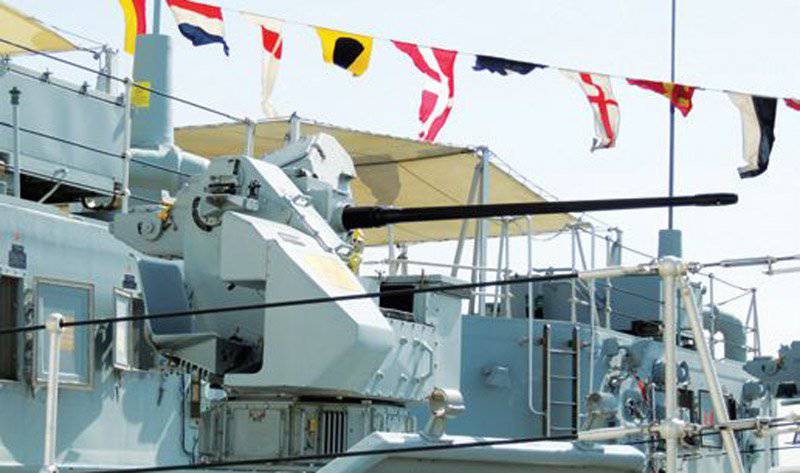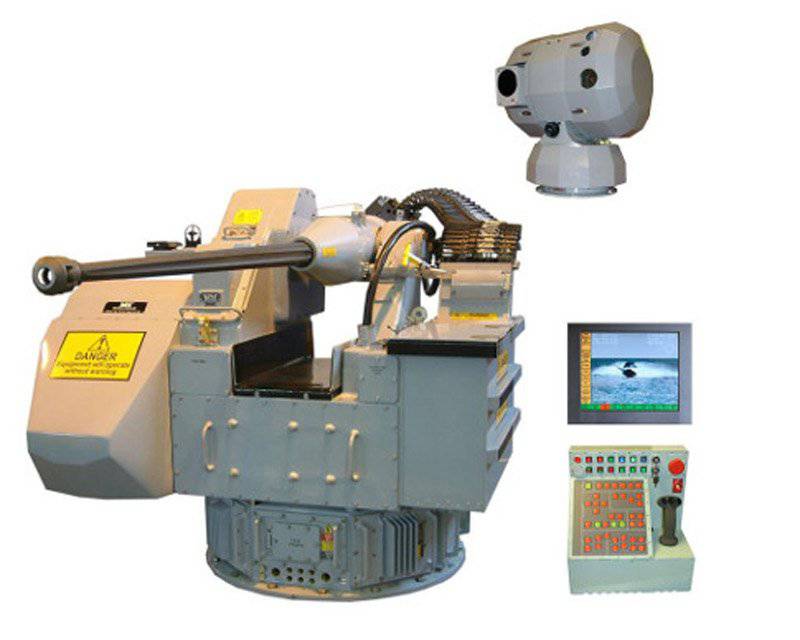 The British company MSI-Defense Systems supplied more 240 stabilized Seahawk installations with 25 and 30 mm cannons, at least 16 fleets. The Sigma version also has short-range surface-to-air missiles. Pictured above is a DS30 complex aboard a Sandown MCM vessel at IDEX 2013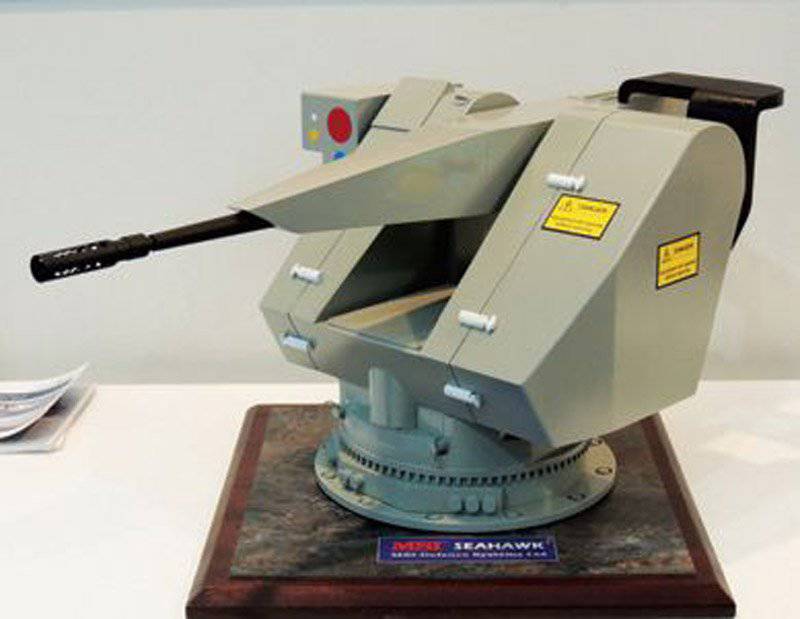 At IDEX 2013, MSI-Defense Systems introduced the Seahawk 20 base system with 20-mm Denel G12 cannon, which, in particular, is designed for 20-meter boats
MSI-DEFENSE
More than 240 stabilized Seahawk units with 25-mm or 30-mm guns from the British MSI-Defense Systems have sold at least 16 fleets. This company offers a complete family of 20 / 25 / 30 mm shipboard systems that use a standard set of control systems, including the "Remsig" option, where the installation is controlled through the ship's control system, the stand-alone version "A1" with a set of optoelectronic sensors and the more intelligent "A2 , In which the remote optoelectronic device assists the gun control system. The Seahawk family can accept ATK Mk44 / M242, Oerlikon KSV or Rheinmetall Mk 30-2 cannons in a double or single feed configuration (or in a Sigma configuration, a combination of a cannon and surface-to-air missiles). In order to meet the requirements of the British Navy for defense against surface threats on the Type 23 frigates in the Seahawk gun complexes, stand-alone small-caliber DS25 / 30 and DS30M Mk 2 ASCG guns are installed. Additional orders are expected for these complexes to be installed on other platforms of the Royal Navy.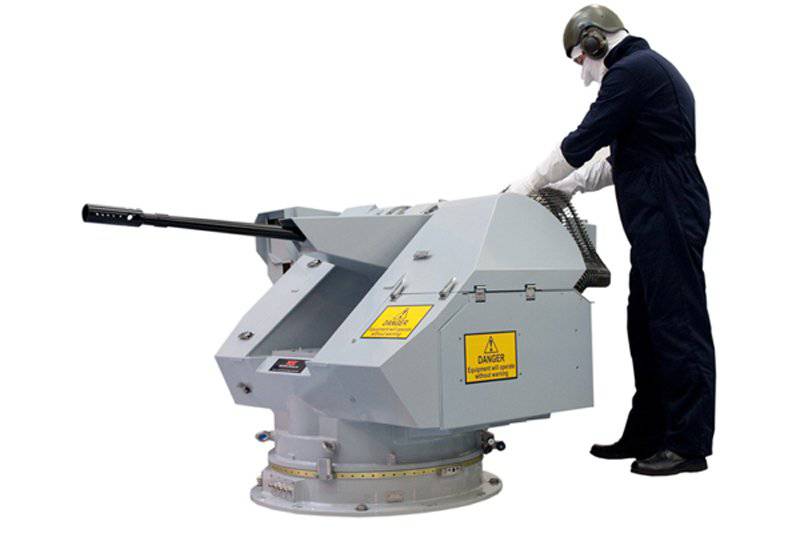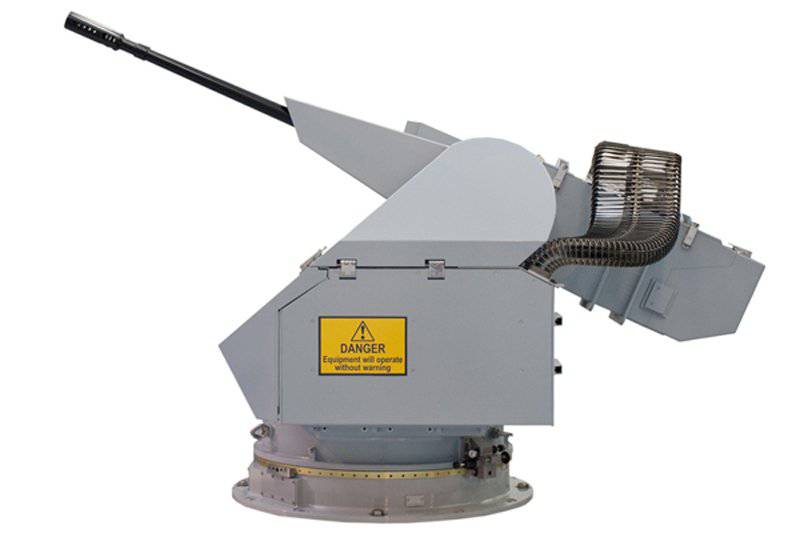 Seahawk MSI-DS20 Ship Installation from MSI-Defense Systems
MSI-Defense Systems has already sold or supplied Seahawk systems to Algeria, Malaysia, New Zealand, Oman, the Philippines, Saudi Arabia, Thailand, and most recently Iraq. According to the program of sales of military equipment to foreign countries, the company supplies the Iraqi Navy with fully autonomous Seahawk DS30M A2 systems equipped with ATK Mk44 30 mm guns, the deck management console, an external optical-electronic device, an automatic tracking device and a ballistic computer.
To meet the growing demand for primary weapons, which can be installed on small police boats and small coast guard vessels of about 20 meters in length, MSI Defense Systems also offers a lightweight Seahawk Lightweight 20-mm system that has minimal footprint and low power consumption and is easy to install. . Presented as a model on the IDEX 2013, the Seahawk base unit has a 20-mm Daniel G12 gun, an optical-electronic kit, a tracking device and a compact remote console. MSI Defense Systems sees a significant modernization potential for consumers who want to re-use existing 20x139 guns and ammunition from existing 20-mm systems.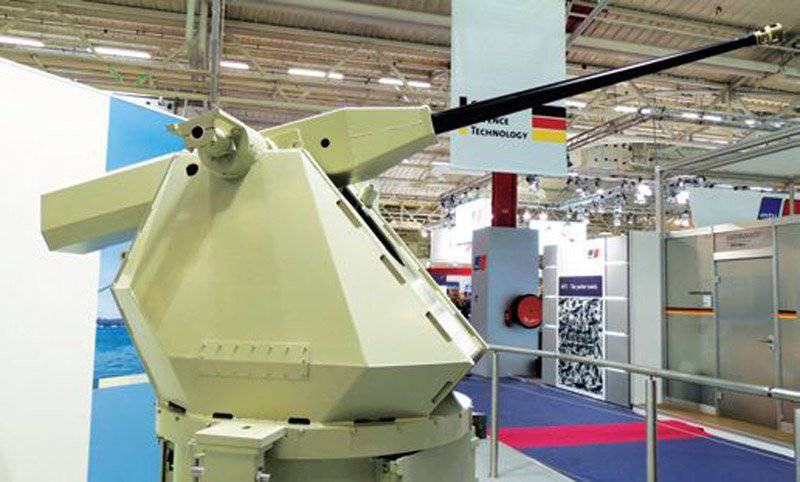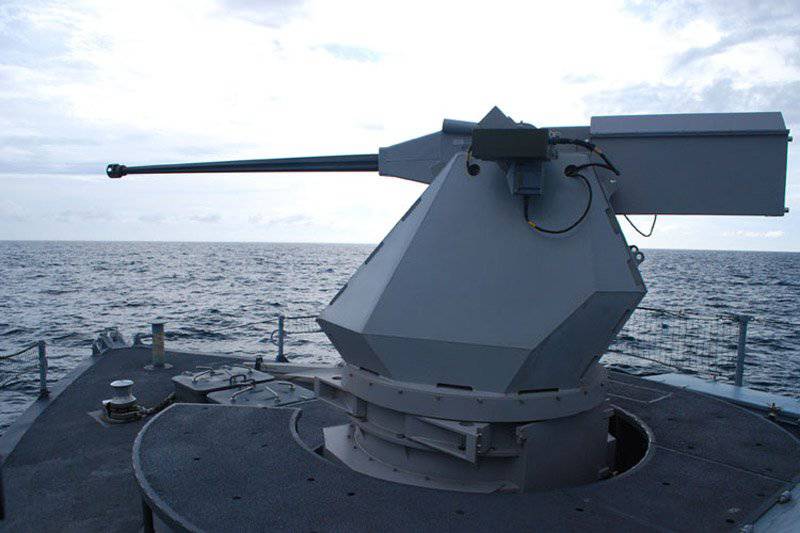 With the acquisition of EM Digital, Rheinmetall created a new enterprise RASP (Rheinmetall Advanced Stabilized Platform). Also, the German company has expanded its range of remotely controlled ship guns, including the lightweight 30-mm system WS30, presented in the photo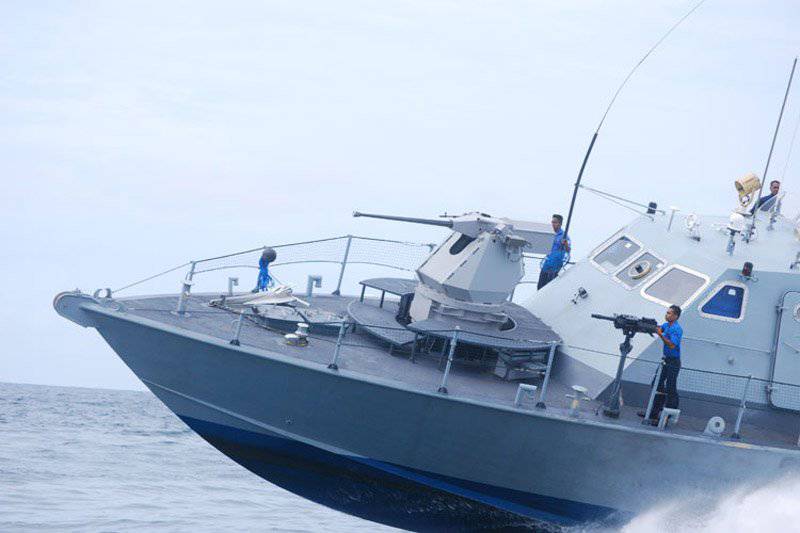 Cannon WS30 STIG from RASP
RHEINMETALL company
The German company Rheinmetall Defense has created a stabilized, remotely controlled, without introducing into the deck, a small-caliber MLG 27 gun for installation on German ships, but this installation has recently been integrated into foreign platforms. The United Arab Emirates installed MLG 27 aboard Baynunah-class corvettes and Ghannatha-class patrol boats, while the Kuwaiti fleet purchased these systems for installation on the Mk V patrol boats supplied to the US in foreign sales. The system is based on the same 27-mm BK 27 turret gun with effective gas exhaust, which is installed on combat aircraft Typhoon and Tornado. It has a firing rate of up to 1700 rounds per minute when firing a thin-walled armor-piercing sabot tracer 27x145 mm, and its ammunition is 90 ready-made shots. This projectile is designed as a universal ammunition for marine tasks, and according to the company Rheinmetall, it can not only pierce armor as a sub-caliber kinetic projectile, but also have a fragmentation and incendiary effect on the target, comparable to high-explosive ammunition.
The MLG 27 complex weighing 850 kg is considered in the German fleet as a substitute for 20-mm and 40-mm guns; It is based on the Atlas Electronik non-penetrating deck and fire control system, which includes the functions of tracking targets and calculating fire control. Tracking and fire control is carried out from a remote console using a stabilized optoelectronic station (day camera, thermal imager, laser range finder, dual-mode tracking device and the corresponding electronic interface circuits) installed on the gun trunnion. As a result of the announced acquisition in September of 2012 by the British company EM Digital to create a RASP (Rheinmetall Advanced Stabilized Platform) enterprise, the German Rheinmetall group expanded the range of stabilized modular platforms ranging from small-caliber (5,56 mm - 14,5 mm and 40-mm automatic grenade launchers) to medium-caliber weapons (20 mm - 40 mm), including the lightweight 30-mm system WS30, developed by EM Digital in cooperation with the fleet of one of the South Asian countries.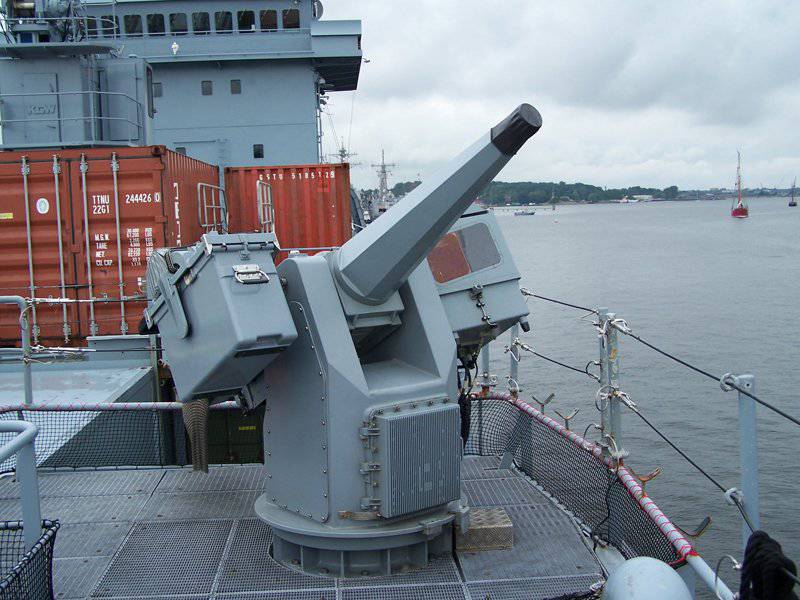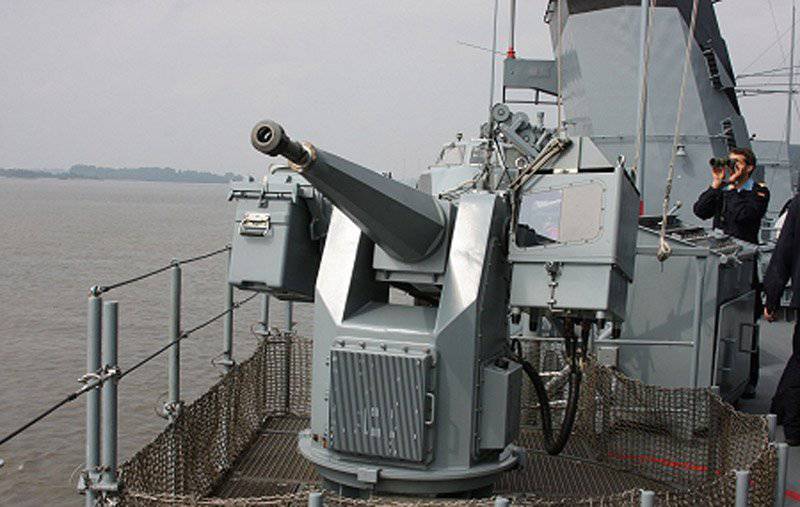 The MLG 27 mm installation from Rheinmetall received an interesting development in the local market, since it was installed on many German warships and support vessels. Abroad, and in particular in the Middle East, it is already in service with the fleets of the UAE and Kuwait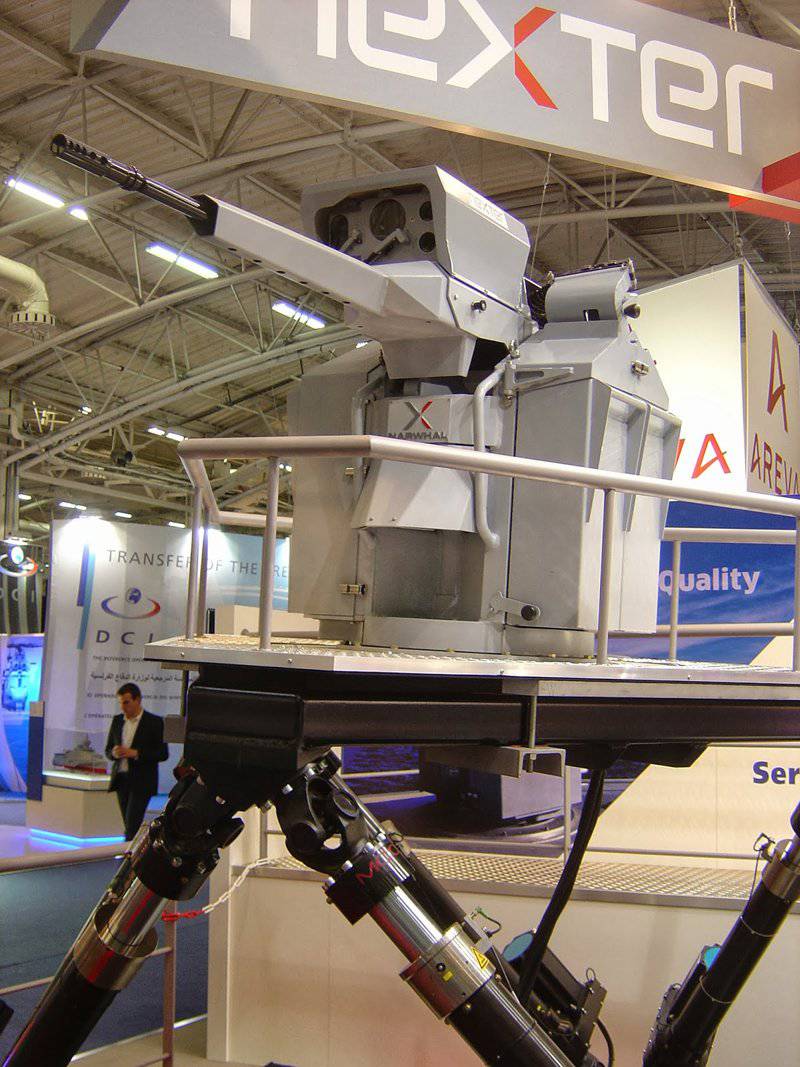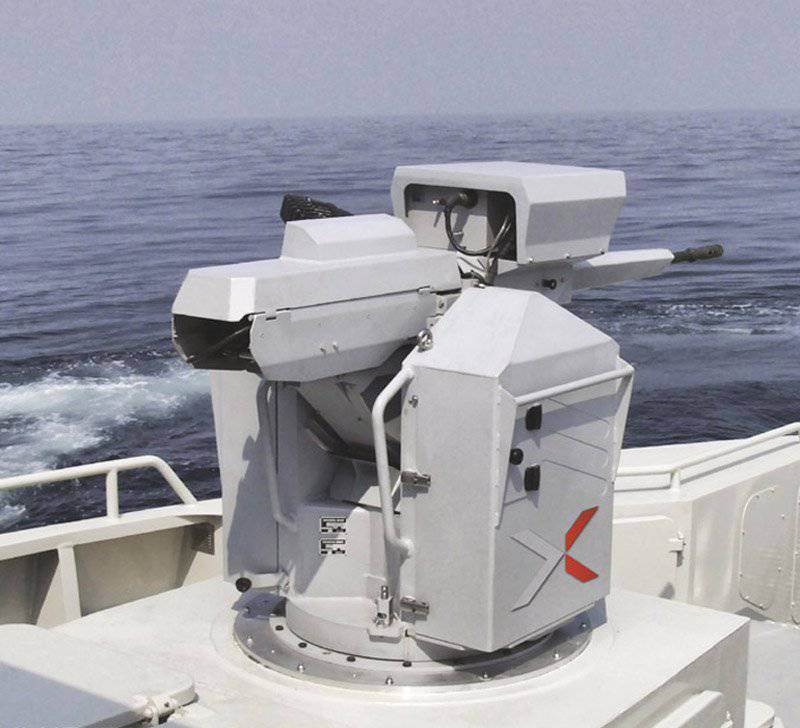 The French company Nexter Systems has developed two versions of Narwhal installations. The most advanced version of the Narwhal 20B (pictured) ordered for French frigates Fremm
NEXTER Company
Based on the experience gained with very light gun mounts (15A / 15B) and based on the technology used for helicopter gun nacelles (THL20 / THL30), the French company Nexter Systems developed Narwhal (Naval Remote Weapon Highly Accurate Lightweight). The system is currently available in two versions: the most complex version Narwhal 20B with gun 20M963 one feed line and a mechanism for re-cocking the firing ammunition 20x139, total weight 470 kg including ammunition and variant Narwhal 20A with gun 20M621, firing ammunition 20x102 NATO standard . Both options are stabilized in azimuth and elevation. These installations have their own set of optoelectronic devices, including a camera with two fields of view, an uncooled thermal imager, a laser range finder and a tracking device for moving targets.
According to the company Nexter, the system is lightweight, compact and small effort on the carrier platform. It is controlled from a remote console, which allows you to work in manual and automatic modes, but can also be integrated with the combat system of the ship in order to synchronize fire control. The Narwhal 20A prototype has a target detection range of 3000 meters and a range of real 1500 meters of fire, and was successfully tested in harsh weather conditions aboard a platform made by the OCEA shipyard on targets at ranges from 500 to 1200 meters. To provide Aquitaine multitasking frigates of the Fremm class of the French fleet with short-range protection, DCNS ordered Narwhal 2011B installations from Nexter 22 in November 20; The first installation will be installed on the second frigate of the Normandie class. It is assumed that the system was also ordered for a single Fremm frigate built for the Moroccan fleet.
ASELSAN company
At IDEF 2013, in parallel with their successful and proven 12,7 / 25-mm Stamp / Stop products, the Turkish company Aselsan presented the remote-controlled and stabilized ship-gun 30-mm Muhafiz installation. The 30-mm Bushmaster II Mk44 gun with ammunition feed on two separate channels and a 200 gunfire per minute rate of fire is mounted on a stabilized base. An independent optoelectronic kit, consisting of a thermal imaging and day cameras, laser range finder and gyroscope, can operate in the observation mode without aiming the gun.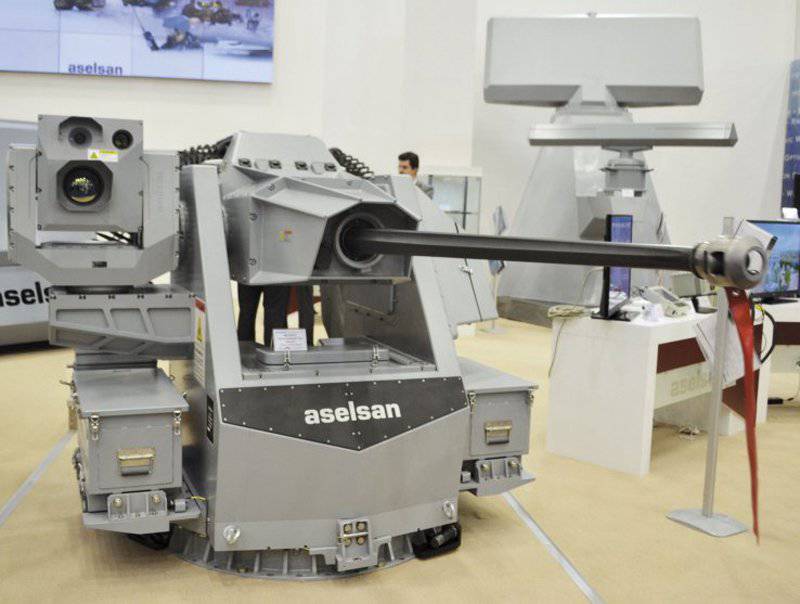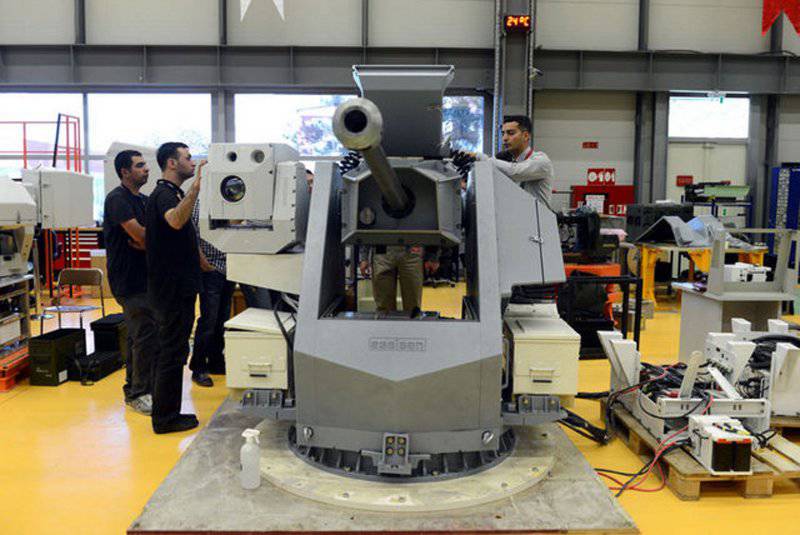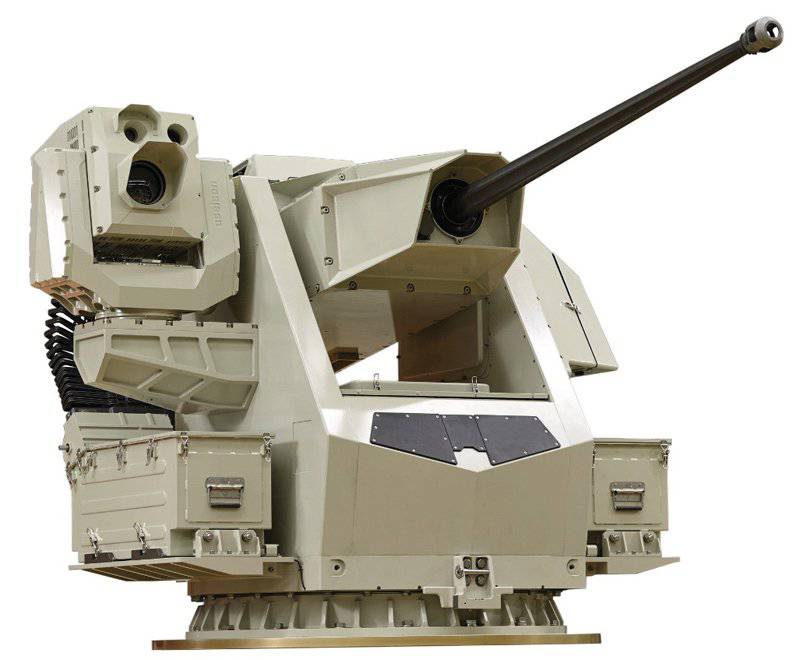 The Muhafiz 30-mm installation presented by the Turkish company Aselsan at the IDEF 2013 exhibition (photo above) includes the Mk44 Bushmaster-II cannon and the shell container for 150 shots. Optoelectronic kit can operate independently of the gun. The system will be installed on the high-speed patrol boat MRTP 34 Qatari Navy
Muhafiz has a mass of 1250 kg, including 150 projectiles; This installation does not require penetration into the deck, it provides automatic detection and tracking of the target, as well as ballistic calculations. The transfer to the target can be made by commands of external sensors and operational control systems. The Muhafiz system demonstrated a valid 1500 range, good tracking capabilities, and firing characteristics with a high probability of hitting the first shot at the same 1500 meter distance. The Muhafiz installation was chosen for the 34-meter patrol speedboat MRTP 34 built by the Turkish shipyard Yonca-Onuk for the Qatar armed forces. She was also tested by the United Arab Emirates.
REUTECH Company
Based on the needs of the South African fleet in the 20-mm system as the main armament for its prospective coastal patrol vessels and as auxiliary armament for promising long-distance patrol vessels and auxiliary ships, as well as experience in developing a family of remotely operated light 12,7-mm units, the company from South Africa Reutech Solutions developed the Super Rogue 20-mm gun mount. The new unit has a mass less than 500 kg, electronics from Rogue, as well as a day camera and a thermal imager; her gun GI-2 shoots standard ammo 20x139 mm. Benin's fleet became the first buyer of the 20-mm Super Rogue complex, it was installed by the French shipbuilding company OCUA on a new patrol boat FPB 98 delivered to the fleet of this country.
At IDEF 2013, Oto Melara presented the latest model of its 40-mm installation. The Fast Forty single-barrel shipboarding unit adopted an upgraded 40-mm Bofors cannon with a rate of 450 rounds per minute and double feed. Among other improvements, reduced mass and reduced effective area of ​​radar reflection
ADIK and OTO MELARA cooperation
In December 2013, a contract with undeclared value was signed between the Turkish shipyard Anadolu (Adik) and the Italian company Oto Melara for the supply of the universal ship installation Single Fast Forty 40 mm for installation on board the two landing ships LST (Landing Ship Tank) being built for the Turkish fleet. The latest development in the family of 40-mm guns from Oto Melara is designed to meet the requirements for complete automation, high reliability, ease of installation and simplified maintenance. The installation is based on a model with a high rate of fire, developed in past years. It is capable of shooting at a speed of 450 rounds per minute with double feed of ammunition; the ammunition load is 144 of two types of ready shots. The Single Fast Forty system is notable for the reduced effective area of ​​the radar reflection and the fact that during its installation there is no need to penetrate into the under-deck space. It is offered in three different versions, from the configuration completely synchronized with the combat control system to the single. The first option is to manage locally from a special console or a person in the installation itself, the second is a configuration with an integrated optoelectronic / infrared fire control system or without it, and the third option is a fully stabilized platform. Mass ranges from 4350 to 4600 kg with ammunition. Installation Single Fast Forty is designed to destroy air and sea targets. It was chosen by Turkey in its most sophisticated version (stabilized platform with gunner's seat and local control) with the aim of installing two Single Fast Forty systems on each of its LST vessels in 2016.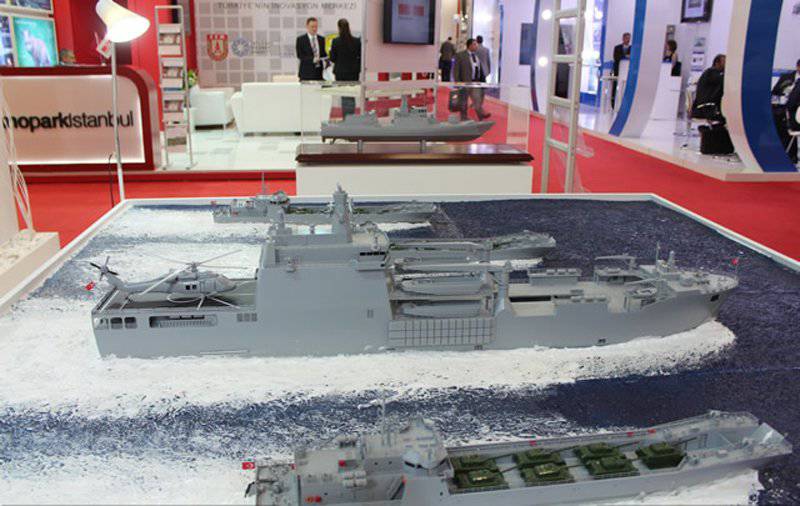 Model of the Turkish landing ship LST (Landing Ship Tank) at IDEF 2013
Once again about BOFORS 40
The need to install lightweight primary weapons systems on small coast guard and police boats capable of combating emerging threats at a reduced cost, as well as the potential number of Bofors 40 mm gun users who might be interested in extending the life of their systems, pushed the well-known manufacturers of this gun , namely companies BAE Systems and Oto Melara, to the development of new versions of their families.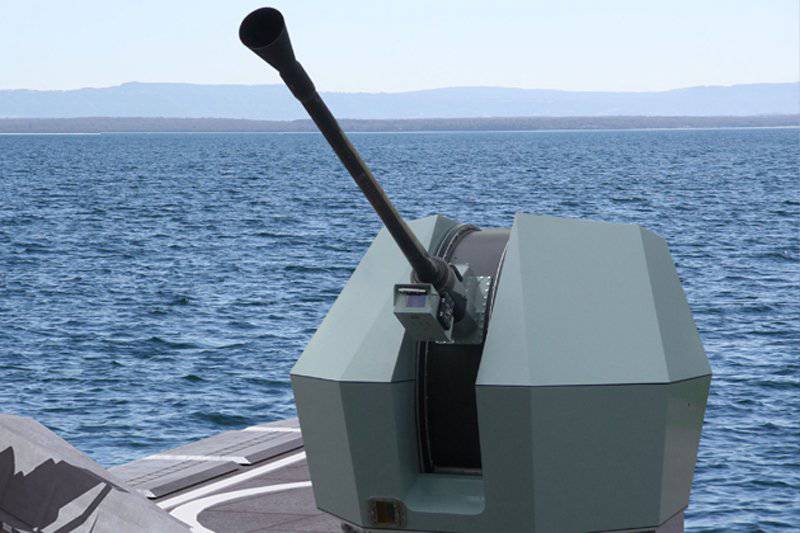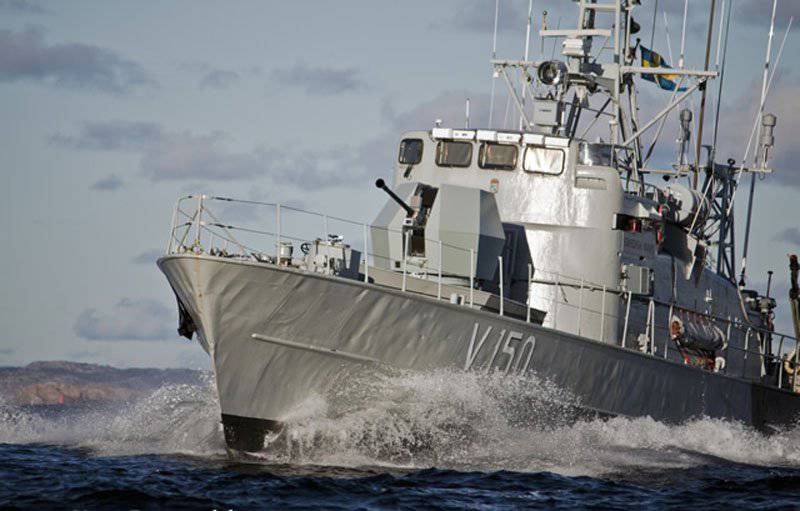 Installation of the new generation Bofors 40 Mk 4, developed for coastal patrol vessels, has a volume, mass and cost reduced by 40% compared to the previous version of the Mk 3
BAE Systems completed the development of a new generation version of the 40-mm Mk 4 at the end of the 2012 year after it conducted successful firing tests from the Swedish Jagaren patrol boat with a length of 36,5 meters in October and November in the waters north of Gothenburg. The Bofors 40 Mk4 system has been developed with the company's own funds since 2009. The aim of the development was to provide small patrol boats and long-distance patrol vessels with compact, lightweight and affordable universal weapons that would have less volume, mass and cost by 40% compared to the earlier version of the Mk3. BAE Systems believes that new market opportunities are opening up for the patrol boat segment that were previously unattainable due to the large mass of 40-mm towers. BAE Systems has largely refined the installation, introducing a more compact turret, a fully digital modular architecture (providing excellent weapon integration and future functional flexibility), new electric drives to replace outdated electro-hydraulic drives, and plus the same mass of swinging parts as the Swedish CV90 armored vehicle family army. At the stages of cost reduction and precise refinement, the company also attracted to the development of third-party suppliers. With a mass of less than 2500 kg without ammunition compared to the weight of 3700 kg of the previous version of the Bofors 40 Mk 3, the new model has an 100 ammunition ready-made shots with the ability to switch between two different types of ammunition. The installation is remotely controlled by the ship's MSA using a digital interface; the Mk4 gun is also available in a gyro-stabilized version of local control (the shooter is located in the installation itself) with an aiming camera and an optional radar of measuring the initial velocity. Installation can shoot any X / NUMX-mm L / 40 ammunition. According to BAE Systems, the company is fully committed to full compatibility with the latest 70P programmable ammunition (multipurpose ammunition with six modes of fuze), which means reducing the weight and space needed, reducing the need for different types of shots, as well as transport and storage costs. The maximum range is 3 km and the rate of fire up to 12,5 rounds per minute, the operator can choose the rate of fire between 300 and 30 rounds per minute. BAE Systems is currently putting initial marketing focus on existing 300-mm gun users, including the Swedish Navy, as well as international shipyards. The first contract was planned to be concluded in 40, but so far there is no available information on it.