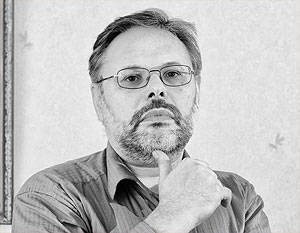 About Khodorkovsky last week write so much that you can be stunned. And they often write such nonsense that even Khodorkovsky himself begins to curse (which is clearly seen in those of his interviews that are published here). Inevitably, a desire also arises to say something on this topic, and something new and interesting is desirable. Even if for this new there are no special grounds, but just like that - to play around with information. Consider this text as such a game, although, as usual, "a fairy tale is a lie, but there is a hint in it ..."
First of all, I would like with indignation to brush off any nonsense about the release of the "prisoner of conscience." Because about the "prisoner of conscience" we hear either from officials (whose work is such - to engage in propaganda), or from "human rights" organizations. The latter always raise a lot of questions about who pays them, why, and why, but in the case of Khodorkovsky there is a clear criterion that I follow. The fact is that, unlike Khodorkovsky, there are real political prisoners in Russia. For example, Colonel Kvachkov. And I consider this a real human rights organization only that which actively defends the interests of a prisoner of conscience (there are no quotes) Kvachkov. Accordingly, I am ready to recognize Khodorkovsky as a "prisoner of conscience" only if the organization calls him as such, which primarily defends the interests of Kvachkov. If those of Khodorkovsky are not called a "prisoner of conscience," it means that he is not.
It is naive to think that Western leaders, who are "human rights" (quotes, of course, since Kvachkov does not protect) organizations and finance, do not know all this. That is, they actively advocate for a person who is sitting for criminal offenses and for not being able to reach an agreement with his partners / competitors, knowing this very well. But then what is behind their activity? It is not enough in the world of criminals, is it not enough swindlers who quarreled with more successful partners? Of course, one can assume that the fact is that Khodorkovsky, a practically complete analogue of Malchish-Plokhish from the famous work of Arkady Gaidar, is "his" bourgeois for them, but their activity is painfully high for this. That is, most likely, there is not only pure ideology, but there is also some more, more pragmatic reason. Which one? Let's try to speculate.
The main task of the West of the second half of the twentieth century was the destruction of the USSR / Russia. She also moved to the XXI century, but by his second decade the situation had changed. The global and systemic economic crisis fundamentally changed the geopolitical reality, because of the hatred of the USSR, the West "pumped" China too much, in general, it began to have serious problems. And today he desperately needs a strong Russia, which could be a geopolitical counterweight to China and (at least in this respect) a partner of the West. There is only one problem.
Which consists in the fact that in the process of destruction of the USSR and the formation of the current corruption regime in Russia, the West quite purposefully supported the most destructive and Russophobic forces, moreover, deliberately organized privatization in such a way as to maximize corruption in the country through it. Including because corrupt officials, of course, do not keep their money in Russia, that is, in the West, which means they are easily managed. Actually, the first large money and capital in the USSR / Russia were exclusively of corruption-privatization origin, respectively, all competitive projects were filled with this shaft of criminal money. And this system was "put" by American (and, to a lesser extent, European Union) advisers. Therefore, it is not surprising that in modern Russian society the words "liberal" and "democrat" are clearly associated with the words "thief" and "corrupt".
If today the West needs a strong (well, albeit relatively, but significantly stronger than it is now) Russia, then it must achieve a substantial recovery of its elite. That is, to demand the coming to power of the forces of knowingly patriotic, frankly hostile to the current pro-Western Russian corruption elite and extremely suspicious of the liberal West in general. And the continuation of the support of the current liberals and democrats leads to the fact that the electoral potential of pro-Western forces drops significantly.
The latter must be said separately. For Eastern countries (and Russia in particular) the word "democracy" is simply one of the abstract terms. Everyone here knows that it is impossible to realize this phenomenon in practice and it does not work in reality. Accordingly, the majority (almost all) believe that the West sees "democracy" as an ideological term, simply declaring that the countries he likes are "democratic" and the rest are not. Most likely, this is true, but the West itself will desperately resist such an interpretation, for it "democracy" is a sacred term. Therefore, the demand for electoral perspectives for those forces that support him in any country is not an empty sound for him!
But in today's Russia this is impossible, since the pro-Western forces are "liberals" and "democrats" who in society are associated with total theft and corruption. It is for this reason that they cannot receive more percent than 6 – 7 in any fair election, especially if they are openly talking about their plans. And for the West it is a serious problem. And the question is - what can he do here? On the one hand, Russia needs to be strengthened and supported (which even Brzezinski writes about), on the other hand, this inevitably leads to the elimination of the population that is sincerely oriented towards the West today. If only because he keeps his money there.
I see only one option here. It is necessary to look for other groups in Russia that have chances for electoral support, on which the West should rely. Let's call these people, conditionally, "new liberals". What should they do to increase their potential in society? They must fight against corruption, for democracy and the support of small and medium-sized businesses - that is, that part of the population for which a certain level of freedom and democracy is simply the only way to survive! And it should be done openly and honestly!
There is only one problem. Today, the "old" liberals "privatized" this field of activity, which use it as the main blackmail tool of the West in terms of the need to support them. And since their financial leverage is enormous, they do it very, very well. All attempts by independent right-wing forces to enter this political field end badly for them, they are beaten by the authorities (who never love anywhere and fight against corruption without sanction), and the official "rightists" (who does not smile at all to be thrown out of authorities as founders of the corruption system).
In general, without serious support from the West, and very high quality, so that the "new liberals" in Russia cannot be blamed for being spies and agents of influence, it will not work out to unleash them. But at the same time, the "old" liberals themselves are actively using Western levers (did you think that corruption is only in Russia?) In order to support itself, loved ones. And here we need a very strong lever that, on the one hand, would help the "new" liberals in Russia dissociate themselves from the "old" in the eyes of society, and on the other, would allow the Western elites to command their media, human rights organizations and other sheluponi rebuild. In terms of who and how to maintain. And such a lever could be a revision of views on privatization.
The West has already raised this question, but somehow it has not received development. However, this is understandable. The fact that privatization was total theft, was said by many, from public figures to laureates of the prize to them. Nobel on the economy (Stiglitz). The latter, by the way, suffered from it - thieves do not like being told in their faces who they are. But the propaganda of privatization as the light of "freedom and democracy" was so total that against its background any voices outside this process were lost. So, the geopolitical task, which is described at the beginning of the text and which faces the West, remains unsolvable until recently. And here Khodorkovsky appeared ...
Who is the only person who can publicly say: "We were all thieves, and everyone knew it! Yes, we acted within the framework of a general consensus, yes, when YUKOS arose, I was already a decent entrepreneur, etc., etc., but the privatization process was total theft and corruption! "The most important thing here is that he can say not "they", but "we"! Because it will not be uttered by an external observer, but by an internal participant in the process. Which, if you will, will break through the collective responsibility of privatization theft! And this is the very step that can allow the West to fundamentally change propaganda accents and get out of the impasse in which he has driven himself! Since after this, it will be possible to clearly separate the "old" liberals (who are thieves) and the "new" ones, who are honest and noble.
At the same time, this will not create any problems for Khodorkovsky (well, with the exception of hatred from the old Russian oligarchs and Yeltsin officials, but he is hardly interested in their opinion), since he paid for his mistakes. From the point of view of higher justice, he is pure and can afford to speak the truth.
Actually, this can end. I absolutely do not insist that it was for the sake of the implementation of this scenario that Khodorkovsky was released and continues to actively promote. Moreover, it is possible that such a scenario is not actively considered by the West today. But I do not see any other pragmatic sense in the current events with Khodorkovsky.