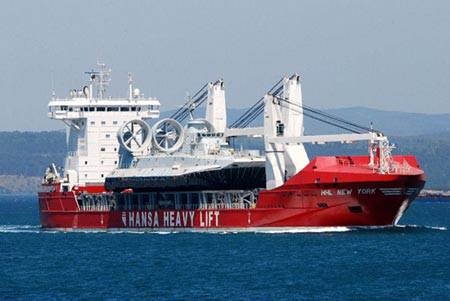 Airborne assault ships of the Bison class will allow China to deploy troops in a short period of time in disputed areas of the Diaoyutai or Diaoyu Islands (administered by Japan, Senkaku Islands, but they are claimed by China and Taiwan) in the East China Sea and the Spratly Islands in the South China Sea, wrote today wantchinatimes.com with reference to the message of the TV channel Shenzhen TV.
The report said that China placed an order for four Zubr ships under a contract worth 315 million dollars. Of these, two ships will be built in Ukraine at the Feodosia Shipyard, the other two will be built under license in China. The first Zubr was delivered to China in May 2013. Under the contract, China also received a license to create and build its own Zubr class ships.
With a cargo compartment of 400 square meters and a fuel reserve of 56 tons, according to Shenzhen TV, the Zubr class landing ship is capable of carrying three main combat
tank
or 10 armored vehicles with 140 soldiers. Without military equipment, a ship can take on board 500 soldiers. Its maximum speed is about 63 knots or 111 kilometers per hour.
If China enters into a territorial conflict with Japan in the East China Sea or with Vietnam in the South China Sea, the Bison-class ship will play a decisive role, thanks to its speed and carrying capacity. The Zubr class landing ship is three times larger than the Japanese coast guard patrol ships and most of the countries of Southeast Asia, and it is almost impossible to stop it even when it is detected.
From the nearest base in eastern China, the Zubr can arrive on Diaoyutai Islands in just three hours. As long as Japan decides to send or not to send its military forces, China will be able to occupy the disputed islands, according to Shenzhen TV, and thus China will win the conflict before the outbreak of hostilities. The landing ship of the Bison class will pose an even greater threat if it is equipped with anti-ship missiles and artillery systems, the report says.
The Spratly Islands are a group of disputed islands in the South China Sea. They are fully or partially claimed by China, Vietnam, the Philippines, Brunei, Malaysia and Taiwan.