Vietnamese web resource www.thanhnien.com.vn reports that on December 31 2013 of the year in the Vietnamese naval base Cam Ranh by the Dutch transport vessel Rolldock Sea delivered the first diesel-electric submarine HQ-182 Hà Nội from Russia 06361 project.
Heavy-duty vessel Rolldock Sea (Dutch flag, home port of Rotterdam) belongs to the Dutch company RollDock. The vessel was built by the Indian company Larsen & Toubro in Surat in 2011. The vessel has a gross register tonnage of 12802 gross tonnage, a deadweight of 6879 tons, a length of 142 m and a width of 24 m.
Vietnam signed a contract for the construction of six submarines of the 2016 project worth 06361 billion from the Federal State Unitary Enterprise Rosoboronexport in December 2 for 2009 for the year. Taking into account the construction of infrastructure facilities (including training facilities), supplies of weapons and other things, the total cost of work under this agreement reaches 4 billion dollars. The construction of boats under this contract is carried out by Admiralty Shipyards OJSC in St. Petersburg. The Vietnamese head boat HQ-182 Hà Nội (building number 01339) was laid there on August 24 2010 of the year, 28 of August 2012 was launched on the 3 of December 2012 of the year. From December 2012, Hà Nội was based in the port of Svetly near Kaliningrad, where she underwent factory and state tests and a training program for the Vietnamese crew.
November 7 2013 of the JSC "Admiralty Shipyards" signed an act of technical transfer of the boat Hà Nội Vietnamese Navy. On November 15, the boat was loaded in St. Petersburg on the transport vessel Rolldock Sea, which on November 19 sailed to Vietnam, rounding Africa along the way. The Vietnamese flag will be hoisted on HQ-182 Hà Nội in Cam Ranh at the end of January 2014. This submarine will be the first full-fledged submarine of the Vietnamese Navy, which until now has operated only ultra-small submarines built by North Korea.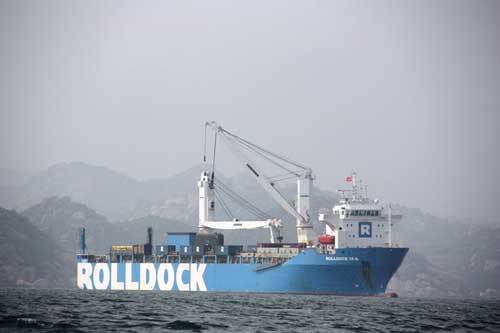 The Dutch transport ship Rolldock Sea with the first HQ-182 submarine built for Vietnam in Russia Hà Nội of the 06361 project on arrival in Kamran Bay. 31.12.2013 (c) www.thanhnien.com.vn (photo report by link)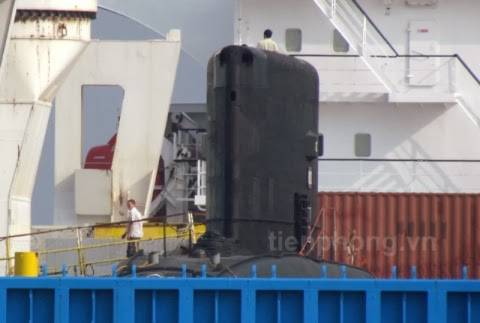 Built for Vietnam in Russia, the submarine HQ-182 Hà Nội project 06361 on board the Dutch transport vessel Rolldock Sea, arrived in Cam Ranh bay. 31.12.2013 (c) tienphong.vn