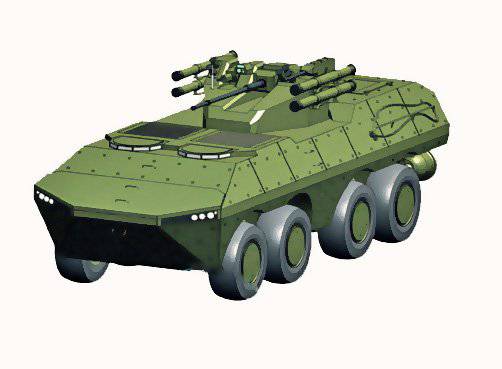 The development of the Umka armored personnel carrier MZKT-590100 will be launched in Belarus. Belarus, according to many experts, could itself (or in cooperation with foreign partners) organize the production of wheeled
tanks
and armored vehicles.
In this context, it is impossible not to mention the Umka wheeled armored vehicle family (UBM), which the Minsk Wheel Tractor Plant began to work on in the 2008 year.
Having studied the situation in the global arms market, the company concluded that its design-technological and production potential accumulated over many years of development and production of multi-axle wheeled all-terrain vehicles allows creating a wide range of wheeled armored vehicles with high combat properties.
And they are able to withstand the competition of leading foreign firms.
In this case, it was originally decided not to develop the machine based on the most advanced technical solutions.
First of all, it had to have an innovative electric transmission with a separate engine at each wheel.
For what was supposed to use asynchronous electric motors or electric motors with permanent magnets. For booking KBM the task was to use the most modern (including composite) materials. A circular survey of the crew should have been provided by the most advanced opto-and electronic means of observation. The same can be said about communications and fire adjustments. The construction of KBM was planned to be laid and the possibility of remote control of movement and fire. Towers and weapons at the first stage were to be purchased from foreign manufacturers. The project initiators are confident that, in addition to the MWTP, the implementation of plans for the creation of the KBM family would help show their innovative potential to many domestic academic and industry institutions, specialized design bureaus and industrial enterprises.
By the middle of 2010, the plant's specialists studied the designs of many existing armored wheeled vehicles, their advantages and disadvantages, while analyzing various types of electric transmissions, armor materials, etc. Preliminary negotiations with potential partners took place, their agreement in principle to participate in the project was received. However, later on, at the stage of concluding contracts for conducting R & D and opening state financing on them, the work on the creation of the MSC was stalled.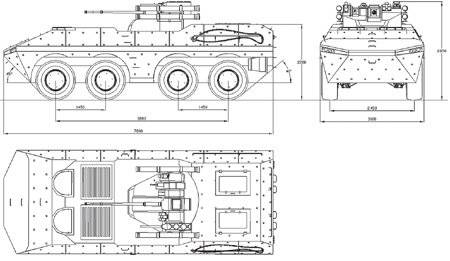 Technical characteristics "Umka" MZKT-590100:
wheel formula - 8x8
Curb weight - 14.000 kg
load capacity 6.000 kg
engine: diesel
power: 360-490 kW (hp)
Max. 130 km / h speed
min 2 km / h speed
n ground speed
satisfactory condition - 55 km / h
Max. speed afloat - 12 km / h
cruising range
fuel consumption - 1.000 km
overall dimensions: width 3.000 mm
height 2.000-2.300 mm
length 7.800 mm
ground clearance - 300-600 mm
air transportability - AN-124
At the same time, it is absolutely obvious that the problem of modernizing the armored weapons of the Belarusian army will have to be solved anyway. Otherwise, very soon they will not be suitable for combat use. And the best option is to maximize the use of one's own abilities of Belarusian science and industry. And partner countries, as well as Belarus, interested in equipping their armies with state-of-the-art armored vehicles could well act as investors or co-investors.