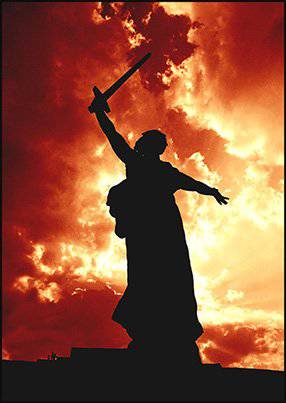 Many tragic events have happened in my country over the past year. I can't handle the shock of the Stalingrad events. Stalingrad caught me especially. Not only because I had to be in this city, where many friends who quite recently met and saw me off at this station. I consciously call this city one of its three names, namely, Stalingrad, a name symbolizing the victory of our people. A radical change in the course of World War II and the entire Second World War! We were so taught. Not textbooks
stories
and not made a lot of noise in the past year, the film "Stalingrad". We were taught by fathers and grandfathers who went through this war, who were there, saw and realized unequal forces in this battle. Absolutely losing positions and a great victory!
As a temporary defeat, as a retreat in 1941, I perceive the events of the last days of the past year. For various reasons. Perhaps I do not understand much. But, not understanding, I can not see, not notice.
Against the background of numerous conversations about "civil society" - complete civic indifference to the national tragedy. It is "civil indifference". In many hearts of my compatriots - piercing pain. In many media, relish tragedy in conjunction with the pre-holiday advertising new pleasures. Mourning is only in Volgograd. In Moscow - fireworks, entertainment. On December 31, in Volgograd, a funeral, and in Moscow early in the morning the janitors hang festive flags on their houses. As if this tragedy does not concern every citizen of Russia, from Kaliningrad to Sakhalin! Universal mourning is not a dull and gloomy face, it is not a refusal to celebrate the New Year, from new hopes and expectations. This is participation, it is a union in general grief.
It turns out that the tragedy is officially recognized as universal only with a certain number of the dead. 34 life is a local scale for the Motherland.
Now this definition, which is customary for those who remember the USSR, is less and less used.
The monument "Motherland-Motherland" towers on Mamayev Kurgan. But this symbol has been silent for a long time, frozen in a stone boulder over the city, above Russia. How many children have to lose the mother to moan in pain, crying in grief? For our Motherland, for official Russia, 34 the lives of their daughters and sons is a local event.
And if you remember that all the dead are young or very young, then to the number of 34 you need to add their children and grandchildren - not born. It is necessary to understand, although it is difficult, that the children of Russia of the next generations died.
But who will consider them in a country where, with the help of modern medical technologies, millions of children who have already been conceived but not yet born are annihilated annually! Comfort living at the expense of things to come. This is the social norm of today. Especially for persons of "Slavic nationality" and the Christian faith. They are "protected" from their children, and those from whom they did not have time to "protect themselves" are killed "humanely and aesthetically." So it is accepted to call the modern form of chemical attack on the smallest citizens, whom the Motherland does not yet consider to be its citizens. And there are no international sanctions for the genocide of the unborn. Moreover, it is recommended by specific structures of the "civilized international community", especially those who defend human rights, including in Russia. The right to kill - instead of the right to life. It does not matter that many who take advantage of the rights protected by democratic and liberal structures, along with the right to dispose of their body, acquire the right to infertility. Today, children can be made "in vitro", often using "donor material" or the services of "surrogate mothers." Moreover, you can kill without counting, use for rejuvenation or for medical experiments instead of rats. Unnoticed, as in well-organized terrorist acts, the Motherland can become a surrogate mother for all of us ...
It should not be forgotten that the majority of Muslims, including the "radical Islamists," conceive their children naturally and let them live to birth and live on. To see the demographic difference, look again at the chronicles of Muslim actions in Moscow. Thousands, maybe millions of young strong guys! How they stand for each other - brother for brother, matchmaker for matchmaker! Where are our millions of boys and girls? Where are their brothers and sisters? Sorry for being rude - in condoms and abortion clinics. And now also in cryo-depositories for excess embryos!
But before you curse those who did something wrong, or did not do what he had to do, look at our families, our homes. Who is the boss in them? Television? The Internet? Comfort? Yes, without this we no longer think of our life. But the masters of our life, if we want to live, we must become ourselves.
Visible attacks have roots in the invisible, those that occur in families, in relationships. The attacks begin where young people can say: "We must get out of this country." Nobody explained to them, neither at school, nor in the family, nor on television, that they do not have another country, that no one is waiting for them personally beyond the hazy border, behind the pink curtains. Yes, there they may get their lentil soup and even a piece of bread and butter, but they will become mankurts, Ivanians, relatives who do not remember. Do not remember their history, their motherland. Today, no one will believe or agree with the fact that the Iron Curtain, especially the information one, protected the people from extinction and from direct destruction.
In the past year, relatives and friends mourned the soldiers, policemen, civilians who died in local terrorist attacks, and on the third day of the coming year, the media reported on the killing of a policeman in the Moscow region. They managed to accustom the country to the killings of policemen and military in the North Caucasus - how they accustomed and chew this information at breakfast in the program "Good morning, country!"
For calls for separatism from this year introduced criminal liability. Isn't separatism - to teach people not to perceive certain regions as their own country, as their motherland?
Therefore, I consider what happened after the terrorist attacks in Stalingrad and in Russia a civil defeat. I want to shout:
"Get up, great country!"
And the country is walking. Feast in Time of Plague!
I do not understand anything in military anti-terrorism special operations. Perhaps everything is done correctly and in a timely manner. Perhaps victims cannot be avoided.
I bow to the feat of the dead, who blocked the new "embrasures". I cry along with the parents of Dmitry Makovkin and other mothers and fathers who lost their sons and daughters in an undeclared war. But I don't understand why still new embrasures should be covered with the bodies of our children?
I don't understand what the "yellow" regime of a terrorist threat means if in such a regime public transport is quietly blown up at rush hour? Maybe it is impossible to control? Technically impossible? Maybe,
none
does not do it because
each
thinks that
somebody
it will do. ABOUT,
anyone
come on! ..
These days I often remember Valencia 2006-year. It happened to me to be there in those days when the tragedy in the subway occurred, which took 41 life. These days in Valencia, the World Meeting of Families took place. Summer, sea, bright colors, a holiday, millions of guests, mostly young families with children, in national costumes, representing different countries and continents. Not to universal mourning. People came to the holiday! And there was universal mourning, all flags with black ribbons were lowered, entertainment events were canceled. But mourning has become the banner of unity. On the day of the tragedy, the president of the country arrived in the city with his wife. Such an impression was created that for the president every citizen of the country entrusted to him is important. For the country of Spain, for its president and for its guests, what happened was a common pain. In these subway cars could be any of us who traveled this metro line every day.
I often remember this, especially in the days of our national tragedies, which happen too often. But not today it began, unfortunately, and not with the explosions in Volgograd. Our Motherland is a large family. I do not know how many victims, hundreds, thousands, millions, are needed to do something. Or should you just stop and think? When will our motherland, our mother, become dear to every citizen, every person?
In connection with this, I recalled a case from my school life when I was almost kicked out of the Komsomol. The whole great country was discussing the feat of the tractor driver, who died while saving the collective farm tractor. Schoolchildren wrote essays on a given topic according to a given pattern. It has always been difficult for me to fit into the given schemes, and in my essay it was said that all the tractors of the Soviet Union are not worth the same life as tractor driver Anatoly. I still remember his name. And I remember the noise that went up in defense of the tractors!
Well, it is not accepted in our Motherland, in my beloved Russia, to appreciate every life of our children, every person. Perhaps because we have one war, another one. And now there is a war, obvious, concrete, but not realized by many. The authorities may have noticed this war, perhaps they are doing everything to win. But we, ordinary people, do not understand, not to notice what it is, and for whose victory.
Nevertheless, it is time for all ordinary people to understand that the people's war has been going on for a long time, a war against a particular people — against us! I can't know how holy this war is. Perhaps this is why the people are not aware of the scale of this war and are not embarking on a mortal battle. The enemy is cunning and cunning. He can pretend to be trusted by definition. The enemy can use a white coat of a doctor as a camouflage, can enter a school, a kindergarten, pretending to be a preacher, a priest or Santa Claus. The attacks began to be committed by the hands of persons of "Slavic appearance." Without waiting for the end of the investigation, the media give the names of the terrorists. First, the surname Pavlov, then Pavel Pechenkin, and also the Russian female surname. What for? To divert the natural assumptions about the "Caucasian wake"? Do not raise popular outrage? Who allowed in the "yellow" mode to publish unverified information?
All these and many other questions I can only ask myself and you, who are reading this article. The main question I ask myself is: "What can I do in this situation for my country?" My answer to myself is that the time has come to realize that the security of our future, our children and grandchildren is directly related to the security of the Fatherland, for which each of us is personally liable - as best we can. It's time to get out of hibernation and wake up those who are still able to wake up and shout: "Get up, great country!"
The lessons of history teach us to believe in victory and to do everything possible and impossible to win.