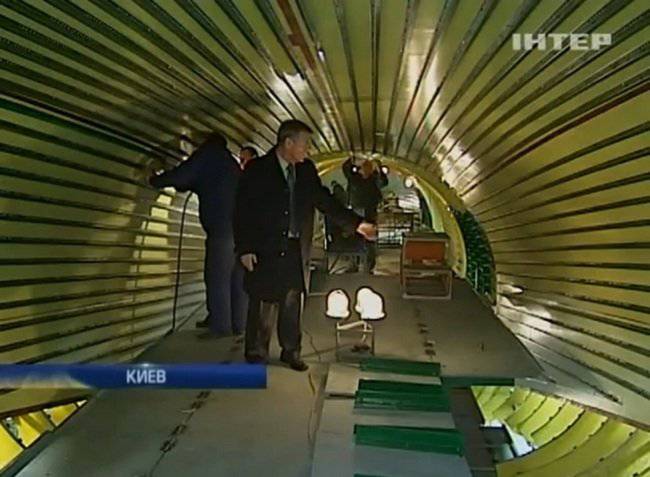 On the air of one of the Ukrainian TV channels the assembly of the first military transport aircraft An-178 was shown. AN-178 - a new generation of cargo aircraft. Now only collect the fuselage for the first car. And there are hundreds of orders. Plane waiting in dozens of countries of the CIS, America and Africa. All because of its unique features.
According to the creators of the new aircraft, An-178 should come to replace obsolete An-12 transport aircraft. The new machine is designed for the transportation of goods with a maximum mass of 18-20 tons. The maximum flight range of the An-178 is 4 thousand kilometers.
It is planned that a promising transport vehicle will be operated at the same airfields as the veteran An-12, including it will be able to take off and land on unpaved runways. The An-178 aircraft is unified in terms of the airframe and on-board equipment on the 50-60% with the mass-produced An-148 and An-158 aircraft.
The first two turbofan engines of increased thrust for the An-178 aircraft are now manufactured on the basis of the D-436 aircraft engine at Motor-Sich, Zaporozhye, with the participation of the GP Zaporozhskoye Progress Design Bureau named after A.Ivchenko. Takeoff thrust of the new engine will be 8,3 - 8,6 tf.
The first information about the beginning of the design of the new An-178 cargo aircraft appeared in the open press in February 2010. During MAKS-2013, President - Antonov, the general designer of the state-owned enterprise Antonov, announced that the construction of the first prototype of the An-178 designed for flight tests to be completed in 2014.