One of the most controversial movements in
stories
humanity is Freemasonry (Freemasonry). According to the generally accepted thinking practice today, Freemasonry is classified as a closed and secret organization. In fact, this is not entirely true, because in a number of countries
masons
have quite open representation, similar to ordinary temples. One of these offices is located in London and is called the United Great Lodge of England. Today, the OVLA is considered the oldest Masonic Lodge in the world, since the official registration (if such a term can be applied in this case) took place in the 1717 year. Until this year, there was no more or less official registration of the Masonic lodges.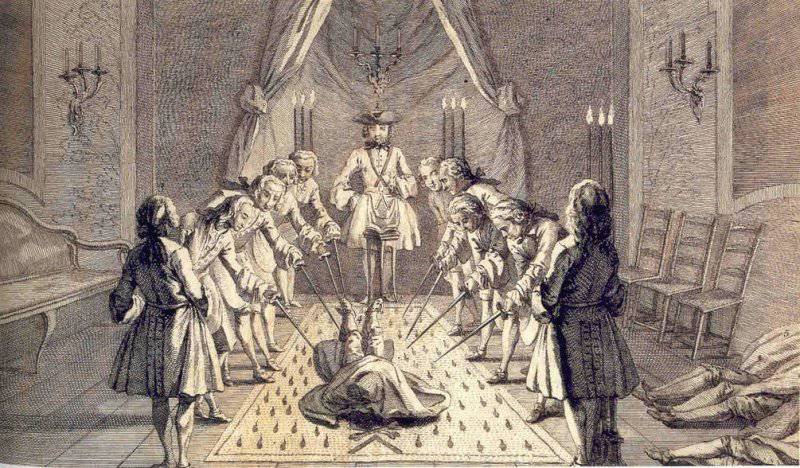 By the nature of the architecture, the OVLA building resembles a cross between a Christian temple and a Jewish synagogue. In principle, this to some extent reflects the very essence of Freemasonry. Freemasonry is a movement whose members can represent absolutely any religion in which the main idea is monotheism. However, this is not so simple. For example, in France there is a branch of Freemasonry, whose members may well not be adherents of any faith at all. Such a course in Freemasonry is called liberal Freemasonry.
In the entire history of the "Freemasons' Guild", many, including very famous people, joined it. It was not always certain that certain of them were freemasons or not, but most often the documentary evidence manifested itself over time.
One of the first European masons of the post-medieval period was James Anderson. This man is known for having written a book dedicated to the history of Freemasonry. As a result, it was not so much the history of Freemasonry that came into being, but the peculiar constitution of this organization, eventually named one of the most influential in the world. Famous masons abroad were such persons as some American presidents: George Washington, Benjman Franklin and Gerald Ford, and others; many writers: Goethe, Arthur Conan Doyle, Lessing, etc.
И
in Russia, the masons also distinguished themselves
in my time. Famous domestic representatives of Freemasonry include such personalities as, for example, Semyon Petlyura (in 1919-1920 - Chairman of the UNR directory); Sasha Cherny (Alexander Glikberg) - poet of the Silver Age; Alexander Griboyedov is a writer and diplomat who died in Persia in 1829.
If we talk about what distinguished
the most famous masons in history
, here you can select several directions. The first direction is directly the professional activity of these people, which was not directly connected with the membership in the lodges (literature, politics, medicine, etc.). The second direction is the projection of Freemasonry on professional activities - advocacy, support for a certain kind of political courses. It is the second direction of activity of famous masons that gives rise to rumors that today they have a huge political weight in various countries of the world, with the largest number of masons being noted in the Anglo-Saxon states: the USA and Great Britain.