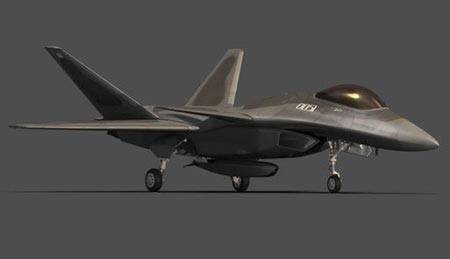 Chinese
aviation
industry is stepping up stealth aircraft, reports israeldefense.com. J-20 and J-31 are under development, on the PLA website there are also J-23 and J-25, which should take away the US dominance over the Pacific Ocean.
Two new stealth aircraft, J-20 and J-31, are in the design stage. However, the secrets of these fifth-generation fighters appeared on the PLA website, according to a Qianzhan news portal.
The J-23 fighter (see figure), created by the Shenyang Aircraft Corporation, is no longer based on Russian technology, the report says. The Shenyang corporation chose to use the American F-23 Raptor as the basis for the J-22, which should provide the Chinese Air Force and Navy with more chances to win in possible fights with American aircraft.
According to the information disclosed, the J-23 has a longer fuselage and two V-shaped keels, which are very similar to those used on the F-22. If China can achieve the purchase of 117C engines with thrust vectoring in Russia, the maneuverability characteristics of the J-23 will also be improved, the report says.
It also says that the J-25 4 generation (according to the Chinese classification), designed by the Chengdu Aircraft Corporation, is capable of shooting down F-22 in a few seconds. The aircraft, which was called the "Ghost Bird", is considered one of the best stealth aircraft in the world thanks to Chinese 3D printing technology. Analysts say that the main task of J-25 is to challenge the dominance of the United States and its allies in the Pacific (the future operational environment of Chinese aircraft carriers).