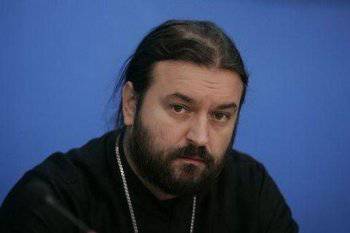 What is Europe and where does Euromaidan come from, what does the Church want in this situation and how to treat priests walking on barricades, can a Christian protest and are there any ideas that can unite Ukrainians - the well-known preacher and missionary Kyiv answers these and other questions of the temple in the name of St. Agapit of Pechersk, Archpriest Andrei Tkachev.
- What is the position of the Church regarding Euromaidan?
- It would be nice if we learned to speak differentially.
You can not look at Europe one-sidedly. People need to clarify what is good and bad in Europe. Personally, as a Christian in Europe, I like the Dresden Gallery, the Cologne Cathedral, the relics of the saints ... Its culture, its
история
. That practical philanthropy, which is expressed in social assistance and the protection of society, the structure of life and work, but not everywhere, not in the whole of Europe. And I do not like the rejection of Christianity in Europe, the Christian history that shaped it. Revolutionary change of family code, family values.
If we asked the people standing on the Maidan who among them read the Association Agreement, I'm sure that we would hear lonely voices. That's the whole problem. Ask them what you like about this document and what you don't like. We see "ball" Bolshevism: "I did not read, but I condemn," "I did not read, but I approve." People are captured by a wave of patriotism, hope for happiness, about which they have no idea. And for this "happiness" they selflessly fight.
The church must do otherwise. She should read the documents and talk about them. What is written in these documents should be the subject of a national, church-wide discussion. If this does not happen, then dark corners are formed in the public consciousness. And something starts there. And then crawls out ...
What is the position of the church? I think that the Church today has a clear and main position - to prevent a revolution.
- What, in your opinion, the reasons of the Maidan?
- It seems to me that Maidan has several reasons. This is the resentment of ordinary people. Their sincere protest against the form of government that exists in our country. After all, many without ideological background go to the Maidan - out of a sense of resentment, a feeling of fair indignation. They do not know what will happen next. And poorly analyze what it was before. No analyzes, no predictions. There is a certain emotion: "We got it!", "Donetsk ones got it!" They do not understand that give power, let's say, "Lviv", "Kharkov" - they can be no better than "Donetsk". And it could be worse.
Some comrades have long wanted to come to Maidan - and now, finally, their finest hour has come. For example, trained militants, heads of smokers. They have long been prepared, trained and waited. But this is particular. In general, there is no understanding and a clear position in society. Ukraine as it was under the question mark in Europe, so it remains under the question mark. Is it a country or territory? Is it one country or several countries united by one state border? If you share these countries, then they need to share by blood or the world? Like the Czech Republic and Slovakia or like Serbia and Croatia? After all, the section can be very painful - through a lot of blood. Everyone will begin to claim the "fat piece." And there will be no losers, no winners - it will be very bad for everyone. Do people who are present at Maidan in Kiev give themselves an account of this? I do not think.
- Do you find something positive in today's Maidan?
- Absolutely nothing.
http://www.pravoslavie.ru/sas/image/101510/151094.p.jpg?0.29198595648631454
- Do you have a feeling that the battle for Kiev is underway?
- The leaders of the revolution have always voiced that the revolution is winning in the center. If he does not win in the center, he does not win anywhere. And they understand that they need to conquer the capital, mail, telegraph, telephone ... These are "Leninist principles" in essence. All radical people are Leninists in spirit, godless in their roots. And terrible anti-Christians in practice.
- How to treat the clergy, who publicly puts himself on one side of the barricades? Does the church bless Orthodox priests to go to Maidan?
- Nobody blessed the priests to go to the Maidan. Maybe I'm wrong and I do not own all the information. In my opinion, the same priests who went to the Maidan then, in 2004, went now. As a rule, the same replicated characters walk. New do not appear. They then said: "We were outraged by the apparent brutal intervention of the authorities in the church life and the brutal participation of the Church in the affairs of the authorities. We are against this ... "Well, but now what? The church today does not interfere in the affairs of government. The church in the temples is praying. Trying to keep a certain neutrality and distance from the hotbeds of conflict. And they are still there ... The rotten apple spoils the whole basket.
Two priests, pop Gapon and John of Kronstadt, lived at the same time. One lit the crowd with slogans and met in revolutionary committees. The other did not leave the altar. The first lived ignominiously, ingloriously and died. The second is "the ilk in the saints" ...
Who can bless these rebellious priests? No one! In addition to their pride and their own political preferences.
- When is the protest appropriate? Or do you think that there is no need to protest?
- You can protest. But not now, in my opinion. Now is not the time to protest. When the time has come - legal - then it will be possible to discuss and think about how best to express your point of view in the correct and effective form. Everything has its time.
- Today, before our eyes, all systems are crumbling: the state, the Constitution, the government, and the people. What happens to the Church?
- The church looks at all this with caution and pain. The question is whether to be this country or not to be - within the same framework and borders, with the same Constitution. After all, the most important things that are fundamentally stated in the Constitution are trampled upon. In Ukraine, representative democracy, not direct. Meeting as much as you want, but only through the Parliament and the elections you can achieve the solution of all issues. We are not a dictator, but a legitimately elected president. He did not take power by coup. This is not a junta, it is legitimately elected power. Need to wait for 2015 of the year. We need to solve problems in Parliament. The problem, of course, is that the Parliament does not solve our problems, the problems of the people. And never really did it. So now have to do.
http://www.pravoslavie.ru/sas/image/101510/151093.p.jpg?0.45585898705758154
One way or another, we are faced with the question: to be or not to be this country in the forms and framework in which it exists. If it does not exist in these forms and frameworks, then the world receives a seat of completely incomprehensible things in the center of Europe. This is not Nicaragua, not Monaco and not Switzerland. This is a very serious piece of territory - half of Europe in geography.
Our Church objectively does not have the experience of living in a liberal society. Our Church does not have the experience of living in a society where there is no royal will, where there is the will of equal parties, strata and groups. Our church has no real experience in this situation. She never led the masses. She consecrated the military impulse, she healed people's wounds, but she never went ahead of the political process.
It is better for the priest not to go there, to distance himself from these questions. It is better to knock down the degree and cool the head than to heat up the head with some poorly understood actions. It is better to look at sv. John of Kronstadt than the priest Gapon. It is better not to go ahead of the demonstration, but to remain in the temple and perform the service.
- And what will happen next?
- Most likely, we will face a number of different important questions that need to be answered. The church will have to learn to communicate not only with power, but also with a simple person. We will need to "simplify" a little in terms of external pomp and make it clear that we are not for luxury, but for simplicity. To please this simple, democratically average person who expects from us this simplicity in which he himself lives. We need to get rid of pain points in advance - in advance, and not during the illness.
It is necessary that the Church have speakers articulating a social church program, a political church program. So that we have platforms for talking about what is good, what is bad, what is better, what is worse. And how to treat this. All this will need to learn.
We are what we are. And deserve the power that we have. We must understand that revolution does not lead to good. Revolutions lead to relative good after many, many years, subject to the presence of today's victims - people who will be sacrificed to the revolution. These are the laws of revolution. The revolution will launch a man into space through 50 years after his victory. But before that, she would devour a lot of different people.
The Christian approach is the priority of the value of today's living person in front of me over the prospect of what we want to build tomorrow. And revolutionaries want it the other way around. So at the expense of you today, to build future happiness on your blood. I'll kill you, and build happiness for millions. Theology of Raskolnikov. The church says unequivocally: no, you cannot kill a person and build future happiness on his blood.
It is necessary to find the opportunity to convey these things to people. Getting into the crowd, an intelligent person risks becoming insane - sleeping passions, unrealized complexes, overwhelmed intuitions - everything starts to seethe. And when everything calms down and a person begins to see his eyes, it may be too late.
People, we all die. True, to whom to die, to whom to die, and to whom it is fair to stop. And much earlier than it seems. It is necessary to cool the heads of revolutionaries in time. Priests have to do this. Sometimes it seems that the priests who hold the meeting believe more in the EU and the Declaration of Human Rights than in the Gospel and our Lord Jesus Christ.
- If the Rev. Pechersk now stood up and saw everything that was happening, what would they say?
- They would get up and leave. Their radical protest would have been in Lot's spirit. You do not need anyone to heaven kingdom, none of you believe in Christ in reality. No one! You live in other senses, different feelings, another reality. If they could and wanted, they would stand up, and leave here. It hurts to watch people destroy themselves with their own hands.
http://www.pravoslavie.ru/sas/image/101510/151095.p.jpg?0.5534388781525195
- What idea can unite the people now, unite them?
- No! Ukraine in this situation, with this historical load, can not accept any idea that could be creative, unifying, reassuring. There are no such ideas, first. Secondly, no one works on the birth of these ideas. It seems to everyone that ready-made ideas should be perceived. Politicum, analysts are working to implement ready-made ideas into our reality. There is the EU - and we are trying to try on European values ​​for ourselves. Calm down in this ready-made union. We do not give birth to ours, but we want to "cling" to someone else's. Others say no, only with Russia. And no one thought: maybe your idea to give birth?
Here are four presidents met. Who do you like more? Yes, nobody. Sit down fifth - some boxer or someone else. Who will you like? No one. And if you continue this series in the future? You will not like anyone. So what is the question? Democracy is built in such a way that colorless people rule a colorless society. This is indicated by the European politicians themselves. Modern political life washes up colorless people. Bright annoying, they are noticeable against the background of colorlessness and cause aggression. Here, Putin, for example, causes aggression, because he is quite a bright person.
That is why ideas in the near future, we are not expected, unfortunately. We will be more territory than a country. Or two, three, four countries within one. We run the risk of "sprinkling red snow". The "leaders" who so bravely call people to war should understand: they will bear full responsibility for the blood - not from the nose or a broken tooth, but for the real blood and life of a real person.
People recruited aggression. Today, every cold head is worth its weight in gold, which will say: Do not go there! Do not meddle there! Come back home. Student - go learn, worker - go to work. Seller - let's sell. In addition to problems, we will not get anything here. The people do not understand this.
In my opinion, we have no authorities who can stop the bloodshed. Therefore, any activity multiplies the problems that will be harder and harder to solve.
- Let's hope that the approaching Christmas will unite believers.
- It would be good. But it will be a pity if the Nativity of Christ does not unite.
If we work within the framework of the European worldview - respect for the written law (and not for the folk tradition), for the bailiff, for the official - this can, if not, unite, then at least put us in place. They showed you a document: so, after the 22 watch, do not make noise. Be kind to be European. How is it - to bar the main street of the country with barricades? This is not European. And more like the Bolsheviks and anarchists who do not obey the law, do not know how to think.
Calm down and understand that Europe is different. Respect for the law, parliamentary procedures, honest work in its place - this is, in fact, Europe. Who will be the multimillion mass of the population, prone to violence, to take in their Union? Are they crazy?