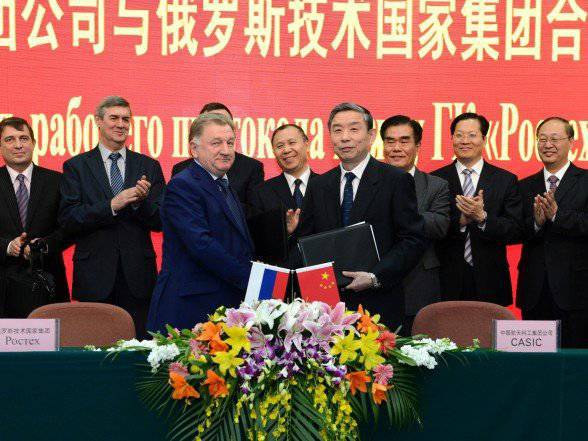 China Aerospace Science and Industry Corporation CASIC (China Aerospace Science and Industry Corporation) has signed a cooperation agreement with the Russian industrial group "Russian Technologies" in the field of defense technologies, reports janes.com on December 19
(in the photo the moment of signing the agreement - comment "Military Parity").
A press release from CASIC from December 17 states that the agreement provides for cooperation in 33 projects in the development of engines, composite materials, optoelectronics, search and detection and reconnaissance systems.
No other details were disclosed, but the Chinese company stressed that the agreement is an example of increased cooperation, which was established in 2010 year. The statement says: "This is the next step to deepen industrial cooperation between the two enterprises."
The CASIC agreement with the Russian Technologies group is aimed at strengthening cooperation in the joint development of new technologies, in contrast to their direct import from Russia.