Features and Purpose
Coast guard, search and rescue operations, protection of fish resources, patrols and customs operations. To improve ride quality and speed, the boat has bow and stern automatically controlled spoilers.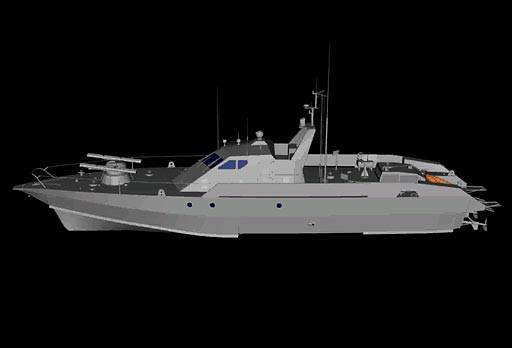 Base TTX
Displacement, tons - 57,
Maximum length, m - 27,96,
Width is greatest, m - 4,4,
Board height to upper deck, m - 3,27,
Maximum speed, knots - 47-50,
Navigation range at speed 40 knots., Miles - 500,
Fuel tank capacity, tons - 6,8,
Crew, pers. - 6,
The body and superstructure material is aluminum alloy.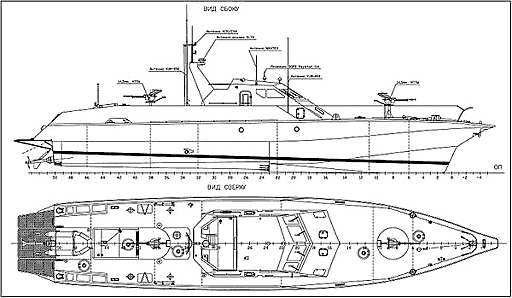 Power plant:
The main engines are 2 diesel-gear units of Deutz TBD616V16 (1250-1360 kW). Two drives Arneson ASD14.
Auxiliary power plant - 2 AC Deutz (220 V / 50 Hz, 2 x 30 kW). Battery 12 / 24 B. Air conditioning system in residential premises and wheelhouse.
Navigation equipment:
Integrated navigation system ST60,
Location system VNTsU-UV450,
Communication system and transmission of commands.
Armament:
The Vikhr-K missile and artillery complex, designed to destroy surface targets (patrol ships, boats), fixed and moving ground armored and unarmored targets (
Tanks
, BMP, BTR), as well as engineering structures (pillbox, buildings, bridges, ferries, etc.) and air targets (helicopters and planes), includes:
- 4 guided missiles "Whirlwind" (range of destruction to 10 km);
- One 30 mm AK-306 artillery launcher with 500 projectiles (strike range to 4 km);
- heat-television system and an artillery fire control system with an automatic tracking system.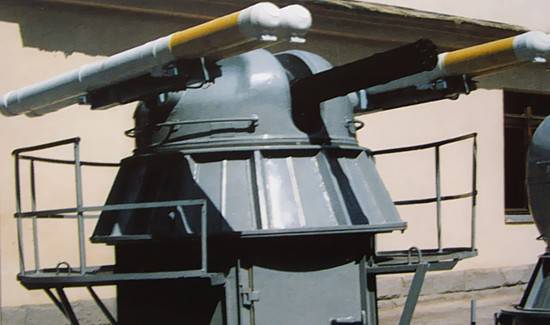 14,5 mm naval thumb machinegun designed to destroy air, coastal and surface targets. PU provides destruction of surface and coastal targets at ranges up to 2000 m at altitudes up to 1500 m. Cartridges with B-32 armor-piercing and incendiary bullet, BZT armor-piercing tracer and instant-action incendiary bullet of MDZ are used for shooting at surface, coastal and air targets.
The lead patrol boat of the 12200 project was built in 2006 (No. 200) in the city and put into trial operation for a year by the Border Guard Service of the Federal Security Service of the Russian Federation. According to the results of his tests, it was decided to launch the Sobol in a series of 30 units. In 2008, the first factory boat of this project was built - serial number 201. In 2009, 6 units were built - factory numbers 202-207. In 2010, the 2 boats of the 12200 project — 208 and 209 No. were launched, and the 3 boats, No. 210-212, were also laid. This is at the St. Petersburg "Almaz", in 2010, two more boats were supposed to be laid in the Vladivostok "Eastern Shipyard". The Black Sea Fleet received 5 units, the Baltic Fleet - one, for the Pacific Fleet build two boats.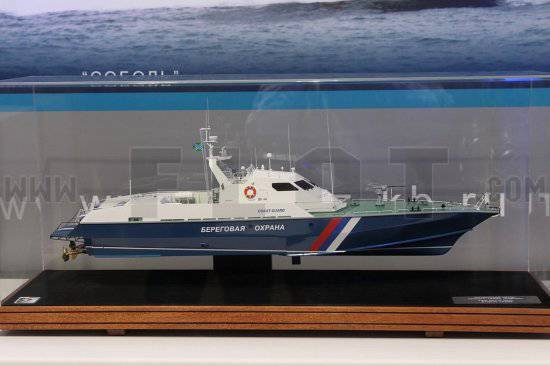 Two boats were sold to Turkmenistan on the Caspian Sea.
In order to unify the "Sobol" in the future will replace boats of all projects of a similar class, which are in service with the border guards of the Russian Federation. For the Russian frontier guards, the Sobol is supplied in a version that has only a machine gun in service.