Conversation with the President of the Fund historical prospects, head of the Institute for Democracy and Cooperation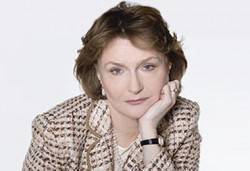 - Natalia Alekseevna, the outgoing year will be remembered by many events, both in Russian and in international life. The events around Syria, Ukraine ... Extraordinary political activity, mass demonstrations about same-sex marriage laws did not get lost in this series. The Institute for Democracy and Cooperation (IDA) headed by you actively responded to all these events, held round tables, participated in organizing conferences in the French parliament, in the European headquarters of the United Nations in Geneva ... How much is your voice heard in European capitals?
- The Institute for Democracy and Cooperation was on the hottest edge of the global debate. The world, the Christian civilization meet the new 2014 year with extreme political and moral tension. The Middle East is burning, threatening to flood with blood not only the region, but also the world with its "tolerance", there is an acute problem of the fate of Christians and of Christianity itself. Europe capitulates, surrenders to the onslaught of "progress" Europe, which gave birth to a gigantic culture permeated with a moral nerve beating in a triangle: free will, evil temptations and the Good Testament ... Against this background, the European Union closed its eyes to the systemic crisis of its own liberal ideology in politics, economics , finance and values, undertakes the next "Drang nach Osten" ...
The Institute responds to the widest spectrum of the most burning topics - from Syria to traditional values ​​in the context of the ideology of human rights. And there is some success. We were noticed, constantly invited to the TV channel Frans24 for hourly debates. I do not want to flatter myself, but just a year ago I was visiting the foreign policy adviser to the President of France, and he is well aware of our work.
The institute has been operating for 5 for years, and there are prospects for the already close interaction of civil society in Russia and France, especially since there are fields where a lot can be done together, and there is mutual interest in each other.
There are more and more invitations to participate as partners in various conferences or forums organized by other social, political movements (we are not participating in the party, of course). And this is a serious event. It turns out that we also organize conferences on current topics within the walls of the French parliament - the National Assembly. And for this you need political sponsorship of the deputy. And since we always have the support of any of the deputies, although we did not have long-term acquaintances and personal connections, this indicates that we are respected, known and ready to cooperate.
For example, my partners and I held the Caucasus Geopolitics conference. This is not endless marginal meetings for you that some Human Rights Watch is arranging, bringing "figures" like Zakayev, who - and this is already understood in the West - do not reflect any Caucasian reality. We brought from the academic community of the North Caucasus itself the rector and professor from two universities who spoke so brilliantly that I was filled with pride for my country. They quoted both Toynbi and Solovyov and Western researchers, i.e. demonstrated the breadth of thinking, panoramic view. There was neither political doctrine, nor loyal overtures to the official policy of Moscow. These were real academic performances. The conference was attended by leading French studies kavkazedy, experts from other European countries, was attended by several ambassadors.
A large conference was held at the French Parliament in June on the subject of Russia-Europe relations proper. There were about three hundred people here. Professors from Sorbonne and other universities, representatives of conservative organizations, and employees of European institutions from the EU Social Committee also spoke. Of course, right-wing forces are much more sympathetic towards us, it must be admitted. From the left, libertarian - we should not wait for sympathy and understanding. They recoded their near-communist views into left-liberal clichés, but picked up the idea of ​​a globalist single world, where the individual is a citizen of the world, freed from ties with his Fatherland.
The task of the Institute is to directly connect in the discussions two civil societies and two expert communities. Of course, people come to us with an active position, who read newspapers, follow world politics, this is not a philistine who is not interested in anything except buying a new car or a vacuum cleaner. Recently, our jubilee round table was honored with a visit and chose Jean-Pierre Shevenman, an elder of French politics, one of the founders of the socialist party, who held ministerial posts with Mitterrand, as a place to present his new book. This is a very respected socialist with the broadest mindset, who, unlike the current ones, combines (it is very close to us) the ideas of a social state with conservative ideas in all fields. His worldview, breadth of thinking, education, and generated a certain political position: he condemned the position of the West and Brussels and during the North African revolutions, and on Iraq, and what is happening in Syria.
At this evening, one of the rather large economic and military analysts, who heads the consulting company, thanked the CID for its "absolutely taboo-free stand, open for discussion of any topics and statements, which has become rare in France. And therefore for many it is a breath of living, clean air ... ".
- The CID also held a round table "Protecting the family and the rights of the child - a joint struggle between Russia and Europe", actively participated in discussions on this topic in other venues. What can you say about this now, on the eve of family holidays - New Year and Christmas?
- In fact, attention to this topic is only the tip of the iceberg, since it is primarily about the unprecedented attack on Christianity, on traditional values, born of the Christian world view, Christian ideas about sin and virtue, about beauty and deformity ... the Great European culture was certainly Christian. And if, as they say, everything is relative, then why did Shakespeare's Lucretius commit suicide, dishonored by Tarquin, why are the monologues of Hamlet and Macbeth, if there is no distinction between good and evil, sin and virtue, why torment of Raskolnikov? .. Today's European stage - this is not just a triumphant procession of sin, but this is already a new quality, the beginning of a period when sin claims to be declared equal to virtue. After all, the sins of a man were, as you know, always, even in the Old Testament all of today's are listed. But sin has never claimed to be declared an equal virtue.
- In one of your speeches there is even a new term - "political homosexuality". Exactly ...
"This term was invented by me and John Lokland, my deputy for the Institute for Democracy and Cooperation, an extraordinarily well-educated man, a philosopher and a brilliant publicist who wrote regularly for The Times, The Spectator, The Guardian." John taught at Oxford, led students to protest against the bombing of Belgrade, he is the author of several books. A convinced, deeply religious Catholic, he walked on foot as a pilgrim to Santiago de Compostela. I also visited our Optina Hermitage ...
So, we decided that we need to somehow characterize the ideology itself. The fact is that in this whole campaign for same-sex marriages, it's not the homosexuals themselves who set the tone, most of whom do not need legal equalization of their alliances with family and marriage. They need only certain legal rules governing property relations between them, hereditary cases. Such laws have long been in European countries. Therefore, we are not talking about their rights. We are talking about the militant postmodernist ideology of the modern libertarian elite of Western Europe and America, in the wake of which the individual's complete liberation from any traditional order of things, whether religious, national, state, historical, and now biological, that is, God of a given nature, is proclaimed. Man, as they propagandize, is free to carry out any promptings of his flesh and pride.
This is a terrible challenge to human civilization. And so we called it "political homosexuality." Strikers of this campaign are not ordinary members of minorities, but people who profess a completely revolutionary ideology of militant egalitarianism - that is, equalization of sin and virtue, everything and everyone. Even the egalitarianism and equalism of Soviet communism, which was realized mainly in the material sphere, in the area associated with the dream of a fair distribution of wealth, look naive and incomplete before it.
- But, nevertheless, as reported by the media, recently in Leipzig, before the international conference "For the Future of the Family. Are European Peoples Fading to Disappearance?" Organized by the German magazine Compact Magazine and the Institute for Democracy and Cooperation, it was you LGBT representatives who tried kick ...
- It was hard to tell who was who. In front of the building where the conference was held, we were met by a very aggressive-minded crowd, a very large, organized one. This, apparently, was not a spontaneous rally, about the possibility of which we were warned. They were getting ready, even at subway stations they distributed ads with a false address. They blocked the tram stop, who came to the conference could not get out of the car, as well as the entrance of cars a few hundred meters, so the correspondents were forced to haul their cameras and tripods, including our journalist. And they did not allow us to enter the building.
Above this crowd, LGBT banners were fluttering and loudly beating their spoons into the pots. When I approached, they immediately surrounded me, stretched obscene objects as a gift and beat me right in the pan with a spoon.
"Did they already know you?"
- They understood that we were participants of the conference, we were going to the hall. And when we with Elena Borisovna Mizulina, the chairperson of the State Duma Committee on Family, Women and Children, still began to make our way through this crowd, the police did not make a corridor. In general, what is particularly outrageous is the behavior of the police! In any case, she was obliged to ensure free access to the conference, which was legal, had long been announced, and no extremist. This was not done, although the police caught up with a lot. I turned in German to their ranks: "Help us get through! There are members of parliament among us. " But the police didn't even turn their heads in my direction. And when we were torn through this crowd, each of us got a kick in the shin ..
They wanted to break the conference, tried to get into the hall, but here they were not allowed. So they lined up along the wall of the building and pounded on it with hard objects, sticks, creating a wild noise. And for some reason they waved Israeli flags. It turns out that they were convinced that those who advocate a traditional family automatically hate homosexuals, which means the Nazis.
At first I could not even understand where the Israeli flag was. After all, I am the daughter of a partisan who suffered in a fascist prison, including because she kept the Jewish family in the basement of her own house for half a year, although she herself was already under suspicion.
Sadly how the press reacted to the conference. On the one hand, as cynics are joking today, any mention in the press, except for an obituary, is an advertisement, i.e. the conference was noisy, there were a lot of comments on the forums in German newspapers and websites, I read them. But on the other hand, all the articles in the newspapers were - with the exception of literally two, more objective, not mocking, - on the side of the mentioned, quite tolerant fighters for the future asexual world.
- That is, on their side and the press, and law enforcement, and power.
- It turns out so. Although the conference was primarily about the demographic problem of Germany and about humanity in general and its values. In Germany, for almost 40 years, only 1,3 of a child per woman has been fixed. This is much less than in Russia now. The nation, in general, is dying out. There is a population replacement by migrants. And at the conference, no one was going to discuss the topic of homosexuality at all.
It is outrageous precisely that at first you are credited with certain intentions in the worst traditions of black propaganda, and then they are thrown with accusations. Nobody, I repeat, was going to raise the topic of homosexuality. It would seem, on the contrary, recognizing that this phenomenon is now quite widespread, all the more it is necessary to support the traditional family, because, in fact, its presence only allows humanity to reproduce itself, and for nations to be preserved in history.
Tilo Sarratsin also spoke at the conference - the author of the acclaimed book (he, by the way, was not expelled from the party at all), and then he had an extensive interview with the newspaper "De Welt". He, very calmly, though uncompromisingly, spoke, and he raised precisely the question of demography.
But since you simply support the traditional family, it means that you mean the difference. And this is a crime against "human rights". Therefore, aggression is growing. What is depressing - even a calm discussion on this topic has been tabooed. This means that there is no longer any freedom of opinion or discussion in the West. Recall that one of the fundamental most important civil and political human rights is the right to freedom of speech, assembly, and opinion. This very first generation of human rights is the essence of democracy, which, unlike a religious society with a single philosophical ideal, should allow different worldviews to coexist. Now we are seeing the birth of a new totalitarianism of libertarian ideology, which, as it were, hovering about democracy, itself like a snake, bites itself by the tail, suppressing the essence of democracy. Typically the revolutionary thinking of the self-proclaimed leader of the history of the minority, which suppresses the "dissent" of the majority! You have the right to doubt the existence of God, the meaning of a traditional family for a person, but you have no right to doubt whether any impulses are harmful to a person ... But man-worshiped God inevitably leads to Satan-Divine ....
The conclusion is: on the main ecumenical questions of man and mankind there is no freedom of speech in Europe now! And I can subscribe to this judgment, which I had during five years of work in Paris. One of the German publications quoted my words: "I never thought that I was a post-Soviet intellectual, for whom Europe was once an example, the political culture and freedom of judgment that had taken shape in it, I will be forced to defend democratic values ​​here." They filed it with an echid, but I am pleased - as I said.
- In general, the conference was successful, in your opinion?
- In general, successful, but! So, for example, they poisoned some of the alleged participants, that they shot their performance literally the day before. Here, Eva Herman is a famous TV journalist, she once ran an anti-fascist program "Speak out Nazism", some time ago began to criticize the family policy of Germany and presented an analysis that the country does not encourage the birth of children and the family role of a woman. Yes, kindergartens are being built, but there is no propaganda of the family and traditional family values ​​at all, on the contrary, anti-propaganda is being conducted. So Eva Herman was simply harassed down to phone calls with threats to the family, she lost the broadcast. She sent a video message, where she said that she did not want to find herself again in the dirt in which the press would again turn her back, she was afraid for her family. That's what came up.
In short, the trend is alarming. Although there were supporting German comments on articles in the press. But the saddest thing is the already formed worldview of a considerable part of modern society. It can be seen that ordinary advocates of equalizing everything and everyone sincerely do not even understand how to be "against freedom" and "progress", to be so backward ... Just like our absolutely conservative population that prevails in the country, it can hardly understand how you can seriously consider same-sex unions and the real family equivalent. There is already a discrepancy at the level of the worldview, at the level of the picture of the world, the meaning of being. A large part of young people, totally processed by the liberal press, sincerely believes that they are in favor of something good and progressive. Europe commits suicide ...
Why in France such a battle was because of the notorious law? The fact is that here adoption is permitted only to the family, and equating same-sex unions to the traditional family, to marriage automatically means the right to adopt. Against adoption by same-sex unions is the overwhelming majority of the French. Although against same-sex marriages without the right of adoption, opinions were divided almost in half, more still against. However, the scale of protests against the adoption of children by same-sex couples impressed everyone.
In atheized France, they are proud of the "conquest" of the French Revolution - the complete separation of the Church from the state. Moreover, the Church is separated here not only from the state, but also from society; she is afraid of raising her voice: the Bishop of Paris can only walk silently in the ranks of the demonstrators, but even speak out on the radio "Notre Dame" - on Catholic radio - fears.
In general, I will say - you need to sympathize with the Catholic Church, on which European liberals have long been bringing down dirt, only when it opens its mouth a little. We remember how a disgusting campaign has arisen in Russia, a surge of anti-Church hatred and Christ-phobia in connection with the "Pussy Rayot" scandal, but we are still far from France. One of my shocks, when I began to work closely with experts, with the academic community of this country, is the atheism and philosophical leftism of the French educated layer. Although they did not have, as we did in Soviet times, forced atheism, the god-fighting spirit of the French Revolution, which is hidden in Soviet textbooks, has done its work, and this was the main thing. The Bolsheviks were just epigones - this is not Europe to blame us for "totalitarianism and Bolshevism"! Jacobins knocked down crosses from grave monuments, almost all the chapels and home churches in all the castles were destroyed. There were terrible abuse, smashed altars, etc. The papal palace in Avignon was destroyed: from the inside everything was looted and burned, frescoes and furniture were torn off.
You know, we always complain about the state of human rights in our country and rightly complain about the state of the courts and many spheres, and we need to fight for recovery, but there, too, everything is not all right. Here is the situation with the rights of Christians: a Christian cannot calmly express judgments that directly follow from Christian dogma and his system of values, they silence him and shout that this offends others. Such phenomena, and not just symptoms, are very often in the West. It has long been known that in the United States in many states they no longer congratulate with Christmas and prohibit in some institutions to put a Christmas tree. At the request of migrant Muslims, a Norwegian journalist was taken off the air because she was wearing an innocent cross decoration. But think about who would have to pull up in this case for intolerance? Indeed, in demanding this, these Muslims signed not only that they profess a different religion, but that it is unbearable for them to even see a symbol of another religion! This is intolerance! And this is in a country where Christian civilization accepted them - the Gentiles and very tolerantly granted them citizenship! Not only were they allowed to create an enclave of their civilization, they are now still inferior to their requirements, rather than sharply calling for respect for indigenous civilization.
The problems of migrants and the dominance of new national minorities, mostly also Muslim by religion, are the hardest problem for France and for Europe in general. The reason, first of all, is the impoverishment of the faith and the de-Christianization of the Europeans themselves. Among the believers with shrines and migrants would behave quite differently! However, a taboo has been imposed on a calm, respectable discussion of this topic, which could help to find some mechanisms for at least easing tensions. Anyone who has given a hint of a problem even quite respectable is immediately labeled as a marginal, so few dare, no one wants to become persona non grata in serious politics.
Last summer, in the southern town of Montauban, someone next to the mosque on the pole stuck a piece of painted with three piggy heads. My God, how all France was indignant at this act of disrespect, insulting religious feelings. The Minister of the Interior called for finding the guilty and about punishing, because France is a democratic country and will not tolerate such a thing! A few months later, an art exhibition was arranged in the former papal palace in Avignon and there, as a presentation of the artistic "I" of one "artist", was an installation - a crucifix in a pot with urine. The protest demonstrations around the city did not cease - zero attention! The whole press came to the defense of the "artist" and the "freedom of artistic expression". Finally, one person came to this exhibition, pulled out a hammer from his bosom and smashed this installation, acting like a real Christian, because his duty to God is to protect the shrine. All the press and the ministry spoke out to condemn this "act of vandalism" and "attacks on freedom of expression." There you are, the double standards that we see in politics. What does this mean? That in fact the whole postmodern ideology, above all, is anti-Christian. They are ready to give Europe to anyone, but not to keep it in the bosom of Christianity.
But suddenly there was a mobilization of the conservative part of society, which until now believed possible, wincing, to stand aside. She suddenly felt that the trouble was already on the threshold and knocking on the door, and that tomorrow they would have to write down "parent No. 1" and "parent No. 2", instead of "father" and "mother" for their children, and the French - the only West European nation giving birth so far! They were alarmed and suddenly noticed that there is, it turns out, a country - Russia, which is thrown at the western press, but which does not give up and at the level of parliament and its president frankly declares protection of Christianity's values ​​and its support - the traditional family.
By the way, John Loughland at one of the round tables in Italy in his speech analyzed all the congratulatory texts of Western leaders on the occasion of the election of the new Pope Francis - it turned out that the only congratulation, which contained reference to Christian values, was the congratulation of Vladimir Putin.
And in France, they began to wonder: why is Russia being harassed in the press? After all, it is being poisoned by those who poison them for traditional values. Maybe it is not so bad, this Russia? Maybe this is an ordinary country, of course, not without sin (which we will not deny). And we began to receive letters at our Institute: thanks to Russia, its leader! After all, it is very important for someone to hold the flag at the state level and say what our president and parliament say and what the overwhelming majority of society supports.
Now Australia has banned same-sex marriage. A few years ago they made a statement that they are open to everyone, any religion, etc., but the country and civilization, the way of life in Australia were not created by you, new migrants! Want to live with us? Please, but remember, you should not come here with the intention to recreate here a piece of your civilization, if you please adapt to us, become just like us, do not cause rejection, act like we do.
"But Australia is still the periphery of the Western world."
- Of course, that's why she is allowed for now.
When we held a round table in July on the theme "Protecting the family and the rights of the child - a joint struggle between Russia and Europe", we gathered a lot of people. There was a former French housing minister, Christine Buten, who tried in parliament as a deputy to hinder the law on same-sex marriage in every way, also Beatrice Bourge, a brave woman, she became a kind of icon of all protest demonstrations (she organized them and created an organization, there was even a two-millionth demonstration ). Our deputies Elena Mizulina and Olga Batalina arrived. By the way, they performed brilliantly there and in Leipzig. Our Russian liberals throw mud at them, but my God! - as Olga Batalina and Elena Borisovna Mizulina - Doctor of Laws were holding themselves! No unnecessary emotions, no political clique, only the legal side of things ... The French recorded the arguments of our deputies, I saw how they took notes. The French speakers said: you have freedom of speech, you do not allow the minority to stomp their feet on what is sacred to the majority ...
The characteristic moment - as soon as we carry out something serious, affecting a certain nerve, immediately some malicious notes appear on some sites, which irritates them. There are also frank fabrications, they say, the CID exists on the money of the Kremlin, Gazprom. And Gazprom never gave a dime. We don't get a penny from the state budget, only targeted donations from business structures.
- That is, the CID functions at the expense of business structures?
- Absolutely, and no other. Although, of course, they made up different myths about me, as if I were sitting there, idle and drink oysters with wine. In fact, you, my closest colleagues, know what kind of life I lead, because from the very beginning I made a condition that I did not move to France and would not abandon my Foundation of Historical Perspective, nor my mother who was dying to bed, nor all that is dearest to me. Moreover, I will say: our institute in France is not a division of any Russian public organization. This is not a bureau, it is an independent European NGO, registered under the law of France on non-profit associations already 1901 of the year. It is possible to work on a permanent basis there only by becoming a taxpayer in France, having received a special visa with the right to work. I have a regular visa, on which I cannot spend more than 180 days for a year, but I don't need more. And I do not even use this limit to the end. I live in Moscow regularly, once a month I come to Paris, where the IDS organizes round tables and conferences, or, like this year, we prepare and hold events in other European countries.
- And what drives business structures that finance the activities of the CID?
- You know, business structures understand enough in world politics and are not less interested in the state in a favorable social background for their activities abroad. Therefore, one should not think that only some abstract monster - the state is interested in understanding Russia. I initially never intended to primitively, by all means or by crook, to defend some idealized image. One of the first seminars we held was devoted to comparing the anti-corruption laws of France and Russia, which was not at all in Russia's favor! We have just begun to fight corruption, and it is clear that with loud processes, planting even high-ranking officials, such an evil cannot be eradicated. Decades of a large-scale fan policy are needed, as the French lawyer Olivier Forcade, a member of the State Council, by the way, is quite a friendly person, told us: "Do not worry, once started, it means that you will achieve it. At the end of the 60s in France, not a single issue was solved in the order that should be decided in a democratic state. Only calls, mutual services, bribes. " Everything was corrupt, he said, from top to bottom. And 30 took years to eradicate, including the most brutal legislation that destroys the future official, if he is caught. We, unfortunately, do not destroy, and sometimes it pops up in another place, although not always. It was necessary to form in the public opinion the absolute unacceptability of bribery for a decent person, especially in politics. 30 years - in order to narrow this sin to the private sin of individuals, because we can not completely eradicate the sinful nature of man.
... In general, I want to say something about the Institute. I live in Moscow, I fly all over Europe by night flights. Life is tense, the real schedule is such that today we need to organize, speak with Czech scientists at a huge conference on the Munich Agreement in the parliament building in Prague, and tomorrow in Geneva on human rights and the protection of Christian minorities in Syria, in the presence of Navi, by the way. Pillay - UN High Commissioner for Human Rights. By the way, it was a great success of the CID, we did what only a non-governmental organization could do - called local authoritative heads of Syrian communities, representatives of Syrian Catholics from the Syrian backwoods, received a video message from the mufti of Syria, invited the Irish Nobel laureate M. Maguire. And it was a great success of our institute and IOPS (Imperial Orthodox Palestinian Society), believe me. We did what only a non-governmental organization could do, because only an NGO can initiate a so-called "side event" as part of the approved program of the UN Human Rights Council session.
"Although the resources, the staff of the institute, as we know, are very modest.
- There are only six people in CID! Including me, my deputy - director of research programs John Lockland, director-manager, accountant, two more employees - a site in three languages, organizing. We have a small staff, but I believe that this is quite enough and I do not want to increase anything.
- In 2014, 10 will turn of years to the Foundation of Historical Perspective, your main brainchild ...
"Oh yes, indeed this is my precious!" I dreamed about such a Foundation since 90's, but I understood that it would not be possible to realize these dreams so easily without status. And so I became a deputy from the Rodina faction - this was, by the way, in my opinion, the brightest period in our Duma ....
- There was so much hope for everyone at Motherland ...
- Yes, yes ... And so we had an unusual faction! - 11 candidates and doctors of science, and in general, most of the faction was not from professional officials, but simply from professionals in their field. Now, if from the army — so really from the army, if from the academic environment — then it is taken directly from it. I am from an academic institute, I have never been an official anywhere.
I wanted to create an analytical center with a wide spectrum of analysis that would study the phenomena of modern life, be it economics, security, foreign policy, or public consciousness through the prism of the Orthodox consciousness, but that it was a secular Russian analytical center.
- Your ideas come true?
- I think that they have come true. Look at least at a series of books published as part of our publishing programs, and what are the strong and at the same time very different Internet resources of the Foundation - Perspectives, Century! What round tables and conferences we hold! At what level our Foundation is invited to participate, what topics can we do! The First World War and the Great Patriotic War, the interpretation of history, public consciousness, the ideology of the Russian civil movement, the problems of democracy and sociology of modern Russia ... For this, the enormous work, erudition and panoramic thinking of all our employees, creators of these Internet resources, during this years of formation and acquisition audience and respect from the expert and academic community. In the upcoming 2014, we'll be 10 years old!
I am happy that such a wonderful team of employees - or rather, colleagues and co-workers - has gradually gathered. After all, there are no performers among us! We are all ideologists and are involved in the very idea of ​​the Foundation. There were a lot of bright people at the beginning, I am grateful to them, but gradually people were left without exaltation, ready to patiently weave a fine lace of everyday work in the field of public historical and national consciousness and work out for each of us, but also for all of the national agenda. Russia must go ahead, both isolation and dissolution in alien projects are destructive for it. But you can successfully move forward and develop only if you do not destroy the semantic core of successive Russian life, not forgetting that the Russians are the nation-forming nation, the founder and core of the Russian state. There will be no Russia without Russians!
We called our center "The Foundation of Historical Perspective," but you can only see the perspective, knowing the retrospective, that is, our past, linking it to the present and future in the broad global context of ideas and events. We proceed from the continuity of our history, do not throw a single page out of it and try to look at the trials of our country, people, from a higher temporal distance, when you are freed from the captivity of momentary political bias as much as possible, of course. And if we talk about the twentieth century, so dramatic, about which disputes have not yet subsided and disputes for a long time, the main thing, in my opinion, would be wrong to remain somewhere on one of the parties.
We need to remember Karamzinsky: "All this is created by us, which means ours," this was repeated by the eminent historian and my adviser Anatoly Filippovich Smirnov, and I repeat.
The foundation of a historical perspective has always, especially in the first half of the activities of the CID, provided it with great conceptual support. This, too, was part of my plan, because it is impossible to start something from scratch. This made it possible to include into the work of the European Institute a great number of intelligent and professional like-minded experts who are associated with the Foundation for Historical Perspective. They came and spoke in Paris and Brussels, in Germany and Italy at round tables, conveyed their ideas and arguments, and were very much in demand, because we have very strong expert polemists.
- However, your work in the CID and in the Foundation, of course, crippled your own scientific work ...
- Completely, alas. I really do not do science now. I am based on the fact that I had previously written, thought out, charted or made some blanks that have not yet been published. I have a lot of dreams, of course, but I have to be realistic: they can hardly be realized with such a lifestyle, such a crush by an unregulated schedule and day and week, business trips, speeches on various topics. However, the experience that you gain in these discussions is invaluable. You keep abreast of the worldview that is now developing in Europe.
- Especially since we do not know well how this happens with them.
- Yes, and they know nothing about us. Ignorance against Russia is widespread. For the first time we received an invitation, and I participated in France at the "Annual Press Tribune": a huge two or three-day session is held in some region, leading journalists arrive, local authorities give a hall, and the public comes. And we were invited. I kept there, you can say a blow. In the hall there was a lot, in my opinion, from the local lyceum of young people, which is very important. And just there it was about "Pussy Rayot", and about our family law, and about their laws. I openly said there that I recognize a huge amount of sins in our country, I don't like everything myself, for example, as a deputy, voted against the electoral legislation, predicting that it would be corrected anyway, and now it's changed. But I say: the image of Russia that is read from the local media is a caricature that has nothing to do with reality. You, I say, I am sure, are sure that anyone who speaks a word against Putin is immediately in prison. Do you know that on Thursdays we have on TV "The Duel", where opponents attack each other and power in such a way that is unthinkable in France. And it is true. And if you watch the channel "Rain", then in France you will never see such a thing in your life. "Pussy Rayot" was not put down for singing "The Virgin Mary, drive Putin away." (When they sang it in other places, nobody touched them, they sang more than once). And because they tried to equate the church, the altar, with the club. That was their conscious challenge. Everybody knows that they don't like Putin, and on the Bolotnaya Square such angry and offensive posters were carried, which you will not see in the West. I had to say it too, since they could not find out from other sources.
- And yet it is noticeable that in international politics, Russia is gaining weight, has played an important role in the Syrian conflict, in stopping the strike, which seemed inevitable. Or take events in Ukraine ... Do you think the influence and image of Russia in the world is changing now?
"I see the following: the fact that Russia managed to prevent the seemingly absolutely inevitable blow to Syria is a great success, which not only changed the Syrian situation, kept the world from an explosion with disastrous consequences right up to world war, and with inter-religious dimension. This turn has changed the balance of political forces, has shown that Russia is a great power, without which the world cannot interact. (This is partly why the West has taken on Ukraine - they want revenge, because all the benefits to the West in Ukraine are measured only by the geopolitical harm that they think Russia can do). In the West, politicians were simply overwhelmed by the virtuoso chess game of Russia. Moreover, we did it subtly also in terms of diplomacy and big politics. Notice, for the sake of saving the situation, we helped America to retreat somewhat, without losing face. After all, they had already driven themselves into such a corner that they did not know how to get out of there ... And as a result, Russia gained enormous prestige, and the position of European countries began to change.
I have always convinced my European interlocutors that Europe, and not Russia, would be the first to suffer from a disaster in Syria. Russia may have material losses, but the collapse of interfaith balance throughout the region and the world, will hit primarily in Europe. A huge crowd of drunk blood, excited fanatics rush to Jordan, to Lebanon, to Italy, to France - anywhere, and Europe will be the first victim, which must realize how suicidal is its position.
... So, you need to weave your fine lace. Do not overestimate yourself, do not need any broadcast campaigns and triumphant reports, "counter plans." Here it is necessary to work in good faith, not to lose one's will, not to expect quick victories, and the result will definitely be! After all, "everything should not be done quickly and immediately rightly so that a weak person does not become proud" - once a wise priest taught me! ..
Interview conducted by Alexey Timofeev